The new Samsung Notebook 9 is now up for pre-order starting at $999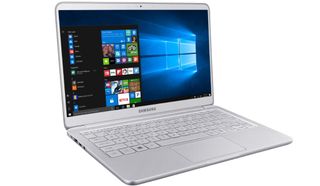 Samsung's new Notebook 9 Windows 10 laptops are now up for pre-order at B&H (opens in new tab) and Samsung (opens in new tab), sporting new Intel Core i5 and i7 Kaby Lake CPUs and an updated design. The new Notebook 9's also feature a backlit keyboard and fingerprint reader for Windows Hello, both new additions over the previous generation.
The new Samsung Notebook 9's are rocking the following specifications:
Intel Core i5/7
8GB/16GB of DDR4 RAM | 256GB SSD
13"/15" 1920 x 1080 LED-Backlit Display
Integrated Intel HD Graphics 620
MicroSD Card Slot
HDMI | USB Type-C | USB Type-A
802.11ac Wi-Fi | Bluetooth 4.1
Backlit Keyboard | Fingerprint Reader
180° Hinge | 450 Nits Outdoor Mode
Windows 10 Home
The 15" version also now has an optional Nvidia GTX 940MX GPU, but is only available in the US through B&H.
Pricing starts at $999.99 for the lowest-end model, which isn't bad at all considering. B&H says pre-orders should begin shipping on January 12th, so get your pre-orders in now (opens in new tab) if you're interested!
Zac Bowden is a Senior Editor at Windows Central. Bringing you exclusive coverage into the world of Windows 10 on PCs, tablets, phones, and more. Also an avid collector of rare Microsoft prototype devices! Keep in touch on Twitter: @zacbowden.
15" with 940MX GPU is now preordered. The last Notebook 9 15-inch is my favorite 'light' 15-inch Ultrabook. This one has backlit keys (!) though and FP reader for Windows Hello and the optional 940MX GPU, which is all a big deal IMO. Very excited to review this one.

Wow, several great choices coming out lately. Can't wait for the review. Is this one glossy or matte display?

Samsung's are weird, they're literally a mix of glossy and matte, if you can understand that. They're really nice displays.

Good to know. I have 10 days to return a 9 Spin 13 and might only because it's 6th gen, no Hello support and no USB-C/Thunderbolt. But the display is amazing.

No iris scanning /facial log in?
Still good looking!

Just fingerprint. Considering the last one didn't even have that...I'll take it lol.

I would take a fast fingerprint auth over facial auth any day.

Are those the good i5/i7's, or the rebranded m5/m7's?

These are the good ones. Core i5-7200U, Core i7-7500U, dual-core, 15W chips. I mean, it's no quad-core Kaby, but they don't use those in Ultrabooks. These are the same chips in the Spectre x360, XPS 13, etc.

Wow insert full house Joey Cut it out.

...Did they ever say why they didn't use a full-size SD card slot? Any word on an updated 2-in-1 / Spin?

Yeah, the micro SD thing is weird. I imagine it's just size/spacing plus the idea that a lot of smartphones/devices take micro these days.

I'd be all over it if most cameras used microSD cards. Another IMO (I'm sure plenty are fine with microSD like you mentioned): I'd be happier if they ditched a card slot completely so I could just rely on adapter without knowing I have a pointless card slot that'll never be used, like the Spectre x360. If only the Spectre's trackpad wasn't so terrible...

Re: trackpad, that is a huge thing for these Samsungs. They're amazing. Very large, very smooth, and Precision. I'm assuming that's the same for the new ones, but for me typing and the trackpad were fantastic the Notebook 9 series. Fingers crossed they kept up that high level of quality with this refresh. I won't lie and say these are basically Apple Mac clones but with the benefit of Windows 10 and more features. They're the ideal device imo to get people to swtich from MacBook.

I thought Precision trackpads were great until I used the Precision trackpad on the ASUS Q324UA (that Best Buy has). It was just as bad (if not worse) for me as the Synaptics one was on the Spectre x360: clicking would often move the cursor (resulting in clicking on the wrong thing), tracking felt a tad delayed, and a single-finger tap felt like it took too long. This has me scared for life when using non-Apple trackpads -- even Precision ones. If you're interested in other issues I had, here are some links: ASUS Q324UA Thoughts / HP Spectre x360 Thoughts / HP ENVY x360 Thoughts

I returned my new MacBook Pro 13" with touch bar for the NP900X3N-K04US on Amazon. IMO, much better specs for over $500 less.

One of the USB-A ports on it maxes out at USB 2.0. WTF was Samsung (and Lenovo for that matter) thinking?

I mean, it has TWO others at 3.0 and Thunderbolt Type C. Why do you need 3 USB 3.0 ports?

The user has to specifically remember which one is or isn't USB 2.0, so it's inconvenient, just to save, what, 3 cents in manufacturing costs? It's a really cheap move IMO, especially for something that's over a grand.

Cool stuff. Hope all these PCs will have wider availability this year. Never saw last years lineup of any of these OEMs in my region.

If you go to the Samsung site, http://www.samsung.com/us/computing/windows-laptops/12-14/notebook-9-13-3-led-full-hd-core-i5-np900x3l-k06us/ you can get the 13.3" for $899 through 01/14/17 Unless this is an older version.

Older version ;) Still really nice, but I'd get this new one instead for the extra $100.

Amazon had that version for $749 just before Christmas.

In for one 13" i7 16GB on Amazon.

A 15in version packing a GTX 1060 would be an insta-buy, but with 940MX? No thanks.

can't really put a 1060 in such a thin machine; plus the battery draw would take away from the battery life (see Blade at maybe 5 hours, if lucky and that weighs 4lbs). The other thing is you'd have a REALLY good video GPU with a dual-core CPU, which is just weird.

Pretty meh for the price IMO

Will it explode? I don't think ill ever trust anything Samsung again..

After the Note 7 disaster, I'm betting no manufacturer will work harder than Samsung to avoid battery issues.

I may be wrong, but I think Samsung's Android dominance is what caused this issue, I'm thinking this was an insider issue (conspiration theory not) and a group of OEMs in desperation for not making revenue on smartphone hardware launched this insider job to hurt Samsung's reputation so they could sell more smarphones in the holiday season of 2016. The truth is that only God knows what was the root cause of this Galaxy Note 7 exploding battery disaster issue which caused Samsung billions of dollars in losses and very high damage reputation in such a good company like Samsung.

NO ANTI-GLARE, still with the glossy screen, BOOO. An IPS antiglare screen would of been much better, and since it doesn't have touch it would of been so easy to just do a Matte variant= much more usable.SAD
Windows Central Newsletter
Get the best of Windows Central in in your inbox, every day!
Thank you for signing up to Windows Central. You will receive a verification email shortly.
There was a problem. Please refresh the page and try again.