New Surface Pro 4 firmware rolling out with battery tweaks and more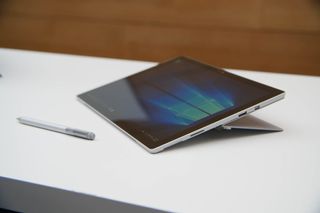 Microsoft has begun rolling out a new firmware update for the Surface Pro 4. Like most previous firmware updates, this batch includes plenty of general improvements all around, the most notable of which is an improvement to the tablet's battery life during sleep.
Here's a look at what's new (opens in new tab) according to the Surface Update History page:
Microsoft Driver update for Surface Embedded Controller Firmware - 103.1684.256.0 improves battery life during sleep.
Intel Corporation driver update for Intel(R) Precise Touch Device - 1.2.0.83 disables touch when cover is closed, and improves stability.
Surface driver update for Surface Integration - 1.0.121.0 adjusts system Hibernation defaults.
Microsoft driver update for Surface Touch Servicing ML - 1.0.724.0 optimizes touch functionality.
Surface driver update for Surface System Aggregator - 103.1610.256.0 resolves screen brightness issue when device comes out of sleep.
Surface driver update for Surface UEFI - 106.1624.768.0 refines brightness settings.
Microsoft Driver update for Surface Touch - 57.1.1.1 optimizes touch functionality.
There are no security updates included here, but that's not a bad list of tweaks overall. There aren't any similar updates for other Surface devices just yet, but Surface Pro 4 owners should be able to grab the above updates via Windows Update now.
Dan Thorp-Lancaster is the Editor in Chief for Windows Central. He began working with Windows Central as a news writer in 2014 and is obsessed with tech of all sorts. You can follow Dan on Twitter @DthorpL and Instagram @heyitsdtl. Got a hot tip? Send it to daniel.thorp-lancaster@futurenet.com.
Same for me, no update...maybe it is rolled out in waves?...

I now check the drivers, and for some of the firmware, it is already updated, but for about 3 thesre is still old driver

I got this update last weekend, had to change hibernation defaults from 360 minutes back to 120 minutes. I also adjusted the backlight brightness and battery life has improved somewhat.

Nice.
Just pulled the trigger on a pro4 i5.
I knew the new one was coming and wrestled with buying or waiting but the price was too good to ignore.
Will get a 5 as well in a year or so.

Good choice, it's a beautiful device, I have one..

Got it with the new fancy pen, keyboard, Dial, Dock?

Not yet, not yet, not yet and not yet.
Will do later on as they come on special tho ☺

I'm still waiting for CU for my SP3.

Why not put it in the Release Preview ring, the updates are stable enough as they typically get released to Production a couple of weeks later anyway?

Doesn't sort the brightness issue where the back light shuts off completely below 12% anyway...

I believe that's done to conserve power as the device should be in Battery Saver already.

No, when the brightness is below 12%. Doesn't matter what level the battery is at (plus I've disabled the dimming when in battery saver because of this issue)

If only my Surface Studio would get as much attention in terms of firmware updates as my Surface Pro 4 does. For the past two months, the backlight on my Studio has remained on when the display turns off/goes black based on my power settings. I sure hope I get a fix for that soon, but keep the updates coming for my SP4 in the meantime...

I'm sure it will be fixed, have you reported it via the feedback app on your Surface Studio?

I have reported it via the Feedback Hub, yes. It seemed to start doing this after the Creators Update was installed. I sure hope they get it fixed soon.

I got two firmware updates on my SP3 yesterday. Or, maybe it was the Microsoft Patented method of delivering the firmware update, rebooting, installing it, not realizing it had done it, and then it did it again. The one from last november I think reinstalled itself twice for everytime there was a Fast Ring update.

I had so many errors and crashing with the SP4 that I ended up returning it. Veery discouraging, I absolutely loved it! A lot of the issues were reated to trying to drive two monitors with the brick, along with a host of other issues. I hear there's a new brick, is it only for the newest SP, or would it work with the SP4 as well? I'm ready to jump on the bandwagon for the SP, but if history tells me anything, I'd better wait. Thanks David

Hey David, I'm currently running a 4k monitor from the SP docking station. When I tried to run a second 1080p monitor through a usb to hdmi dongle plugged into the dock it would work well for a minute, but then the keyboard and mouse would start to get laggy until I unplugged the second monitor. Is this similar at all to what you experienced? I'm currently running the i5 sp3 and was considering upgrading to the SP4 to see if that would solve the issue, but hearing your experience makes me think I should hold off.

No, the biggest probelm I had was when connected 2 monitors through the dongle to the brick, they'd both work for a few minutes, then things started going wonky... I'd get driver error notices, a monitor would not be recognized, then minutes later it would be, the SP would go to sleep then after I was able to wake it up I'd have to go through the sequence of setting up the monitors again. Een when I was running it as a laptop away from my desk, I'd get weird crashes and error notifications. No one at MS could help, so they decided to swap it out. That helped, and the SP4 wasn't as buggy as before, but it still had more issues than what I wanted to deal with. I read through the forums and saw there were a lot of others who had similar experiences, so I decided to return it all. Like I said earler, I was very dissapoined 'cause I really loved it, it met all of my needs as a desktop replacement and being portable at the same time. The monitors I had hooked up were: ASUS VS229H-P 21.5" Full HD 1920x1080 IPS HDMI DVI VGA Monitor

That's interesting. I've never had any of those problems. One thing that does bother me though is when it puts itself to sleep the open windows move to the surface display and I have to manually return them to my second monitor.

I've got UEFI and Embedded Controller update but not the rest of them... Why?

Has anyone else had an issue where the graphic for the Windows Hello "eye" doesn't work properly after this update? I just get a big gray (system color) bar across the whole screen and the eye just sits there completely still. The process still works, its just like the eye is no longer a sprite so there's just a large bar across the whole background. I tried turning windows hello on and off to no avail. Signing in and out seems to fix it, but restarts always cause the issue.

Same issue for me. Windows Hello doesn't work and camera's show errors on WMC. Can't update the drivers from there coz I get a code 10 error. Seriously wish MS would stop breaking things which work perfectly well. Coupla weeka ago my L950 updated to latesversion and now my Garmin device won't sync coz the BT environment has changed.

I don't see anything either unless this article is referring the ones that came out on the 18th?

battery life tweak is always welcome!

Really? No mention of the TWO back-to-back firmware updates that went out to Surface Pro 3 owners?

still no update for my SP4

Same case here. Is it a region thing?

I'm in Malaysia. Still nothing so far, even the firmware on the Microsoft site is not as per listed.
Windows Central Newsletter
Get the best of Windows Central in in your inbox, every day!
Thank you for signing up to Windows Central. You will receive a verification email shortly.
There was a problem. Please refresh the page and try again.