The new Thinkpad 10 is Lenovo's first tablet announced for Windows 10
Lenovo's Tech World announcements continue with this, the brand new Thinkpad 10. An Intel Atom powered tablet that will launch with Windows 10 on board.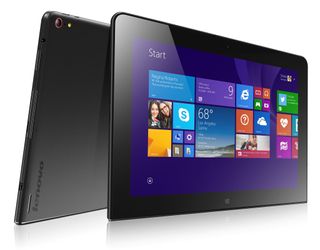 With a whole bunch of productivity focused accessories, the Thinkpad 10 is blurring the lines between a traditional laptop and a tablet, by offering an experience befitting of both.
Specs wise, here's what we're looking at. It's not the highest of the high-end, but there's still lots to like such as the 1920x1200 resolution display, 128GB storage option and the choice to have one with 4G LTE cellular data support.
Sounds pretty good, but what's perhaps more exciting is that this is one of the very first devices announced by anyone that will launch as a new Windows 10 product. Due to arrive in August, the Thinkpad 10 will cost from $549, which is reasonable. We're also pleased to see pen support and Lenovo's WRITEit, which we've been impressed with on what we've seen thus far.
We're looking forward to getting our hands on this one, if for nothing else than that it'll be one of the first devices to launch with the new operating system. However, we don't have to wait until August to see the hardware, so hit the link below to see our first look from the event in Beijing.
Read on for the full press release.
New Lenovo ThinkPad 10 Gives Businesses True Freedom
Features ThinkPad Pen Pro with WRITEit for richer and more accurate pen experience
Ecosystem of accessories delivers full PC experience with the versatility of a tablet
Enterprise ready with Windows 101 pre-installed and enhanced security with dTPM encryption
BEIJING, China – May 28, 2015: Lenovo (HKSE: 992) (ADR: LNVGY) today at Lenovo Tech World announced the new ThinkPad 10 that takes business tablet computing to a higher level with key feature enhancements including ThinkPad Pen Pro, providing greater accuracy and businessclass security for better data protection. Lenovo continues to expand the rich ecosystem of accessories for ThinkPad 10 to include the new ThinkPad Folio Keyboard, offering a superior keyboard experience in a sleek and light case.
ThinkPad 10 Marries PC Performance with Tablet Simplicity
Mobile business users struggling to choose between a laptop or tablet will love the new ThinkPad 10 with its flexible working modes. Designed for a full PC experience, it offers the performance users need for the most common workflows, including creating presentations, documents, email, video calls and more. Ships with Windows 10 pre-installed on an Intel Atom quad core processor, the 10-inch tablet can be attached to the new optional ThinkPad 10 Folio Keyboard or the Ultrabook Keyboard for a full typing experience and optional ThinkPad Tablet Dock for a more office-like environment to plug in peripherals like monitors and printers. Enhanced Features for Multiple Usage Scenarios
The ThinkPad 10 keeps up with users' constant demands for convenience and flexibility when used as a tablet too. With nearly 10 hours of battery life, users can stay unplugged and on the move longer. Out in the field, users will delight in the bright WUXGA 1920x1200 IPS touch display which can be coupled with the optional Anti-Glare Film for improved visibility in bright sunlight, or the 4-way Privacy Film for confidentiality in information sensitive environments. Coupled with the optional ThinkPad Pen Pro makes looking at and navigating content enjoyable and easy. Users can get even more out of their pen-writing experience by downloading WRITEit, an application that allows users to write with the pen in virtually any text field and convert handwriting into text. And for snapping photos on the go, useful in insurance or real estate scenarios, the handy QuickShot cover automatically launches the camera app with the flip of the corner to help users capture the moment with the 5 MP camera. With 3G/4G LTE support, users can connect nearly anywhere in the world.
Enterprise-Ready Security Offers Protection and Peace of Mind
Many field applications require mobile data connectivity and access to company information in a highly secure way. Hardened security features complement this device's extremely mobile features. The tablet comes with optional dTPM encryption, Fingerprint Reader or smart card reader. Lenovo offers business-class service and support for the tablet including custom models, asset tagging and laser etching, priority support, imaging and more.
"Best in class, the ThinkPad 10 highlights our extreme focus on innovation and responding to the diverse needs of our customers and tablet usage scenarios," said Luis Hernandez, vice president, ThinkPad Business, Lenovo. "Now the most mobile of users can enjoy the best of both worlds with the convenience of a tablet and the function of a full-PC style experience without compromising mobility, connectivity and security."
The ThinkPad 10 will be available worldwide later this summer starting at $549. The following accessories will also be available at launch:
ThinkPad 10 Folio Keyboard - $110
ThinkPad 10 Ultrabook Keyboard - $119
QuickShot Cover - $45
Tablet Dock - $129
ThinkPad Pen Pro - $40
ThinkPad Protector Case - $55
ThinkPad Protector Should Strap - $10
3M 4-way Privacy film - $70
3M Anti-glare film - $30
Kensington MiniSaver Lock - $50
ThinkPad Micro HDMI to VGA adapter - $40
ThinkPad 10 Folio Wrap - $30
ThinkPad 10 DC Charger - $50
Richard Devine is an Editor at Windows Central. A former Project Manager and long-term tech addict, he joined Mobile Nations in 2011 and has been found on Android Central and iMore as well as Windows Central. Currently you'll find him covering all manner of PC hardware and gaming, and you can follow him on Twitter and Instagram.
Waiting for a small form factor of the new bunch of tablets.

I love my Surface Pro2 256GB size and specs, and it's already running W10.

Well I have my first Gen surface. But I want something smaller now. Just waiting for the right one to appear.

The 8" Windows tablets are great, I have one and love it. That said, unless you just want a cheap one, you are right on waiting. Can't wait to see who comes out with a 8" tablet powered by the Atom x5 first.

I have exactly the same setting :)

I still think MS should brand it's smaller tablets Lumia tablets, and anything over 9" Surface..
...........
That would leave room for 7", 8", & 9" Lumia tablets, running the mobile tablet version of W10... Cool. That way MS can apply the Lumia PureVeiw Camera name to it's tablets, and use their superior cameras as a marketing tool.
.......
That's a no brainer... Duhh.

Lol as long as there's a dark or black (non shiny) I'm all for it with the right specs.

I'll take a red 8.7" 1740.... Similar to the 2520.. Awesome❗❗

Haha one thing in not sp sure about though is all the number naming. I think that could be revamped. But yes an 8.7in with some color choices would be great

Yeah, they could call it Lumia Slate 8.7, or whatever..

Price should be 299-349 $549 is too much

If they dropped the digitizer, it could be that price. I'm glad they didn't. I'm not aware of many 10-inch tablets with an active digitizer (Active Pen) for the prices you're advocating, unfortunately.

This better have a trick up it's sleeve or come to retail with an automatic $50 discount. The Surface 3 has a leg up on this with a better processor, higher resolution, same ram and storage as the base specs and starts at $499.

Shane about the eMMC storage, would have liked to see a proper SATA SSD instead. ​

Announced for Windows 10 but, is that a marketing picture of it running Windows 8?

Have you seen the finalized version of Windows 10 OS? Last I checked, Microsoft is still building it based on our feedback ;)

So do you think they will introduce the charms bar or at least a windows button on the same position. Because with the hardware windows button on the bottom Windows 10 is so much worse than Windows 8 on tablets. You do want to be able to press the windows button with your thumb. Surface solves this by placing the hardware button there but what about the other tablets?

Well, yeah. Windows 10 isn't finalized yet.

Still seems like they would've fashioned up an image of W10.... Like the desktop is really going to change that much at this point... Like the average consumer is even gonna know the difference, or even give a rats nut sack, for that matter...

Windows belongs to Microsoft, don't forget. Pretty sure Lenovo can't just go around slapping screengrabs from a technical preview on an official press render without someone having something to say about it.

Well, come on Richard.. The politics are obvious.. It's not like we expect MS to NOT have a hand in this.. Lol. After all, they are working closely together on many variables, so it's feasible...
.......
Nevertheless, you're right, and I'm sure LenovoSoft probably discussed this, and the current screenshot is a very conscious decision....
...... Poo on you for ruining our fun, MR. facty pants.:-\

Haha!! U made me laugh man. They are right. This was probably discussed by both Lenovo and Microsoft and this is probably the better option considering an unreleased product, and that the tablet experience of Windows 10 might still be in the works, and probably less refined than the desktop experience still.

Oh, yeah.. I forgot it runs a different "instance" of W10... Good point.

Chinese? Sad that Lenovo sold out but that said, any reason we should trust China/Lenovo?

Why not❓❓❓❓❓❓❓
.......
I'm using mine just fine... And, the millions of others who DONT let stupid politics scare them are using theirs just fine as well.

I use the Lenovo X1 Carbon as my work laptop. I also have Yoga 2 8-inch tablet for the couch. I still have a ThinkPad 8 too, which is a killer tablet. Paul Thurrott is also a big fan, as is any serious tech reviewer. I like Lenovo and I see no reason why you should not use them. If you are that paranoid, the solution is so simple: wipe the drive when you get it, install fresh Windows 10. Problem solved.I just did this on the HP Spectre with Windows 10 preview and worked perfectly, including grabbing all the right drivers. Ed Bott recently wrote about this and how it works.

Isn't Lenovo rated #2, only beat by Mac, which were rated #1 laptops❓ (Consumer Reports)

Hey Daniel, do you have version 1, 2 or 3 of the X1? I've read that V3 is really great with the 5th Gen i7! Lenovo has had major security issues with their consumer line of devices, but not related to politics or being a Chinese company at all, and that doesn't mean their devices are bad at all. Also, their business offerings are really solid.

it's not about superfish anymore. thinkpads build quality have gone down the toilet in the past few years. i love my thinkpad but i know the newest thinkpads are not that appealing anymore. i dont understand why lenovo try to change something that has worked for many years. they sacrificed durability for mobility. this one for example: http://www.reddit.com/r/thinkpad/comments/37o6xx/5_thinkpads_4_repairs_w... another reason why we shouldnt trust lenovo, if you try to replace hdd with ssd in thinkpad x version 3 years ago it was easy. now they make it harder for no reason. I dont understand why lenovo sacrifice durability and simplicity just to make themselves more appealing to regular consumers. what make it worse, they still put pricey tags on thinkpads.

That's the one advantage the ThinkPad Tablet line (2, 10, new 10) has over the Surface. They have GPS even without the LTE. I will probably get the Surface 3 when win10 is released with it. But the Lenovo option is tempting if it has GPS. I have the TPT2 for two years and am very happy with it - just need an updated processor.

Is out 64-bit or 32-bit OS?

This is a business class device, so super likely 64-bit. Lenovo always does 64 for enterprise for somewhat obvious reasons.

My money's on 64-bit. The system can include 4GB of RAM and the chipset fully supports 64-bit. There's not reason to support both OSes...

The TPT2 did not have 64-bit. The 10, I think, might have the option. The new 10, will need confirmation.

"Due to arrive in August" If its launching with Windows 10, then we can at least eliminate Windows 10 RTM being any time in September, confirmed.

Yeah, but that roadmap has already pretty much said the same thing... Everyone is already expecting W10 in August.. Heck, it's in terrific shape now❗ I only wish the WMTP was as far along.. I'd even settle for a little further behind.

This one is going on my wish list. It looks great and if it runs Windows 10 and Office 2016 and Cortana, man, this is pure gold.

it says "32 Wh". that has to be a typo ;)

I want one. But I don't think it's the right time for me to replace my DVP

I love my Surface 3 but this is also a good tablet

This is the same specs as the Surface 3..... Why would I choose this over an S3? Surface 3 Will immediately be upgraded to Windows 10

no, not the same specs. Surface has an x7. both will be updated to W10 immediately - there will be no difference

So... Can we expect Surface Mini now? :)

Nothing on whether the camera is the new type needed for Hello...

$549? I wonder if people will voice the same arguments about it being overpriced as they did with the Surface 3.

Does that price include the keyboard?

great tablet.... very usefull

Of course, it's displaying the awesome Windows 8.1, but they're bragging it will be running the horrible Windows 10. Way to market, Lenovo.
Windows Central Newsletter
Thank you for signing up to Windows Central. You will receive a verification email shortly.
There was a problem. Please refresh the page and try again.