New to Windows Phone? Here are three must have photography apps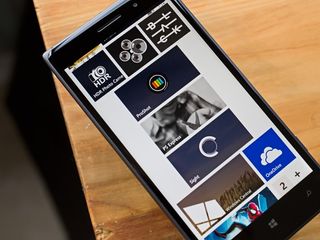 Windows Central Roundup: My Top Windows Phone Photography Apps
For those new to Windows Phone it will not take long to discover that there is an abundance of photography apps available in the Windows Phone Store. Some will argue that there is an overabundance of photography apps in the Store.
Luckily, most of the titles in the Windows Phone Store are capable photography apps. For those new to Windows Phone, it may be tough to figure out where to start building your photo app collection. This week's roundup highlights a small group of apps that I think any Windows Phone shutterbug should have installed on their Windows Phone. They aren't the only game in town but for me, they are at the top of the list.
Quick disclaimer: I currently have nineteen photography apps (the native camera and the Lumia Camera app make twenty-one) installed on my Windows Phone. It is the one genre of apps I do not think you can have too many of and that one size does not fit all. After careful thought, the three apps I am recommending would make for a great foundation for your Windows Phone photography app library.
Adobe Photoshop Express
When you think of digital photo editing the one word that comes to mind for many is Photoshop. One of the many reasons being considering edited images as being "photoshopped" is due to Adobe's strong presence in the photo editing software field. Photoshop Express is Adobe's contribution to the Windows Phone corner of the world.
Photoshop Express is a nice choice for on the go editing and offers tools that include:
Looks: This includes a set of twenty effects filters with the option to add the Adobe Looks Pack (a $2.99 In-App Purchase) to add more filter options.
Adjustments: Here you can tweak the appearance of your photo by adjusting clarity, sharpness, exposure, contrast and other basic editing effects. You also have a Noise Reduction filter (a $4.99 in-app purchase) that does a very nice job of reducing image noise (grain).
Borders: Choose between a nice collection of vignettes, image edge effects and frames for your photos.
Crop: Photoshop Express lets you crop your images to a number of pre-defined ratios or crop things in custom fashion. Here you can also rotate or flip your image.
Red eye: Red eye can ruin a great photo and Photoshop Express has a simple, effective tool to get the red out.
Along with all the self-imposed edits, Photoshop Express also has an Auto-Fix button that will choose the best settings for an image and automatically adjust brightness, exposure and shadows.
You can edit existing images in your Windows Phone Pictures Hub or launch a very basic camera app to capture new images to edit.
There are a couple of reasons I prefer Photoshop Express over many of the other quality photo editors. First, I use Adobe Photoshop Elements as my main photo editor on my home computer and have an Adobe Revel account (cloud storage) that Photoshop Express has support for.
Second, the interface is user friendly and I like the filter collection. I did treat myself to both the Looks Pack and Noise Reduction Packs which adds to the appeal of the app. You can live without them but they really help give Photoshop Express a little more hutzpah. The nice thing Photoshop Express is that once you make an in-app purchase, these add-ons are available for the Windows 8 version, which incidentally works nicely from tablets.
ProShot
There are a few camera app alternatives to the native Windows Phone camera app in the Store. If you sport a Lumia Windows Phone, you have a pretty decent alternative with the Lumia Camera app. If you like the control of a DSLR camera or want to have more flexibility in the automatic modes, you will want to take the Windows Phone app ProShot a hard look.
ProShot is billed as the world's most advanced photography app and the fastest camera on the market. I'm not sure about it being the most advanced or the fastest but it ranks towards the top of those lists.
With ProShot, you can adjust shutter speed, ISO, white balance, exposure compensation, focus, flash, aspect ratio, AF assist lamp, and a 10x lens. In addition to those adjustments, you also have a collection of drive modes that include:
.Burst Shot (up to 8 frames per second)
.Self-Timer
.Intervalometer for time lapse photography
.HDR (High Dynamic Range)
And if that wasn't enough you have display features that include grid lines, level gauge, histogram, live filter effects and an EXIF file viewer. You can create custom program modes, shoot completely manually or completely automatic.
While I will use Lumia Camera for quick photos, I prefer ProShot when time is not an issue with photos. My main camera continues to be a DSLR (Canon 6D or 1D Mark III) and ProShot offers very similar controls. Plus I like how the developer stays on top of things and updates ProShot with regularity when new features and to fix bugs that crop up.
At last check, ProShot is pulling down a 4.5 Star rating in the Windows Phone Store with slightly under 4.400 reviews. Personally, I'd like to see ProShot add an editor to the mix but as is, I think the app is strong enough to easily rate 4.5 Stars. Maybe even the full 5 Stars.
Camera360 Sight
Sometime ago, Camera360 was released in the Windows Phone Store and offered a camera app/photo editing option that continues to be a popular choice among Windows Phone users. Not too long ago, Camera360 Sight was released in the Windows Phone Store that takes the original app and gives it a new look without skimping on features.
The app's navigation is gesture based making moving around Camera360 Sight easy to use and almost effortless. Swipe down at the screen to access your image tools, swipe up for image ratios and tap/hold to pull up focus controls.
Key controls with Sight include the option to use Auto Focus, Manual Focus, Micro-focusing and Manual Exposure. Photo tools include a self-timer, flash controls, white balance controls, an HDR mode, a composition grid and a mirror mode for the rear camera. You can also choose between three aspect ratios (4:3, 16:9 and 1:1) and use 9 customized real-time filters as you capture your images.
The editor covers the basics such as cropping, adjustments (exposure, sharpness, saturation, etc.), lens blur tools and sixty effects filters. You can also view the images EXIF file (synopsis) and share the image from Camera360 Sight's editor.
What draws me to Camera360 Sight? The simple, uncomplicated interface for starters that lets you focus on the viewfinder and not a bunch of settings dials. This will help you concentrate on composition better. If you want a little more control over things, you can manually focus, set the exposure and set the white balance. If you want Sight to do all the heavy lifting and shoot in auto mode, the app does a commendable job of things.
The only real nit that I can think of with Camera360 Sight is that it lacks support for landscape views. You can take photos holding the Windows Phone horizontally but the menu display will stay in vertical orientation. It's no biggie but it would be nice to see the app go with the flow of your Windows Phone orientation.
In addition to being a capable Windows Phone photography app, Camera360 Sight is just fun to use. It may not be the only game in town for creative photography but Camera360 Sight is one of the higher ranked photo apps in the Windows Phone Store.
Honorable Mentions
While these are the top three photography apps I would recommend, there are a plenty of quality Windows Phone photography apps to consider. In addition to the three Windows Phone apps above, here are a few more apps that are worth trying.
Black : Black is a feature rich Windows Phone photography app that focuses on the absence of color. I've always been fascinated with Black & White photography because these images rely more on composition to be outstanding. Black is the only Windows Phone photo app that I know of that allows you to use curves to adjust the contrast in a tonal region.
Photo Marker: If you have ever had the need to jot down a note on a photo, Photo Marker is an easy solution to make that happen. Whether you need to highlight a spot on a map, add measurements to a photo or simply draw an arrow to a point on a photo.
HDR Photo Camera: High Dynamic Range imagery can be a great way to make any photo subject pop. HDR Photo Camera was one of the first Windows Phone photography apps to focus on this technic and is a simple, easy and creative way to create HDR images.
FhotoLens: If you like wide-angle views, FhotoLens is a good way to increase the field of view on your Windows Phone camera. The app creates a virtual 10-24mm lens effect and includes a rather nice HDR image filter. The app is from the developers of Fhotoroom and makes for a nice photography tool to have in your Windows Phone camera bag.
Again, these are the Windows Phone photography apps I would recommend for to those looking to build up their Windows Phone app library. As a bonus of sorts, many of these apps are highly rated in the Windows Phone Store so I may not be alone in my thoughts on these apps.
If your favorite photography app isn't on the list, there's nothing sinister going on and there are many worthy options to consider. With the likes of Fhotoroom, Fantasia Painter, Lumia Creative Studio and Photosynth you can easily fill up your phone's memory with capable photo apps that will help you capture and enhance your images.
I've shared my top three Windows Phone photography apps (current top three that is) and now it is your turn. If you agree with my recommendations or have a few to add to the mix, let us know in the comments below.
Windows Central Newsletter
Get the best of Windows Central in in your inbox, every day!
George is the Reviews Editor at Windows Central, concentrating on Windows 10 PC and Mobile apps. He's been a supporter of the platform since the days of Windows CE and uses his current Windows 10 Mobile phone daily to keep up with life and enjoy a game during down time.
Thanks for starting a new posting with such a scintilaing response.

Hey, better than "Seems Faster" or "First" lol

This time I'm with you (y)
+1020 +630

ProShot is hard on battery life, but for me its the best option when it comes to getting the perfect photo. I have the manual presets all set up for different situations, and I can just switch to the one I want and take the picture.

Is there any app which can help with red eye

Adobe Photoshop Express has a red eye removal tool that works well.

It may be fast at taking photos, but very slow at processing them.. Sometimes it's too frustrating

Depends on your hardware. ProShot is very fast at processing on my One.

Haven't downloaded these yet. My first WP was Lumia 920 when it first came out :/
Only using Lumia creative studio for edits and Lumia camera for pictures.

Same here, the ms products work well for me. I got photoshop though

I just downloaded PhotoShop to check it out. Looks decent

Love Lumia creative studio, has everything I need!

I used to as well until the red eye removal tool was removed. It worked very well.

I have a version of Creative Studio so old on my 928 it doesn't have Color Pop, but it does have Red-eye removal. My 520 and Icon have newer versions of CS but not the newer (crappier) ones lol.

Lumia camera is good enough...

4BlendHDR..? And there are more..!!

What about Oggl, if you want almost endless film effects for IG

If only Microsoft fuse the panorama to Lumia camera apps and Lumia selfie to Lumia camera too... It will be a great thing. Gg
But proshot indeed the best alternative

I disagree, George. PhotoShop Express doesn't support editing in landscae mode where you really want the extra "canvas" space to see what you're doing. I like Fhotoroom, because it is very complete and does let you edit in landscape. Most, though, Thumba Pro as I think it has the best user interface of all of them - though it has not seen an update since Mango (Windows Phone 7.5).

yeah... landscape support would be a welcomed feature. I've just gotten used to the portrait view that it doesn't always register when an app lacks landscape support. And yes, Thumba is a very nice editor.

How could I forget about thumba! There are some great options in that app.

I can't seem to get all the talk about PhotoShop. I had reinstall that app twice already to see if they have improved. I think they did an half job on this app. Probably in my mind I compare it too much with the full stuff. Anyway, I agree with you on fhotoroom.

Yeah, Photoshop is good, but hoo boy, about a week spent on it and they could really fix it up, you know? And Thumba...just shows its age. Hasn't been updated since I was rocking my Trophy.

Wow, Fhotorrom wasn't mentioned even once?

actually mentioned twice.

I'm guessing, he mentioned fhotolens maybe that's close enough for him.

For some great edits, I use Fotor on both my WP and my surface. Good app!

Komkommertijd op wp centrall

Is there any app which can help with red eye?

I stopped reading when I saw Adobe Photoshop Express

Come on premium version is far better for editing

I'll pay for premium when there's a one price for all packages. I'm not paying extra anytime the developer decides to add three new ingenious filters I can find on any other free app ( I don't know if anyone remember sofielens.)

And if someone new to WP and don't like photos apps then what?

Don't worry the site is more about photo app. If you look up for what you are interested in I'm sure something will come up

for HDR, fhotoroom and fhotolens is my choice.

Hah already own all of them. I recommend!

Well the adobe app will only let me edit my 5 mp jpegs not the 19 mp .dng correct?

I agree with all of these and use them all sans fhotolens.

Fantasia Painter is far away the best photo editing tool for WP. And is not in the list.

It's more in the line of what I was expected from PhotoShop beside the filter app that it's right now. I doubt those kind of editing are really for a small screen device. I'll give that they did something different, I'll have to look into it in depth

Yeah, Fantasia Painter is my goto photo app also. It has most of the features that I want it one app. Of course, I do have 25 other photo apps on my phone when that doesn't do what I want. :P

I just use the HTC camera. It is fast and the quality of the pictures are pretty good.

Windows central is such a awesome website for windows phone users and windows central is helping to be updated for windows phone lovers

I would put Fantasia Painter above Adobe Photoshop Express any day. Fantasia can do everything that PSE does plus quite a bit more. The ability to adjust the paintbrush , use masks across multiple filters plus the alteration abilities (pinch, bloat, pixelate, ETC) all make this a much more useful tool.

Been using it since WP7. THE BEST APP

Camera 360 sight also bring "continuous" auto focus to older and 9 series Lumias. A feature that is only available on 1520/930/icon.

Which one supports Changing of backgrounds?

I use ProShot to capture timelapse video frames. Later I stich them with Panolapse on my desktop.

What about video recording apps?

Lumia Camera... The best and maybe one and only alternative app for recording videos. But the lacking of pause/resume option is really frustrating.

Totally agree with you about Lumia Camera (formerly Nokia Camera). I could never understand why Nokia didn't implement Pause/Resume in the Lumia version; on my Nokia N8, Pause/Resume is there and it is extremely useful.

Camera360 is a trash because i can't selecct the resolution front facing camera and even at main camera. Advance option are not be avaible.

New to WP... Kinda funny after the news of WP's market share decline yesterday... SMDH.

Be careful with what you say a few people at this site try to make you feel bad. ;)

what does it matter? where i live i see more and more of wp every day.

If you take photos with a real camera, not the thing built into your phone (even a 1080 has a fixed aperture lens, so I'm sorry it's not a real camera), DSLR Toolkit is a must.

Fifteen years ago, I probably would have agreed with you but I have watched Windows Phone cameras evolve from a novelty state to very capable cameras. I don't see them replacing my DSLR but I would easily grab my Windows Phone over a digital point/shoot camera any day. Oh... and yes, DSLR Toolbox is a nice app for determining DOF and Angle of View.

You missed the 'c' in chutzpah :p

Market share decline in november but increasing in the previous months (at least in Europe), so not so much to worry about
I'm sure in december sell are up again
I also don't understand why kantar report show some countries, but not others..

I've been using some app for a long, I keep using them as the developer improves on them. From time to time I explore other options as long as it's not going to be more expensive. For example I got a full X PHOTO APP I'm only going to get a Y PHOTO APP if it doesn't offer a significant improvement. I used sofielens in the past, it was good then but I think it's time you start shopping around for another app

For fast taking pics i use Microsoft camera, for professional pictures i use Lumia Camera.
For fast editing i use Lumia creativity studio and for professional editing i use Fantasia painter of pics art.

Fantasia, lumipx, fhotoroom, afterlight and oggle. Sometime picsart.

Fantasia painter is also a good one

It's a good app it's seems like the developer has been sleeping for a while. Now it looks like they are back in the race, so far I like what they are doing but to me they are a collage app at first while other app are photo editor. They do splendid collage, I'm just waiting for them to finish transferring all the features of the phototastic pro to the new version phototastic collage

Phototastic Collage looks really cool now. And the added features make it even better than it was.

For Camera Lenses, 4Blend HDR is one of my favorites.

proshot + fantasia for ever Come to think of it, i am using fantasia pro since win 7 days. One awesome combo these two makes. Proshot is true genius, to the point that I had to completely abondon lumia camera. I wont mind an update of fantasia though, even if it can afford an one+ year of no updates. PE express is just a "meh" compared to fantasia.

Pro shot is good for her pics. Not much else. Lumia camera is awesome. Camera 360 sucks. And PhotoShop is just PhotoShop which is best haha

Fhotoroom!!!!! It's my best photo app

New to Windows Phone? Commiserations.

I'm not sure how they come up with calling it THE Must Have list. It's SOMEONE'S list, maybe.
Adobe's real strength seems to be noise reduction. It doesn't do anything else better than the competition. I've never been a fan of 360. MY list would be:
1. Lumia Camera
2. Fhotoroom
3. Fantasia

Adobe PhotoShop is not useful to me and lacks in options, I can not recommend this app and I even made the in app purchases and I regret it Thumba, and Fantasia painter solves most of by editing needs

ProShot is my go-to camera app on my Icon. I really wanted to like Lumia Camera but it's always been so slow for social situations. Sure, it's great for nature shots or static shots. But you really have to ask people to hold a pose for quite awhile or else there's blur. You have to keep in mind that these people are used to hypersnappy iPhone world which values speed above all else. Plus, the controls on ProShot are just the same as my DSLR. It's very easy for me to adjust. Lumia Camera has that funky slow scrolling wheel with realtime effects which is completely necessarily. Just let me change things fast and not have a slow UI.

1Shot camera is the only app that i need.

PicsArt is one great editing app..

No f way... You just need Lumia camera, and fantasia painter.

Proshot the best, if you knows how to use. I used most of the programs above. Still none can be compare to ProShot for me.

Most useful photography app for me: Sun Tracker. Sunrise, sunset times and angles and a "live view" mode showing the path of the sun.

My personal faves are 1. Camera360 Sight (speedy capturing) 2. ProShot (multitude of adjustments) and 3. Lumia Creative Studio (quick n easy editing). Honorable mention to Phototastic Collage for the ability to add text without having to crop images into a square.

I prefer the term photochopped..
.

Adobe and proshot I completely agree, great apps, I use regularly. I am not getting the fascination with camera 360, both camera 360 and camera 360 pro are seriously lacking, tried both and deleted both.

4Blend HDR is also a great app...

For editing I use Lumia Creative Studio, Fotor, and the built in Windows Phone editing features. I really like Fotor. It has everything except red-eye removal. For taking pictures I mainly use the default Microsoft camera because of how fast it launches. If I want better pics and I'm not in a hurry I use the Lumia Camera app.

Lumia camera has been updated a couple of days ago, has definitely faster start up and performance on my 1020. Anyone else notice this?

PhotoCropper...to learn how to crop photos.

I have an M8. Already defaulted the MS Camera app since that's the only way to get "decent" pix. HTC app is shit. All I want is to squeeze better quality out of this shit camera... Is there an app that can do that? I don't need fancy adjustments. I just want to snap a quick pic and get better results.
Windows Central Newsletter
Thank you for signing up to Windows Central. You will receive a verification email shortly.
There was a problem. Please refresh the page and try again.