The new Xbox One fall update is rolling out to the public, here's what's new
The Xbox One's big Fall update is rolling out to the public, starting today.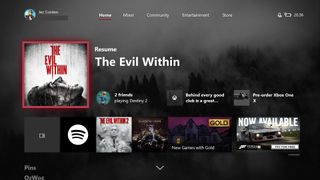 The brand new 1710 update is a huge addition to the Xbox One, bringing tons of new features. It revamps the dashboard with Windows 10 Fluent Design, it brings new Content Blocks which bring live content to the dashboard. You can now have up to 40 pins. There's a new light theme, a new Guide menu, 1080p game DVR recording, and much more.
Xbox platform CVP Mike Ybarra detailed the new additions in a huge blog post on Xbox Wire, thanking Xbox Insiders for their feedback.
Here's a rundown of all the new features as described by the post, but don't forget to read our full changelog too.
Add new content blocks to the home screen, including friends, Xbox Live Gold information, favorite games, and more. Ybarra also told us that content blocks could expand to apps like Twitter in the future.
Have up to 40 pins, both in a content block and in the new pins section on the updated Guide.
USB webcam support.
Algorithmic "recommended" content now appears at the top of the dashboard, showing things like joinable friends, game downloads, and suggested content.
Separate light, dark, and high-contrast themes. Learn how to enable it here.
New Guide with a horizontal layout, giving faster access to party and broadcast systems, and more.
New idle system that scrubs the display to prevent burn-in on certain TV types, while displaying large-style notifications when you're away from the screen.
New Game Hubs design putting content first.
Gamer profiles now show recent activity first, and you can hide your activity feed through a new privacy setting.
New grid-design for the community feed, with full-screen view modes.
Download Xbox One X 4K assets early on your existing console, and transfer games and settings over your home network or via an external hard drive.
New store listing for Xbox One X games, with a new filter for Xbox One X enhanced games in your Games & Apps list.
You can now capture 1080p video footage using the Xbox One's Game DVR, with 4K HDR on the Xbox One X. You can also stream at 1080p via Mixer.
You can now record up to 60 minutes of footage using an external HDD.
Other features include a rebrand of the Xbox Store to the Microsoft Store, matching Windows 10. Arabic and Hebrew language support and a new Xbox Assist help app.
For the full-blown changelog, head over to this link.
Some of the features on the horizon that didn't make it into this build include the new Xbox Avatars system, Xbox Game Gifting, and OG Xbox backward compatibility. We might begin to see them in the next builds that hit the Xbox Insider Program, and we'll be sure to let you know when they do.
For more helpful tips and tricks for today's big Xbox update, see our help section below.
More: Xbox Help
Windows Central Newsletter
Get the best of Windows Central in in your inbox, every day!
Jez Corden a Managing Editor at Windows Central, focusing primarily on all things Xbox and gaming. Jez is known for breaking exclusive news and analysis as relates to the Microsoft ecosystem while being powered by caffeine. Follow on Twitter @JezCorden and listen to his Xbox Two podcast, all about, you guessed it, Xbox!
What is problem with GamerPic in Dashboard? Why is disproportional?

1. This updates makes the UI super fast no doubt.
2. This update aside the fastness is a big ugly mess. The new profile page just makes me wanna puke..... just compare, old one was way better. Hey Cortana record that now pauses my game before it records... wtf?
3. Can Microsoft Xbox team for the love of God stop making us always learn new shifts and changes in the UI? Becomes soo annoying after button replacements that you are used to.
4. Bad update for quick glances..... now it's all going through tabs. I know fan boys will defend, I'm a fan boy too but really wish I could roll back seriously, this update isn't for me.

Your number 3 point I totally agree with! Esp when you are playing an online match and Cortana takes away control for 5 seconds. Super annoying and gets you killed. The old system was better in that sense.

The store, my games, and pins icons are off(as in tiny)...I reported it awhile back.

Great. I'm downloading it right now looks great.

It downloads extremely slowly why is that?

The fluorescent effect on the selected items is so strong and ugly it makes my eyes bleed.

https://www.youtube.com/watch?v=s946FOBDmDk

At a glance, it looks great! I guess I won't know EXACTLY what I think of it until I download it...which I hope to tonight!!! Will report back!

Were is the backgroung music controls? Did they remove it..

Yeah, they disappeared from the guide a while ago, it's really freaking annoying.

It uninstalled all 108 of my games. Awesome.

You get to experience the magic of downloading them all over again! It's a feature!

Apparently an issue with having an external drive. Just ridiculous, like who gives an eff about the interface as long as it works. It's a game console. I know they set it up as some kind of entertainment hub crap, but honestly give me a break. Cool, it has fluent design, so when I play Diablo 3 for the 2064th time there's transparent tiles or some crap in the 4 seconds I'm looking at the home hub. Jesus. My goal is to launch the game, not **** around with the effing home screen and pins or whatever junk they think is trendy at the moment. Such fail. Rant over.

It deletes my queue every time I restart the console.

This is by far the best update so far

I like the way its faster than ever. I really hate this "pins"... Why they added it? The ui is inconsistent now with this weird vertical scrolling. I've also read that the controls of the background music disappeared... Really?

Busy day for MS servers with the Windows upgrades hitting the public today too

the font around each square feels way to big, I like the new layout, but the colors and fonts make it rather ugly.

I like many elements, but disappointed with much of the execution. The theme color border highlights don't look right. I can appreciate going acrylic and integrating their new design language. But I don't find that edgy, sexy, or sleek in the least. Also, they might as well have action center pop up from the lower right like on Windows PCs if they are looking for convergence in UI. Finally, they really ought to make all content pinned to the screen optional. Make everything a customizable widget that can be removed or not. They can, out of the box have it piled on with garbage, but they should let it all be removable for those that want a nice clean dashboard. What the heck kind of feedback did beta testers provide? My 2 cents.
Windows Central Newsletter
Thank you for signing up to Windows Central. You will receive a verification email shortly.
There was a problem. Please refresh the page and try again.