The new Xbox One controller will work wirelessly with Windows 10 Mobile
It's down to the developers to enable, though.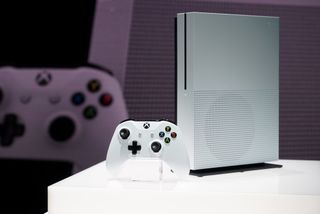 (Image credit: Windows Central)
Alongside the announcement of the Xbox One S was the news that the revised controller will utilise Bluetooth. Then, during our interview with Xbox Services GM, Dave McCarthy, we learned something else interesting; it'll work just fine with Windows 10 Mobile.
So, while there's work to be done to make it a reality, Microsoft has done its part on the hardware front and made sure the new controller is ready for the whole Windows 10 ecosystem as soon as you take it out of the box.
That's a change from the current controller we're happy to see. Many of us have Bluetooth capabilities already in place on our Windows 10 PCs, but have had to purchase an additional dongle to use the Xbox One controller wirelessly with them.
Back at Build earlier this year we first saw Xbox One Controller support for Windows 10 Mobile and Continuum, though with the existing generation you'd have to plug them in with a cable or use the wireless adapter. That won't be an issue it seems with the new controller, and that makes us smile.
Be sure to check out the full interview for more on Xbox One S, Scorpio and everything else Microsoft at E3!
Richard Devine is an Editor at Windows Central. A former Project Manager and long-term tech addict, he joined Mobile Nations in 2011 and has been found on Android Central and iMore as well as Windows Central. Currently you'll find him covering all manner of PC hardware and gaming, and you can follow him on Twitter and Instagram.
YAAASSSSSS!!!!!! :D Another feature added to my favorite (mobile) OS :D

I'd wish for a mount that can be put on the controller, so I can use it like a MOGA with my phone mounted in. Also game streaming to phones would make sense now.

I agree with both. Would be nice to see these features coming. Posted with the Windows Central app for Windows 10 on HP 250 G1 notebook. It is a scary old monster, I think :D

well.... that shouldn't be such a difficult addon to produce. Replacing the battery cover with one that includes a mount.

Nice idea. And if Microsoft fails to deliver, someone could start a Kickstarter campaign. :D

Of course there's always Duct-tape ;-)

They can even make a mount that has a battery pack which relpaces the current battery pack in the controller, on the clip to contect the phone will have some wireless charging protocols that when the phone is contected to the mount the phone will share battery life with the controller.

Maybe someone will put together a 3d printable version and post it to thingiverse...

I think I might have just come up with an idea lol

I already have a mount for my XB1 controller I can use with my phone or tablet when playing with remote play :). Nyko.

Didn't realize this exists already, thanks!

Seen one from I think was from pdp aswell

Nyko Smart Clip: https://www.amazon.com/Nyko-Smart-Clip-Xbox-One/dp/B00FLLFM0Q?ie=UTF8&*V...

I don't have Best Buy. ;)

Well I just ordered one for my HP 608 G1, I believe they have a bunch for phones http://www.shapeways.com/shops/utor-case

you mean a Niko Xbox One clip that you can buy! =) Exists already =)

Playing Shadow fight 3 with the controller is gonna be awesome.

Any word on release date for that? Is it the game they showed at build?

It's what I wanted. Best controller in the world without dongles. :)

#nodongles Hopefully that new Elite controller with bluetooth support will also come soon. Sent from Turing Machine

Lol they barely can handle demand as it is

Well assuming he knows that windows 10 mobile is part of the eco system. because their is no mention of windows 10 mobile specficially

The question in the interview was specifically asking about Windows 10 Mobile. Before you get all negative, go read it all!

Jez: Also, will the new Xbox One S controller with Bluetooth work with Windows 10 Mobile? Dave: That's something that developers have to write to at a game level. Capability-wise, this works across the Windows 10 ecosystem. It's a huge advantage that this controller will work seamlessly across the whole ecosystem. Try reading the actual source. :P

Anyone would think we interviewed someone and didn't actually know what they were talking about, right?!

Well it is not so clear were the focus is these days, isnt it:)

Richard, I so feel you right now haha. I don't know what's been going on with people here lately. Peace.

With the status of their mobile efforts, its no surprise why people aren't that all confident about MS mobile efforts. Things will gets more positive if when W10M finally steps up around next year despite being way too late. Expect these kind of reaction that's anything related to mobile. Sent from Turing Machine

2aXross No, cut the excuses. Thank you.

Basically like moga if the devs dont go the extra mile its worthless

Makes me wonder if they will update the Elite controllers to include Bluetooth support as well... though i just got my elite. blergh.

Tbf, the target market for the Elite probably isn't interested in mobile gaming. Or wireless. The 'pro' gamer likes wired all the way. It'd be nice if they slipped it in though. Wouldn't make me get a new Elite, though. I'm happy enough with the one I already have.

It'll be cool if the S controller has a simple switch to go between the wireless used in the "old" controllers and Bluetooth so it's a simple switch rather than repairing between devices. I'm probably going to get an Elite controller this year I think it's fine without Bluetooth

That's actually a neat idea, now I just realized that they missed that opportunity on that. But oh well, they might not just able to think outside the box. Sent from Turing Machine

They have a similar thing (although it just uses Bluetooth 100%) on one of their mobile keyboards it lets you pair to two devices and flick a physical switch to swap between two paired devices. Thought they might have done this here too. Tempted to pickup an Elite controller anyway so may not apply to me, but I'd be tempted to one of these if a load of games come to W10M that support it.

I may be an anomaly, but I love my Elite Controller and would never have bought it if it didn't support wireless. I love it for the better feel, longer thumb sticks for more precise control, the much improved D-pad, and paddles that enable pressing buttons without taking my thumb off the stick or to use triggers and RB/LB at the same time. Those are tangible performance gains for me. But if I had to use it wired, I'd have stuck with the original wireless controller that came with the XBox. If there's a performance hit for going wireless, I don't detect it on the games I play. A wired controller would not be an option in my living room -- kids running between couch and TV + wires = disaster.

Somewhat agree, somewhat don't... I've seen input times that are just as low over bluetooth (or whitespace WiFi connectors) as over wired devices (keyboards and/or controllers). I was suprised too but newer wireless standards are apparently really really fast.

Make sense, especially that target market fir elite controller is rather relatively niche, but also high demand from that market. Still the option would be even better, especially that how nice the controller really is that its hard to blame to why not also used that for W10M too. Sent from Turing Machine

Wondering the same. With included app

.... Is it compatible with existing xbox one? Great news and a positive step forward, but wondering whether it'll be compatible with my current console (if so... orders will be in)

Yes, it is. It uses WiFi direct for connecting to Xbox wirelessly and Bluetooth for other devices. So it would work the same way as the existing controller

Thanks! Excellent news #Windows10Mobile L735

What about PC's without bluetooth?

There are USB Bluetooth sticks available ;)

And the existing Xbox One controller dongle for PC will work

Should be mentioned if not using w10 you'd also have to add something like pinnacle game profiler or gamii if using it over bt

That's what I want to know......i just bought my XB1 least year, with Kinect..... That was a mistake.

Last year is not "just", lol. You've had it for so many months. Sent from Bikini Bottom via my ShellPhone 920

Wasn't planning on getting this controller but with this news, its an instabuy. I wonder if this because of the dual BT/Wireless connectivity in the controller with BT allowing this capability?

Most importantly, will it keep the proprietary solution that makes it compatible with OG XO and makes it far superior when it comes to input lag or will they only make them bluetooth in the future?

Ok. Where do want me to send you to?

So will there be another Xbox controller with Project Scorpio or is this it? So many controllers now.

Probably another minor refresh, there aren't really "many controllers" every new controller replaces the old one. Xbox 360 had a multitude of new controllers too but none of them fixed the stupid d-pad properly.

This is great news! Great for gaming via Continuum - or when streaming games from either Xbox or PC. I could totally see a smaller Xbox, running on ARM and with software based on W10M, become a reality.

More likely based on IoT, but I'd still prefer an Atom over ARM.

Well, in that case you could argue over which IoT SKU we'd be talking about, but it is my opinion that they should make a piece of hardware touting an ARM processor and running something which would have an actual shell that a user could navigate, instead of the smallest IoT SKU which only lets you run one app at a time. The most obvious shell would be the Xbox UI, which is already made to be navigable on a TV using an Xbox controller. They could also make a smaller stick, running IoT basic which ran one app that would let you cast videos (Chromecast style) via "Project Rome", the next-gen SmartGlass protocol/app. In these scenarios, x86 compat isn't really necessary, so Atom would not be required. Someone else can and will make those Atom based sticks running full Windows.

Do you think we will get a refresh Kinect with the new Xbox one s?

I guess no, I think they gave up on that idea.

The Xbox One S doesn't even have a Kinect port, so I doubt it Lumia 950. Release Preview

Not likely with the Xbox One S, but I could definitely see a use case for a Kinect when we talk about Mixed Reality. I mean the vilify to scan yourself from the outside and your surroundings (i.e. your living room) will be very handy for Holoportation, placing mixed reality objects in the room, etc. So I'd say that a Kinect is almost a must have accessory for the Scorpio and it's Mixed Reality chops - and if they can figure out a way to make it wireless, that would be even better.

Lol well if they didn't gut it like they did with 360 version then wireless could work if it still had it own processor

Excellent news! Hope it will be compatible with all W10m devices.

For those that play the 'on iOS and Android first and better' card, here is something exclusive for W10M. Take that.

I'm guessing that the bluetooth addition also means incoming Android/iOS support.

Good thing there's such a large number of W10M users for developers to target.... /s

Lol sad but true main reason why mogo failed to gain traction

Excuse me, why would you need controller for a phone? Oo

For the times when your phone is connected to a larger screen via Project My Screen or Continuum. You know, so your phone can be your mini console. I am a million times better at Beach Buggy Racing with a controller than with touch or tilt controls. The same can be said about Modern Combat 5, but with a keyboard and mouse.

For games that take advantage of it, specifically.

Kick in the groin for me, purchased two original Xbox one controllers and Xbox elite and the wireless adaptor. Now you get a headphone jack and Bluetooth little annoyed

That must have been a while ago, the X1 controller had a jack for a year or so now, it's only the refined design/bluetooth that is new and the Elite controller has not been updated.

Can a wired xbox 360 controller (usb one for pc) work with windows 10 mobile?

Yes it can, with the latest Redstone builds. Sent via the Windows Central UWP app from a Lumia 950XL running Windows 10 Mobile.

Already doing that with my PS4 controller.

Already doing that with my Atari joystick. /s Sent via the Windows Central UWP app from a Lumia 950XL running Windows 10 Mobile.

Didn't know that that one already had Bluetooth.

It's the great grandfather of controllers so it comes with Sabretooth. Pairing is super slow though. You have to hold the single red button down for about 20 years to connect. Just plugging in the joystick is far less time consuming. Needless to say, due to the passage of time waiting to pair, Sabretooth is no longer available and thus Bluetooth was born before good ole Sabe ever paired. Bluetooth is backwards compatible with Sabretooth (just gently brush Bluetooth with whitening BToothpaste and the blue will be removed, revealing a white Sabretooth) and that is how the Atari joystick works with Windows 10 Mobile. Yup. Next topic, where is Lan Di and how we can connect 8 Xbox Scorpio's to him for 4K 60FPS Perfect Dark 3 death match!!! Stay tuned! Sent via the Windows Central UWP app from a Lumia 950XL running Windows 10 Mobile.

And you've been able to also stream PS4 games to Xperia phones (and I believe Sony opened that to other Android devices too) for at least two years now. Microsoft is late as always but better late than never. Although in the case of mobile, it's sort of irrelevant. No one uses WP anymore and developers will most certainly not waste a single minute updating WP10 games to use the controller since from the less than 1% of WP users, more than half don't have WP10 on their phones and from those that have, more than half won't be connecting their phones to an Xbox controller.

Microsoft isn't always late. I don't see Sony having Contiinum, 2-in-1 PCs or a universal platform. MS is behind on some things but ahead on others.

Not comparable. Sony doesn't have Continuum, because they're not developing their own OS. As for 2-in-1 PCs and UWP, they're not making PCs anymore, just smartphones and tablets.

That's true. But since I have a Lumia 930, I haven't been able to use the steaming feature, although I have been using it on my PC. Microsoft is late bringing a Bluetooth controller to the market, considering Sony already had one (DualShock 3) back in 2008.

Sony hasn't released their AR/VR headset yet, Microsoft has. Sony hasn't announced their next gen console yet, Microsoft has. Microsoft was first to announce a scoring system, achievements. Sony released it much later after seeing it was a success and wanted to get in on it. Sony was last in motion sensing devices, Microsoft wasn't. Microsoft was first to release the Xbox 360, Sony, after many delays finally released the PS3 nearly a year after they promised. And I can go on and on and on and ... about where Sony was late to the game. Of course, you have been proven to just invent stories when they can be proven factually wrong as I did last night, so why should you stop inventing new ones?

AR/VR are different things. Microsoft has released Hololens (AR), but only for developers, whereas Sony will release PlayStation VR in the coming months for consumers. This probably means, that Sony already released their VR headset in the form of development kits. It's not a next gen console, just a better current gen. Doesn't matter weather you talk about Xbox One S or PlayStation 4 Neo. Thruth is, both, Microsoft and Sony, have probably done a few things wrong and right since the release of their first consoles.

Yes, I know they are different things. That is why I wrote both AR and VR. "This probably means" - in other words, you don't know. "It's not a next gen console" - by your termminology. I would say that the XB1S is better current gen. Scorpio is what this current gen cannot do. Just because Sony has not joined does not mean it is not the next gen. "Thruth is, both, Microsoft and Sony, have probably done a few things wrong and right since the release of their first consoles." - a completely different issue. The local Android troll made the blanket statement of "Microsoft is late as always." I was pointing out cases where he was incorrect. Nowhere did I say that Microsoft was wrong, Sony was wrong, nor did I write anything about them being right. I was simply giving examples of where Android boy was making wild accusations, and pointing out where, yet again, he was wrong.

Actually, I do know. PlayStation VR development kits are out in the wild since 2014. Here, just looked that up for you: http://www.roadtovr.com/sony-morpheus-development-vanguard-v-dev-perspec...

How do I buy one? Do I need to be a certified, experienced games developer? Does it cost more than $3000? How can I, just a regular Joe Schmoe, get one? While Hololense is called a developer preview, there is nothing necessary to prove that I am a developer. What about Sony? And how about answering the rest of my questions? You seem to be trying very hard to twist the discussion to move it away from the original discussion. But we know why you are here, to defend Sony. Why, according to your last comment, if you do know, then why did you write "This probably means"? You didn't sound so sure at first, now you are confident that it is happening. Are you writing things that you don't know about, assuming that Sony is perfect and so it must be true, then when you are caught not knowing then you look up the information? And what does any of this have to do with Microsoft trailing Sony? And why, when you complained that AR and VR have nothing in common with each other, ignoring all the other items and focusing on VR, which you contend is not what Microsoft is going after? Inquiring minds want to know.

From what I know it's currently only aiming for developers. Can't give you any specific details on development kits, since I'm not a developer and also haven't done a lot of research on this. But you're free to ask Sony about this: https://www.playstation.com/en-us/develop/ The original discussion was about being able to use the DualShock 4 controller via Bluetooth with Windows 10 Mobile. And that works great.

PC/Laptop streaming was first on Xbox One. Where it is usefull. You don't know how easy/hard it is to add the functionality. Mmmm, feeding the troll again...

And you know how easy/hard it is? Isn't Microsoft the world's biggest software company? I'm sure, the could figure it out. Then again Xbox probably isn't their main focus, because Sony actually managed it to add PS4 streaming for Windows, Mac and Android.

"And you know how easy/hard it is?" Do you? What does "the world's biggest software company" have to do with it? Actually, technically, Oracle is the biggest software company. I am not sure what Microsoft's size has to do with it. No, it is not their focus, while for Sony their focus is the PS, since that is all they have left of the company. Sony is now the biggest console maker. They should have this pinned down by now, and they are still behind Microsoft? Shame on you, Sony.

"for Sony their focus is the PS, since that is all they have left of the company" is like saying Windows is all Microsoft has left of the company. It's a big part of either company, but not everything.

Again, you are avoiding questions, getting more and more off the subject. I know how it is, you need to try to distract as much as possible to not answer the questin. Sony is a big company. But there is not much making money for them these days. They have the Playstation, insurance, cameras that they sell to Apple for the iPhone, and that is about it. There has been talk that Apple may use a different camera supplier because Sony charges a very high $20/camera. Sony sold off their computer division. The head of their phone division last year said "We will never sell or exit from the current mobile business" even though they lose around 200 billion yen ($2 billion) per quarter quarter and has no hopes of making money soon (and people think that the Windows Phone is a bad loss). Their TV division has lost money for 10 years in a row. Their credit rating is the junk status. Now it is your turn to take something random from what I wrote here, make up something completely unrelated, and further take the discussion off track.

Lol even moga was a wasted effort

how. i can hardwire a ps4 controller but ive tried loads to blue tooth it and nothing

It's actually pretty simple. Press and hold PS/Share button at the same time until the indicator is flashing rapidly. Then you can just connect it to your phone, like you'd connect any other bluetooth device.

Just one question, will this work with all windows mobile devices that support windows 10 mobile ? Or just the continuum enabled ones?

Why would you need continuum? Makes no sense at all. So, yes it will.

I really want to find out if this means Steam Link can now support the new controller. As I understood it the problem was no drivers for the dongle.

Will it work with all the win10 mobile? Or mobiles with continuum?

A lot of cool features keep coming to Windows 10 mobile. Shame that Microsoft hates promoting, advertising, or even mentioning the OS to the public.

wish the ps4 controler would.

It actually already does.

Will the new controllers work with the current XB1?

Sweet!! A controller that I can use on the XB1, PC, laptop, tablet, and now phone!! The wired controller on the tablet was the worst, having only 1 USB port, I had to quit the game when the tablet battery was dead or wire up a usb hub. I'm ready for bluetooth!
Windows Central Newsletter
Get the best of Windows Central in in your inbox, every day!
Thank you for signing up to Windows Central. You will receive a verification email shortly.
There was a problem. Please refresh the page and try again.