In 2015, Microsoft unveiled the Xbox Wireless Adapter, an external USB accessory for connecting Xbox One controllers to a Windows 10 PC. Supporting up to eight devices, it was a quick and easy solution for PC gamers looking to take advantage of the Xbox One's wireless capabilities, without the requirement for a physical connection over micro USB.
A few months ago, a successor to the wireless dongle was unveiled, promising to offer the same feature set in a smaller and much more refined form factor. The device won't make its way to the U.S. until 2018, but we spent some time with this revised accessory.
After its unveiling, it soon emerged that most markets will have to wait until next year to buy this gadget, with a staggered rollout beginning in select Asian markets. We managed to secure one of these adapters from Korea, prior to the U.S. debut scheduled for January 2018.
Design: Smaller and sleeker
Upon first getting started with the latest Xbox Wireless Adapter, the first thing you'll notice is that it's very small, especially in comparison to its predecessor. According to Microsoft, the latest revision comes in at 66 percent of the original's volume, which significantly reduces its overall footprint. Every dimension of the adapter has been reduced – the most significant is its length, with nearly 40 mm off the casing protruding from the USB port.
The redesign feels like a significant evolution, with refinements in almost every aspect of its design. The "Sync" button used to connect controllers has been moved from the side and now fits seamlessly into the rear of the design. The Xbox name on the side has been ditched, instead opting for a much subtler standalone Xbox logo. And while a plastic outer casing still exists, condensing its internals makes for a denser and weightier feel in relation to its size, resulting in a premium feel. Oh, and you get a cute cap to cover the USB connector.
This refinement is what makes the new Xbox Wireless Adapter so compelling as a versatile solution for using Xbox controllers on PC. This is especially true for gaming on the go, essentially offering the same functionality at almost half the length of the original. After the first version of the adapter was blasted for its cumbersome dimensions, this second take is much more suitable for laptop and tablet use.
Performance: Bring together your favorite devices
Like the original, the adapter allows you to connect up to eight Xbox controllers at a single time, over Microsoft's proprietary "Xbox Wireless" protocol. This technology has been used in controllers since the release of the Xbox One and remains its sole method of connecting wireless accessories. Microsoft has slowly been expanding the Xbox Wireless ecosystem over the years, with support for stereo headsets, joysticks, and other accessories. Using the Xbox Wireless adapter allows PCs to hook into this ecosystem of devices, with more than just controllers supported.
Following the size reduction, I had worries about the device's range – especially with the same functionality being offered in a smaller form factor. In our testing, we found the adapter offers a mostly comparable range to its larger counterpart, even surpassing a staggering 40 meters in an open environment. Range and latency are clearly still maintained, even with the internals having been drastically reduced.
Final thoughts on the new Xbox Wireless Adapter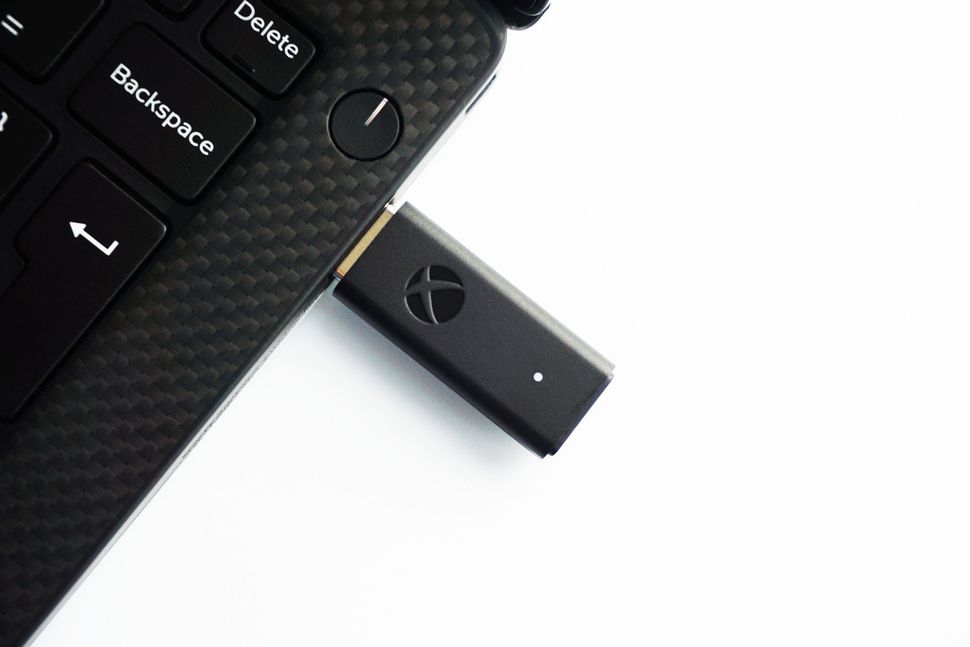 Since the release of the first Xbox Wireless Adapter, a lot has changed across the Xbox ecosystem. In this time, select premium Windows 10 PCs, including the Surface Studio and Surface Book 2, have offered integrated support for Xbox Wireless. Furthermore, Microsoft has also begun to include Bluetooth support across its recent controllers, offering compatibility without this additional accessory.
The relevance of this adapter has somewhat diminished in recent years – especially those who use Xbox controllers on Windows PCs for infrequent casual gaming. Bluetooth for this use is still inferior on paper, with variations in performance and a lack of impulse trigger support, though for many, justifying the adapter is now a lot harder in 2017.
The new Xbox Wireless Adapter offers some major improvements over its predecessor, surpassing the original model in almost regard. With identical functionality and an unchanged retail price, those looking to take advantage of Xbox Wireless on a PC should look no further; this is a great accessory with some welcome refinements.
If you're only using Xbox One controllers for fleeting gaming sessions, this accessory may be better avoided. While it is a great piece of kit for those looking to take full advantage of Xbox accessories away from the living room, the benefits over Bluetooth are still scarce for exclusive controller use.
The new Xbox Wireless Adapter for Windows 10 is currently on track for a U.S. release on January 31, 2018. The device is currently expected to cost $24.99.
Matt Brown was formerly a Windows Central's Senior Editor, Xbox & PC, at Future. Following over seven years of professional consumer technology and gaming coverage, he's focused on the world of Microsoft's gaming efforts. You can follow him on Twitter @mattjbrown.
I had no idea the adapter supported multiple controllers! I got a 4-way hub for no reason!!

so you have four xbox wireless adapters?

So hypothetically the OP can connect 32 controllers at once lol!

Imagine that in a turn based, multi player game. =P

A "must-have" for on the go gaming? Only if you have an older Xbox controller without Bluetooth. Otherwise, a BT controller is a lot more convenient for laptop or tablet use, and performance is fine. The major advantage of this device--multiple controller support--is not really useful in most mobile scenarios. I do feel this (or its predecessor) is a must-have for any respectable at-home gaming PC though.

or if they own an Elite controller

But you can't use headphones connected through the controller over bluetooth right?

What if you want to take it the a friend's house and use it on his PC? What if you have a travel desktop in a mITX form factor, as I do? What if you have an older laptop that doesn't use Bluetooth? Plus that "unless you have an older controller" seems to think everyone just tosses out their old controlelrs when a new one releases. As was mentioned, the Elite STILL has no Bluetooth (yet another reason to laugh at Microsoft's bad attempts at calling it a premium device). Limited edition controllers, like from Titanfall's controller, aren't Bluetooth-inclusive, and I still have mine. I will definitely get one for my next desktop. I also might get a second for a laptop, if mutli-device support is better than trying to do that over Bluetooth on a laptop.

So have they added support for it to work with the Steam Link?

Ahh, I was wondering if this thing still existed. What a compelte mess of a launch. They basically said it was out in August, then the launcch day came, and we got "actually, enxt year!" It was some kind of ignorant disaster. I was waiting on it, and will continue to. Honestly, I wish they would just sell us something that can be embedded int oa PC build like some of the embedded options on non-desktop machines. Be neat to stick it in my upcoming build and not worry about having it taking up a USB slot.
Windows Central Newsletter
Thank you for signing up to Windows Central. You will receive a verification email shortly.
There was a problem. Please refresh the page and try again.