Newegg Premier members can get the T-Mobile Lumia 635 for just $114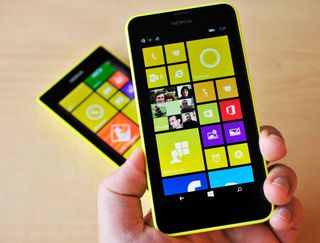 Want the latest Windows Phone on T-Mobile? That would be the Lumia 635 and can be yours for $129 at the Microsoft Store. Or you could buy through Newegg and save yourself $15.
Head to Newegg and you can grab the Lumia 635 for T-Mobile. They don't specify the color, but the render shows a white shell and you can replace those shells with the color of your choice later on.
You'll need to be a Newegg Premier member (think Amazon Prime) to get the Lumia 635 at this price. It costs $49.99 per year to become a Newegg Premier member.
With Newegg Premier you get expedited shipping, special alerts, no restocking fee, exclusive deals, dedicated customer support, free returns and more. There's a free 30-day trial to see if Newegg Premier is for you. It's probably trialing the membership program just to grab the Lumia 635 at this low price.
Anyone interesting in the Lumia 635?
Source: Newegg (opens in new tab)
Get the Windows Central Newsletter
All the latest news, reviews, and guides for Windows and Xbox diehards.
Eh, rather wait for something on NeweggFlash. (They have been selling the 520 for next to nothing.)

Got it at HSN for my daughter's birthday for $119. She loves it. Definitely an upgrade from my other daughter's 521.

Yeah HSNs deal is even better than neweggs. Free shipping plus a portable charger that works great. I was able to get $20 dollars off for signing up for the hsn credit card. So I got it for 107 with taxes. Awesome phone was also an upgrade for my Lumia 521. The 635 is amazing.

HSN purchase here too... Now I'll have three portable chargers that I seldom use. Ah well more is better ...right? The car plug was a need tho...

Lol that's right they also include a car charger in the bundle with the portable charger. I now have 3 car chargers from previous hsn purchases also. Hey anything extra with the phone im okay with that specially since its priced way below retail.

Give it a month or two and it will probably drop to $50-60.

I'm thinking of picking this thing up as a back-up phone (I'm clumsy) when there's a flash price in the $50 range.

I was slow upgrading I just went from my Lumia 710 to the 635 and I love it..

My daughter still users her 710 that phone is a mini tank. But her next phone likely isn't going to be a T-Mobile phone. Right now it looks like the 1320 might best fit her needs.

NewEgg via eBay has the same $114.99 price. No Premier required.

I'm on my phone, so not sure how these links will work if you're on a desktop. http://m.ebay.com/itm/291203069687?nav=SEARCH Also found this. Same phone, different seller. $5 cheaper. http://m.ebay.com/itm/151366683270?nav=SEARCH

I don't know why some WPC articles have typos... "Anyone interesting" ? :P

Probably meant "it's probably worth trialing the membership program" in the last paragraph.

This phone is a little beast!

I'm still waiting to convince my wife. But, If your a teacher / student you can grab an additional 10% off from the microsoft store. Plus I've been racking up money through Bing Rewards. So far 10 bucks plus an addition 5% off... Something like 116.00 minus 5 bucks minus another the 10 bing rewards. so 100 bucks. Free shipping plus their return policy rocks. I'm just trying to sway the wife. My 521 was crushed by a passing car after i lost it from my pocket during a bike ride.

Think there used to be a free year offer for Prime members to try and get you to sign up. Or maybe that was something else.

HSN is by far the best place to buy a Nokia 635 at now. The price is $119.95 plus you get free shipping and it comes with a free car charger and a free portable charger as well. For the package/price you just can't beat the HSN deal.