Newly launched BBC Store lets you purchase and download classic TV shows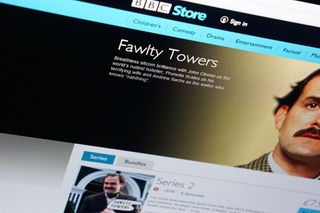 If you've been longing for a way to purchase and download classic TV shows from years ago directly from the BBC, the corporation has finally answered your calls. The BBC Store is a new online shop that enables you to buy a variety of shows and download them for enjoyment, joining iPlayer which simply offers a way to catch-up with your favorite shows from the last 30 days.
Around 7,000 hours worth of television is available on the store, which include Dad's Army, Doctor Who, Fawlty Towers and even Morecambe & Wise. Initially launching offline apps on Windows and Mac, the BBC is also working on dedicated BBC Store apps for both Android and iOS. Shows purchased on the store will show up under "My Programmes" on the iPlayer website. Unfortunately, for the time being, it seems that you're currently unable to stream said purchased content through official iPlayer apps.
Pricing for individual episodes kicks off at £1.89, while the average for a six-part series runs at six-part series is £7.99. If you're wanting to enjoy classics on your TV, you'll need to hold off for now since it's only available through web browsers, but at least we're seeing a new way for everyone to consume content from the broadcaster. So be sure to check out the new BBC Store (linked below).
Download BBC Store for Windows (opens in new tab)
Source: BBC Store
Windows Central Newsletter
Get the best of Windows Central in your inbox, every day!
Rich Edmonds was formerly a Senior Editor of PC hardware at Windows Central, covering everything related to PC components and NAS. He's been involved in technology for more than a decade and knows a thing or two about the magic inside a PC chassis. You can follow him on Twitter at @RichEdmonds.
Why on windows central? There not bringing to windows!

They are, actually. There's an app in the Windows Store (and a link in the article).

Yes they are, suggest you read the article ;)

Ah so there is. So used to being missed and not getting apps!!

It's hard to understand when it's write "released for windows, working on Android/iOS apps".. I only understood because i clicked on the link thinking it's the webstore but it's actually the app hehe

Except it's a Windows 10 app. There's also Mobile and PC screenshots.

Oooh man! Fawlty towers is one of my favorite tv series ever!!!!!

And, in typical BBC fashion, they are limiting this to the UK. Why? They know full and well that their excellent shows are watched all over the world. Rather than giving us an option to ​pay them for their content (which I'd be happy to do), they apparently don't want me to pay for their content. Oh well, I'lll just have to continue to pirate it, then... The first step in fighting piracy is to make the content available legally in an easy way.

Because of licencing?!! The BBC are the creators and the licence holders!!

Yes because they have licencing agreements with broadcasters for their content in other countries!

Exactly right. For example, the ABC (Australian Broadcasting Corporation) has licensed the rights in Australia, and all the shows can be also purchased through them at an extortionate rate. Being able to buy it directly from the UK undermines their gratuitous profit-margin and so the BBC is no doubt bound to protect it for them as part of their agreement.

So you have to pay for the TV license and now you have to pay again that you can watch it on demand.. great :)

Who pays for a tv licence? Not the end user in most countries

BBC is financed by the british tv license .. yes

I lived in the UK for 4 years and never paid a TV license *mwhahaha*

It's not about watching on demand, if you want that there's iPlayer. They sell shows on DVD / Blu-ray etc, now they sell it as a digital download too.

So they get financed by the tv licence and now are able to cross finance their dvd/blueray/digital service to compete with other people in the market... that seems totally fair for the companies that ARE NOT able to cross finance with the tv licence

They get paid to broadcast live TV. They invest in merchandise and anything else they can manage just the same as any other company. Other broadcasters use advertising to make their money along with merchandising. There's no really a difference, if you don't want to watch live or recorded TV don't buy a TV license. Personally I don't like the whole idea of a TV license but suddenly the BBC just got some more respect from me since they released this app on Windows first. Just hope other companies will follow suit.

Torrent or get a tv app. Done.

If you like stealing, such a hero!

Great stuff, and a univeral app too! Now they just need to get their iPlayer apps sorted out, the current web-apps are awful.

If anyone get it there mad. Bbc still charges for licence. Who wants to pay it. (no one). They covered up child abuse for years. Time for them to go.

Chill out Rupert, there's plenty of people who have no problem paying for it (disclaimer: I'm not one of them).

Off-topic: Does anyone know which lumias have a 4 or 5 pole audio connector?

So this app is out already on W10 (including mobile) but not yet on iOS/Android? Really? And it's a native app that allows downloading of programmes offline...according to the Store listing. Shame the iPlayer app doesn't do that. Hopefully that'll change soon.

I think this clearly shows the advantages of having universal apps. If it wasn't for that, we probably would had to wait quite a while after the iOS and Android releases before we;d see a Windows mobile version (Just look at how this happened with their iPlayer app).

I'm still shocked this happened lol

Your not the only one lol..

I heard on Cordkillers pdocast, that the BBC is working on a global streaming service. Initially, it will have shows not available on other streaming services or licensed to other distributors. As those deals end, the show will likely revert to this service.

Win10 Mobile first? WAAAAT??

O.O which parallel universe did I wake up in!?

I love when you guys cover apps or news related to England or the UK, it really shows what an international entity you are!!!! I was thinking why are they charging us to watch tv shows when we pay for a TV license, but after reading the comments, it makes sense that they have made their content digital like amazon and Xbox, however I also agree they should make their content available outside the UK, since they have a lot of content which is available all over the world eg. BBC America, surely they will make more money that way and maybe reduce the cost of the TV license!!! Because it doesn't seem like people in the UK want to pay for the TV license anymore, I for one don't mind paying for it since they normally create some quality TV, especially BBC Three!!!!

I think this is the first example of the major benefits of Universal Windows Apps. Obviously the most logical platform to make an app for is Windows. They made it for Windows 10 and as such they made it for Mobile as well. Had Universal Apps not been a thing, there's no chance we would have got this app before iOS and Android, if at all. The only surprise is that they went with a Windows Store app, rather than a desktop app.

Or just making it browser based - Which is what I assumed at first when I read it was available on Windows. Good to see it's a store app.

This also means it will work with Continuum!

Already spent £30 downloading stuff....about time BBC.

theres one detail you guys missed. This BBC store was released to windows 10 before IOS and Android.