News Pro for iOS review: A solid newsreader with a few quirks
Microsoft's News Pro app for iPhone is so great and polished it kicked MSN News and Flipboard off my iPhone's home screen.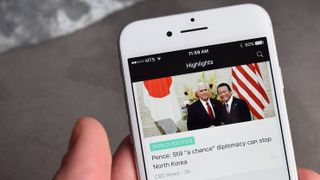 I rarely have so much positive to say about a product, but News Pro has blown me away so far. The app is polished, good looking, fully featured and pretty well supported as updates roll out here and there to fix some bugs and bring some minor changes. There is a lot I like about this app, but it does have some few small issues.
Getting started with News Pro
The first launch of the app shows a splash screen which is very aesthetically similar to the one found in the new Skype Preview app for iOS, which is nice to see as Microsoft isn't known for design consistency across their products. The first impression of the app is definitely a positive one. It's pretty, looks well made and feels fresh. It uses the recognizable Microsoft Design Language 2 icon set used in Windows 10, OneDrive and many other products which is yet another point for consistency. However, the app weirdly uses the Google Material Design share icon for some reason, which is pretty similar to Microsoft's own but it still feels weird in a way.
News Pro features the "Highlights", "Bot" and "Explore" sections, plus the settings panel called "Me" which you can use to customize some aspects of the app or change, add and remove your interests to have a more tailored newsfeed. The most interesting part here is the "Bot" that is available within the app. It's more or less a glorified search engine, but it is still pretty fun and comfortable as you can speak to the bot naturally and ask it for something like "What's the latest on Windows Phone?" and you'll get a reply with around three links featuring the most important news about the specific subject.
News Pro is well designed, very functional and very customisable. I love the "bot" feature too. I rarely say this about MSFT, but great job. pic.twitter.com/q2d6ZzT76ONews Pro is well designed, very functional and very customisable. I love the "bot" feature too. I rarely say this about MSFT, but great job. pic.twitter.com/q2d6ZzT76O— Dennis the Minecraft YouTuber (@DennisBednarz) April 18, 2017April 18, 2017
So how does it work?
News Pro, similarly to other news apps on the market, learns what you're interested in and gives you the information you want when you want it. Tap the menu button in the bottom right corner of a news card to mark news stories you're not interested in as "See less like this" and those that pique your interest with "See more like this". The more you use it, the better it gets.
I've noticed a few issues with this "learning" process — I've set some topics to "See less like this" multiple times and some of them still happen to show up in the newsfeed which is a little annoying, but it happens so rarely that I can't really complain about it, as I rarely have to deal with it. When you share to Twitter, News Pro also automatically creates a Tweet for you (including the @NewsPro_App account), which I personally find quite annoying — I have my own words to add! News Pro is far from the only app to do this, though.
The app performs well no matter for how long I use it, even on an old and lagging-on-the-latest-iOS iPhone 6. The app resumes, launches and loads articles pretty quickly too, and if you want some extra speed you can enable the "Speedy View". I wish I could enable it as a default option instead of having to press that button every time I load an article, it's that snappy.
Speedy View works very well and does what it promises. It loads very quickly, dumping the cruft of the website and just serving you the content. It's faster and uses less data to boot. without requiring you to load the whole web page. This actually saves data too, so if you're on a limited data plan, you could have some use for it. The speedy view layout also looks very good, native and feels just right. The text, pictures and other objects from the article all lay out nicely — I've read hundreds of articles using Speedy View in News Pro and only twice did it look weird or miss content. It can be hit-or-miss with many web browser "reading modes", so the reliability of Speedy View was a welcome surprise.
The News Pro Bot
The bot is also surprisingly useful. In my experience, most bots are pretty poor and don't really do what they promise. The News Pro bot may be a glorified news search engine, but it actually works pretty well. When I ask about a subject, it properly recognizes what I am talking about, gives me the desired results and even gives suggestions for what I could ask further in case I want more in-depth news. I usually dismiss and ignore most bots, but this one is an exception that I'm using daily.
It has voice recognition, regular typing with the keyboard as well as automatic topic suggestions — the bot guesses what you could be interested in. The interface is very straightforward, with the typical chat layout you would find in an app like Facebook Messenger or WhatsApp, which helps it feel familiar. You can even ask less specific things like "What are today's headlines?" and the bot will keep you up-to-date with what is happening around the world, or at least in the margins of your interest.
It's surprising how well this bot is done, as it's made by a small Microsoft Garage team — essentially an in-house project incubator for employees. The bot may have very basic functionality, but I know bots that had even simpler tasks than this one and still yet failed to deliver.
The Bottom Line
News Pro is a great newsreader app that has almost no compromises when it comes to the experience, design or the bot it uses. It features a pretty and easy-to-use interface, bundled with a surprisingly well-made and useful bot. It has received regular updates for bug fixes and performance improvements, which show that it's not yet another abandoned Microsoft Garage project.
The general experience is very good and enjoyable. We rarely see such polished projects from Microsoft Garage, but this one definitely shines very brightly. If you're a person which likes their news tailored to your interests, News Pro may be for you.
Get the Windows Central Newsletter
All the latest news, reviews, and guides for Windows and Xbox diehards.
Dennis Bednarz is a former writer for Windows Central and the guy behind ModMy. He has been a recognised member of the Microsoft community for years and owns everything from Lumia phones to Surface PCs. He occasionally likes to rant about Windows Phone and drink tea. You can go ahead and follow him on Twitter at @DennisBednarz