[Updated] The next Metro game has been outed by the accompanying book series' website
Metro Redux remains one of the greatest and most atmospheric first person shooter packages on Xbox One today, but what about the next Metro?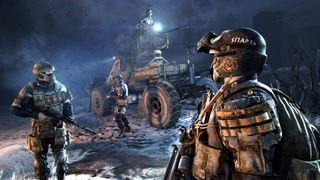 Update: Following today's findings, the website has since been cleared of any references to a new Metro title next year. This was paired with a statement from Deep Silver, ruling out a 2017 release for the next installment.
Original story:
Metro developer 4A Games recently announced it was working on VR titles, leading Metro fans to wonder when we'd see more of the studio's incredible post-apocalyptic shooter series. Well, wonder no more!
A website for the book series the game is based on just outed a 2017 launch window for the next Metro game.
Revealed on the Metro book series website (via ICXM), the timeline lists 2017 as the launch year for the next entry in the video game series, following the 2015 launch of the book Metro 2035.
Metro follows the somber story of Artyom and his militarized faction of Rangers, attempting to survive an apocalyptic event that made the surface of the planet completely inhospitable. Terrifying monsters, supernatural phenomena, and radioactive fallout decimate the land, and the remaining humans skirmish over the relative safety of the Russian subterranean Metro.
Metro 2033 and Metro Last Light are available on Xbox One in a single package known as Metro Redux, having originally launched on Xbox 360. The games have aged incredibly well, featuring some of the most gorgeous visuals, atmospheric environments, and nail-biting horror-twinged gameplay available on the console.
We can only guess as to what the next Metro game will look like, but if you haven't already, you can get an idea by picking up the original games via the links below for some incredibly reasonable prices.
Are you a Metro fan? Let us know in the comments!
Windows Central Newsletter
Get the best of Windows Central in in your inbox, every day!
Jez Corden a Managing Editor at Windows Central, focusing primarily on all things Xbox and gaming. Jez is known for breaking exclusive news and analysis as relates to the Microsoft ecosystem while being powered by caffeine. Follow on Twitter @JezCorden and listen to his Xbox Two podcast, all about, you guessed it, Xbox!
So freaking excited!!!! Can't wait for Metro 3

Love me some Metro and S.T.A.L.K.E.R.

Stalker is a much more immersive game. I really wish it had native controller support. Metro to me is just so darn difficult as well.

S.T.A.L.K.E.R and Metro series is the best apocalypse survival series I have ever played, even better than Fallout.

I will have to check that game out. Post apocalyptic is probably my favorite style. I love the Fallout series, but do feel that the latest games never quite achieved the magic of the first two on PC. Those were incredible. I do like 4, but it almost is having the 'more of the same' feeling in some ways.

Same here. While I thoroughly enjoy metros, Fallout 2 is still number one on my list

Both are good, but you can't really directly compare them, one is an RPG and the other is an FPS

I was actually going to say that, but in some ways you can. Just more of the style of the environments. You can't compare game mechanics or anything like that.

I do love this series. So much so that I actually almost started reading the books. I may still one day after I play the third one.

Great games, tempted to get the books myself... if I can ever find time. T~T

I really need to get around to finishing the first two.

Please do! they're really great

I love the post-apocalyptic genre! Fallout and Metro fo Life! I have been writing a "novel" (not sure if it will go all the way) of a Team in a post-apocalyptic word that has Fallout and Metro base in it. :)

Very interested in this. The world needs a sci-fi, apocalyptic version of Creepy Pasta.

If Donald wins it will be like post-apocalyptic in the US.

When is election time so i know when to hide in the metro? :P

You better get a move on. =P

These are so great news! Downside that I need to buy and read book first:(

This is no downside! The books are awesome!

First comment since Trump became president!!!

And so the hell takes the main stage in the play of democracy...truly saddened by American people. This is the lowest it can get. Narcissist liar for a president. Hitler would be a sensible option in this wretched case...

Don't forget borderline rapists. It should tell you something when terrorist leaders are cheering your country's decision as a leader. Not that the other choice was much better. This whole thing was just embarrassing. I feel like as an American I now need to apologize to the world (well I always felt like that, but this just put it over the top.

People are aware there was actually more than two choices right? You never HAVE to vote for the main two.

America has always been great, as have many other countries. It can now shine brighter.

Just reading the third book and it's awesome! As good as the first two were
Windows Central Newsletter
Thank you for signing up to Windows Central. You will receive a verification email shortly.
There was a problem. Please refresh the page and try again.