The next Microsoft Ignite conference will be held in Chicago on May 9-13, 2016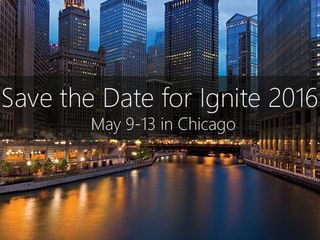 Friday was the last day for the first annual Microsoft Ignite conference for enterprise and IT professionals. However, the company is already making plans for the second annual event, which will once again be held in Chicago. The dates for the conference will be May 9-13, 2016.
Microsoft Ignite was designed to be a merger of many of the company's previous conferences such as its TechEd, SharePoint, Project, Lync and Exchange events. About 23,000 people attended the first Ignite conference this week, but WindowsTPro reports there were more than a few issues at the event, ranging from transportation problems to and from the downtown convention center to some of the sessions not being as detailed as they were promised in their descriptions.
However, this was the first year for Ignite and it stands to reason there would be some glitches at this rather massive event. It's more than possible the company will work out the kinks and have a better conference when Microsoft Ignite happens a year from now.
Source: Microsoft Ignite, WindowsITPro
Lol? Save the date so early?

http://www.windowsphone.com/s?appid=407d254a-13bc-4da3-8c07-4edec8007328

I went. It was ok. It was not as nice as the previous MMS conferences. Those were the best.

I guess it means another week without Windows updates.

No, I have a life outside of tech news and software, so it's okay

Any word on a TechEd / Ignite Europe for 2015 by any chance?

Chicago? Again?! C'mon, find a different venue; Vegas? Orlando? San Francisco? New Orleans? But instead, Chicago again?!? Show some variety...

I agree. Someplace other than Chicago.

Because no-one holds events in Vegas or SF, right?

Most events of this size are cheaper when you do multi-year deals. They already knew when they announced this year.

These Windows Centrals writers get very salty

Hey let Chicago have some love.

What's so bad about Chicago anyways huh Posted via the Windows Central App for Android

Going to watch the live stream!

Love Chicago. Next year I will go early and spend some quality time in the city.

I flew my girlfriend in and am staying till Monday. :)

I was at Ignite. The top complaint from every poll was the horrid food being served. It was the worst of any conference I've attended. There are plenty of food options in Chi town! The bus schedule and session planning as well had issues. All logistics they can fix by learning from this event.

I was there and I agree that for the money paid by the attendees, the food was really bad. I don't think the busses were that bad but they need to distribute them a little better. Some bus routes had 5 or 6 hotels, others had 15. Tracks might help with planning, so two talks about Hyper-V or System Center don't happen at the same time and the like. Biggest complaint for me by far was the Ignite app packing up and quitting halfway through the first day, there was the physical book as a backup, but it should not have just quit like it did.

My only real.issue with the busses were that they stopped too early. They even left people standing in line stranded. I had no problem with my Windows Phone app. It was a life saver. I still thoroughly enjoyed the conference and will be back.

Mark, I agree with you completely regarding the food. It was awful. I'm surprised Microsoft allowed this to happen. I can't say I had a problem with the location of the hotel or logistics.

So its Microsoft's fault the catering company screwed up?
Generally speaking people taste a course of the food that is going to be served for an event and upon going through the sets of menus they choose which they feel is the best one for said event. Sure one could argue that their taster meal would be more "well looked after". But that is moot, people don't taste all the portions that are going to be served on the day (in this case 23,000+)..... that is just moronic lol. However if all the food that went was poorly looked after than most likely the MS reps also had to eat that food.

They should have deep dish pizza from Giordano's

Haven't they heard about Cortana...? :P

From experience, the sessions were repetitive in many ways, the layout of sessions for product channels wasn't organized (I.e. If you wanted to focus on just Windows 10, the windows 10 focused sessions weren't grouped in one area like they were at two past conferences), yeah, the food was meh at best, the structure around shuttle logistics had its moments, and I can go on and on. I enjoyed going, but overall, it felt somewhat disorganized. I wouldn't mind going again if they addressed the session content and layout (I went to four different sessions, four different titles, four different speakers, yet they were all almost the same content). Although walking a grand total of 42.5 miles according to my band ws a plus. And pwrof3, agreed! A group of us went to Giordanos Sunday night, and wish they had that over the lunch options most days (although, some got Connie's pizza, but Ginos and Giordanos would have been better). I still learned a lot, met up with some old friends and ended up bringing home 20lb of swag from the expo booths. I'd gladly suffer the blistered feet and aching calves again if the bigger issues were fixed. It was a blast!

Good for you guys complaining about "meh food" and "bus logistics" issues. I cannot see any opportunity that my company (even though a big multinational one) would buy me the entrance ticket, would buy me a return plane ticket and hotel for the whole duration to allow me travel to US from Europe. And sponsoring this event from my own packet would mean at least 2-3 months of my salary (and I have quite nice salary in my country, not politician-thief kind of rate, but indeed nice one among IT specialists). But well, competition with other colleagues from the EU HQ country, and better relation with travel budget managers make our attempt in other countries to win the opportunity futile. If I'd live in the us, at least I could have cheaper cost of travel to attend such events even without sponsorship of my employer.

I was like 'damn, another Ignite this month!? How does that work? Wait... 2016...'

http://www.windowscentral.com/microsoft-reveals-most-its-2016-event-line...
Windows Central Newsletter
Thank you for signing up to Windows Central. You will receive a verification email shortly.
There was a problem. Please refresh the page and try again.