Nextgen Reader reader now faster and universal, major update now available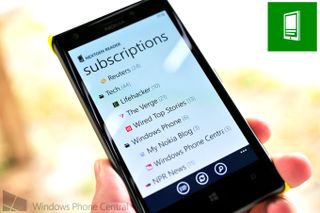 The popular Nextgen Reader is now faster and universal thanks to a new update that was just published. Coming in as v6.1.1.2, the latest release adds plenty of new features to mix and is considered to be a major update. Thankfully, the details of what all has been changed have been outlined so let's take look at those.
Brand new logo for universal app.
Login/purchase once and run on multiple devices (Windows or Windows Phone).
New live tiles with smaller text size for headlines.
Easily configure individual tiles i.e. display only unread count, headlines or images.
Support for large screen devices (Lumia 1520).
Share articles via OS e.g. save to reading list app.
Discover new feeds or browse categories via 'add feeds' hub.
Optimized for low memory devices (Lumia 520).
Redesigned login page and fixed login errors.
Improved OneNote login (if you use 2-factor authentication).
Many other changes and performance improvements.
Known issue: Save image to phone is not supported in this release (planned).
As the update was just published, it might take a bit to filter through but you can check for updates to Nextgen Reader on the Windows Phone Store or the Windows Store. (opens in new tab) Once you get it downloaded, drop some comments and let us know what you think of the update.
Windows Central Newsletter
Get the best of Windows Central in your inbox, every day!
Darned you beat me to it! Lol

i would like to beat you both to it

For once it´s actually a lot faster!

Best RSS reader on ANY PLATFORM- 1.Android's official feedly app lacks mobilization
2.G reader is buggy
3.Press(the so called best android rss reader by android central) cant even ADD SUBSCRIPTION This literally kills any competition --the closest to it is in fact WEAVE which has gone slow after latest update

Don't forget Fuse, the RSS reader from Andy Ryun

You mean Rudy Huyn? Andy though lol

Despite Marius' error about the dev, FUSE is far superior. 1. No registration or login required. Grab feeds from the suggestions or add new ones on the fly. 2. Rather than telling you how many unread articles there are in a certain feed (who cares how many?), FUSE shows you the headlines. 3. The ribbon view particular rocks... See the headlines from all your favorite must-reads at a glance. You don't have to tap on Ars Technica to see the new posts. They're right there, visible with Gizmodo and Wired and all the others. http://1drv.ms/1y7BPzF 4. You can download all groups, specific groups, or individual feeds for offline viewing. 5. Sharing options include your social networks, text, email, reading list, NFC, OneNote (allows you to specify exactly where in OneNote the link should be stored), QR Code, Pocket, and Instapaper. The only drawbacks I've found with FUSE: a. The live tile unread article count stops at 99. Again, does the exact number really matter when you have that many articles waiting for you? b. There is no Windows Desktop app. Sorry, kids. The NextGen Feedly Client leaves me completely unimpressed after using FUSE.

Far more customization available with Next Gen though. Also, the UI with Fuse is unimpressive and doesn't take full advantage of Metro like Next Gen. It's a little boring to me. Different strokes
..

"Sorry, kids?" What a condescending brat you come off as when you make remarks like that. I've used Fuse, but didn't like the lack of customization and the fact it's not on Windows. Nextgen also does a much better job of supporting its product too... doesn't suffer from ADHD product development like Rudy.

My apologies, GT2L. My intent was to sound playful, to suggest this is a good-natured debate.

Don't apologise, tell him to fuck he's self. Your cleverness obviously upsets certain trolls we have to put up with cause mummy hasn't put them to bed yet... You keep commenting mate..

Lol at the ADHD, agree with you on that.

That's a great review, for that particular app, your comment was a good one & well argued... I'm not paying for NextGen I not paying for anymore WP8 or WP8.1 apps, cause I'm not staying longer than my contract. You're throw away "sorry kids" is fine, if others took offence that's not your fault. Thank you for you interesting comment.

TY, roguecroce. Sorry to hear you're not hanging with WP.

Oh... Well... got ages on contract yet...

Sad to see toast notifications not including in the release. The developer said that complete testing for notifications wan't complete so it will happen in a later release.

This is Google reader right? I mean that thing that needs Google account right? I'm totally new to this.

It does not require Google account.

Used to be. Uses... Feedly now. I believe that's right.

Google Reader doesn't exist anymore. Feedly is a valid alternative.

Feedly still uses your Google details.

You can use MS account for Feedly too, not just google.

It's a feedly client. You can login using your Microsoft account as well.

Wow...v6.0???but its still showing v5.15.x.x to me on wp store...??

Refresh, it just appeared.

No its still not showing anything..may be its just for wp8.1...

I just got it on wp8.1, shouldn´t make a difference on wp8 though, maybe it's not active on all regions yet

If it's a universal app, it means it requires Windows 8.1.


Oh, DUH! Totally forgot about that, what a rookie mistake! Thanks for correcting bud! :)

There's no such concept with universal apps...is there??....n btw em talking about wp not windows..

Of course, there is. Universal app support requires a new API. You don't get that except with 8.1 and newer versions of Windows. They said with 8.1, it's 80% to 90% common. Threshold will close the gap even further. Posted via the WPC App for Android!

Brilliant, as my live tile has stopped working this week.

I can't seem to make the new live tile work?

Did you give it time for your feeds to update with new articles? My live tile is working again now.

Switch the option of updating live tiles off and back on. Worked for me.(dev himself/herself suggested me this)

Nextgen Reader is one of my most used apps. This update is noticeably quicker. Good work.

Looks so much more better on the 1520 now. Kudos to the developers!

Sweet! My favorite RSS reader just got better! Awesome developer that had always time to respond on twitter. Well worth it.

App can no longer be installed on an SD card. I hope this isn't going to be a trend, it's a great feature of WP8.1.

I think you can move the app to SD card. You need to move it back to phone to update it tho

That doesn't work, unfortunately.

Ugh yeah, just found out that you can't do that now. It used to be the way before.

Got that error on my 620. Now errors when i try to install :-\

The best RSS reader. Keep the universal apps coming!

LOVELY! But it doesn't update: error code 8103012e. Any ideas? Did you manage to get it done?

Worked for me. Maybe uninstall completely first?

This worked for me. Thank you. :-)

Remove live tiles, close all apps and update directly from product page of nextgen reader, i had to do this with both my 1520 and 1020. http://www.windowsphone.com/s?appid=643381de-4724-e011-854c-00237de2db9e

Well I just dumped Weave and switched to Rudy Huhn' Fuse. Might check this out as an alternative.

After FUSE, you'll be very disappointed with NextGen.

That smaller text for headlines should be compulsory for all apps. No point in a live tile if you can't read a headline without opening the app.

Remove live tiles, close all apps and update directly from product page of nextgen reader, i had to do this with both my 1520 and 1020. http://www.windowsphone.com/s?appid=643381de-4724-e011-854c-00237de2db9e

Nice update, but it's now the second app that said by updating it, that the author doesn't allow installation on SD-Card. I hope that they'll allow it in a next Version. If more apps would do it this way, than the new 8.1 feature wouldn't make any sense...

I have got this app with a full version for free offer..now as it is a universal app can i download it on my Windows 8.1 pc for free ?

Yep. Just try buy it again, if you already bought it then it'll tell you that you already did.

FINALLY optimized for the 1520! =D Love being able to see more at once

It's not out on the Windows Store yet, is it?


Same here. Not updated for W8.1

Yeah, if it could sync on Windows 8.1 instead of throwing error, that would be nice.

Great, so nobody can update it from now who use WP8.0

But everyone will have 8.1 soon.

I know, "soon", carrier branded phones will get it after just half year from now. :P

It's getting freezing all the time that I'm refreshing my 2,000 articles. But in general the app is with a better look and the images looks great in my 1520.

Great app and all, but phonly is still my favourite!

I think I've got this app for free... But I would definitely pay for it. Great app.

scrolling is still extremely stuttery on the 1520. Maybe it's a Cyan issue but more and more of my apps are like this. For some reason this app causes the screen tap issue on my 1520 more than any other app too.

So now that it's universal, I have a question. I bought it on my Windows Phone, but not my Win 8 computer. I am currently have 27 days left on the computer "trial" version. Does this mean I don't have to buy it because it's now universal? I already bought the phone version...

Answered my own question. Yes, it's free if you bought either the phone/Windows version. Sweet.

I'll try this again but previously it didn't sync correctly

The new logo looks badass!!

Still showing "What's new in v2.4.0.9 - Bug fixes and preparing for WP8.1 universal app release." on Windows Store. This new update only works on WP 8.1 here.

Same, so I'm going to wait another day. The update to the phone app is good though. :)

I bought it for wp earlier, now can i install it in pc for free?

Yes. Buy either version, both are included.

I'll update when I can install it on my SD card.

Is it better than phonly??
http://www.windowsphone.com/s?appid=3bc60b34-c66f-4dc8-8fd0-dd497ba38711

My favorite and most abused RSS reader is just getting better. XD I love the new logo. They also seem updated the fonts in the artocle list.

Works nicely in L525. Yes, it must be installed on system memory, but it's a small price to pay for an excellent app.

I didn't like that I could not save the updated app to my SD card.

More and more apps are unable to install on SD card. This is stupid. This is the main function in WP 8.1. What now? Stop installing apps like that? Tapatalk,toolkit and now Nextgen reader. No sense.

UPDATE: Sharing to Pocket and Readability IS still possible. To do so DO NOT enable "Share directly by OS". I had it enabled but thanks to a quick response email back to me from their tech support I fixed the issue. I still would like to see it installable back to SD. I have an HTC 8S that was unusable until 8.1 and installing to Sd.
Sharing to pocket , Readability not possible now. I knew I should have ignored the update! Only able to install to phone now and not SD. The nanoseconds of speed gain over the loss of functionality is not worth it.

If you had problem installing the update, it's clearly a sign. Do not install it. It is very bad update. Got it only for two hours and there're issues already. Apart from sharing to pocket and readability not available, the app is resetting the "hamburger menu" settings for no reason to "headline + summary" after some time. And here is the worst thing: If you have a few nextgen tiles on main screen, and you click on one of them, all the rest are being reset as if you read all the articles. That's screwed usefulness of the app completely for me. Hoping for quick fix.

Same problems here too. From best rss reader to worst! Simple like that! This is the worst app update since I own WP. Tiny text over image (unable to read on light pic), if you click on any pinned tiles, all other tiles will be reset and you'll have to wait 30 min to update... "Old tiles" was the best!!! ONE SIDE - PICTURE, OTHER SIDE (this is fck WP) HEADLINES!

But... I'll have to "pay" (I downloaded one day that it was for free) again?

I'm having trouble with feedly login using my google account.
Its says "We're having trouble with this site's security certificate." Is it because I have enabled google two step verification ?

The update doesn't allow me to enable the live tile. I'm on 8.1dp and I know how to enable a background task for an app. I enable it and try to turn the live tile on, but it fails and when I back to battery saver, the task is disabled again.

WOW WOW
After a long time while it's released
Thanks next Gen
But I can't see the buffer in the sharing list
Why?

It's so good that I don't have a use for the WPCentral apps anymore, lol. Sorry!

Nothing for me in either store. Hope the UK gets this update soon :s

My Twitter account is connected, but it doesn't show up in the sharing options. I really like the rest of the changes though.

Seems faster and i think it's more better than official Feedly apps,.