Nextgen Reader updated. Adds Tumblr and Buffer support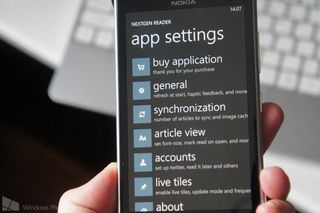 Today has been all about apps getting some nice updates. We saw Facebook Beta and Oggl get some new features earlier, now Nextgen Reader is doing the same (and yes, 6tag got some minor bug fixes too).
Nextgen reader is currently one of the most popular apps on Windows Phone for accessing and staying on top of your favorite websites. Let's check out what's new.
The last time we saw Nextgen Reader updated was earlier in the summer. It picked up a new design with some other improvements in the performance department. That was v5.1, this is v5.2:
New: Post to Tumblr.
New: Share using Buffer (see bufferapp.com for more details)
New: Support for HTTPS (enable via app settings -> general).
New: Tap 'YouTube' in bottom-right corner to open videos in MetroTube app.
Fixed: Switching between mobilizers.
Several other bug fixes and improvements.
The app picks up a ton of new features that will make fans of Nextgen Reader really happy. Find something you really like? Share it to Tumblr or Buffer. What's Buffer (bufferapp.com)? It's a smarter way to share. You can add articles from Internet Explorer to your Buffer and share them through your various social media outlets throughout the day. Don't worry, it's new to us too, but we're cautiously optimistic that this could be a really cool feature. While there isn't a Buffer app available for Windows Phone. The Nextgen team does have a trick to add articles in Internet Explorer to your Buffer (http://nextmatters.com/addtobuffer/).
Other features include sharing to Tumblr and the ability to open YouTube videos in MetroTube. It's a great update all around. What's your favorite feature? Sound off below.
Want to try out Nextgen Reader? It's available for both Windows Phone 7.x and 8. You have an unlimited, ad-free trial, but can then pay $1.99 for it. Grab it in the Windows Phone Store, use the QR codes below, or swipe to the right in our app.
Via: Next Matters
Thanks for the tip ryraansh!
Nah, ours is 70x better...you don't have 76tag?

You forgot about 6sec and Temple Run: Oz.. :_;

Not really. I mean, we're not here to cover every minor bug update for every Windows Phone app in the world.

I think that the update for Temple Run: Oz was pretty good, as the game was before that unplayable (you couldn't start the game, it got stuck after loading), not sure if it got fixed as mine worked after hard reset.. So basically before the update everyone wjo bought the game spent 1€ for nothing.

"So basically before the update everyone wjo bought the game spent 1€ for nothing"

That's not true. There were no widespread reports of the game not working. That's just your experience. The game has a 4.5+ rating in the Store.

Hmm. That's odd? Cause on Finnish WP Store it has 2 star rating and every review says it's not working, stuck on loading screen?

Now if only it didn't crash for me literally every second time I open the app from the live tile..

after so many updates i just reset the application and everything worked ok again.

I think it is one of the most stable apps on the store works gr8 fr me without any problems

Hi. Is it after fresh install or update? We do test the update scenario every time and haven't received any reports from other users about such problem.


Either or. Been doing it for a long time now, with the All Feeds tile pinned to start. Sent in the crash report months ago, but just sent another now.

Reinstall my friend... No problem here .....
Great app, happy to support it for a long time...

Someone describe to me what buffer is. Even after looking at their site I still don't understand what service they offer. And no nextgen reader I don't like your damned paper theme, stop automatically reverting to that with every update.

Buffer is basically for queueing your social media updates. Please read our blog post for more details: http://nextmatters.com/2013/09/20/introducing-buffer-and-the-5-2-update-...
Regarding paper theme, there's a switch at bottom when the update popup appears. We understand it's not the best place and will remove it or turn off from future updates. Thanks for the feedback!


I was doing the same thing using the function "ADD TO READABILITY" of Nextgen Reader. There is a excellent Readability Client at Windows Phone Store named Reedability (FREE).

Do you know if it's only MetroTube, or will MyTube work with it too?

It's MetroTube only at the moment.

Would it be possible to support myTube only? Lot of readers dig that app as well.

First, thank you for the post!
Sure, will add myTube support in next update.

Engdget updated too today!

Great app! Would be nice if the live tile automatically adjusted the unread count whenever you read some articles. It can take quite some time to refresh. I remember Flux used to do that.

We'll improve this in future, including other live tile enhancements.

Nice! Keep the updates coming:)

Any other login options than Google?

Yes, feedly will add support soon.

They last told me it was coming in fall, but before that it was summer, so I'm waiting to see if it really happens.

Just missing Evernote support now!

Agree, will add in future.

can anyone tell me free video hider for lumia 520............??????? plz......


My feeds where imported from my google reader and i have much more them 1000 feeds in there.
It's there a way to see them all in nextgen reader for windows phone?
Or at least some settings to tell nextgen that feed i want to update all the time and that never ( at least on my phone)
Thanks :)

Hi. Yes, you can import them into Feedly: http://blog.feedly.com/2013/07/03/the-fix-to-the-missing-feeds-issue-is-here/
In nextgen reader, pin the folders to start that you only want to sync at a time. Hope that helps!

My only criticism of NextGen Reader is that I have to use an account. I want to use it as a standalone reader with an OPML file. So, for now, I stick with RSSCentral.
Windows Central Newsletter
Get the best of Windows Central in in your inbox, every day!
Thank you for signing up to Windows Central. You will receive a verification email shortly.
There was a problem. Please refresh the page and try again.