Nissan chooses Microsoft Azure to power in-car interactive systems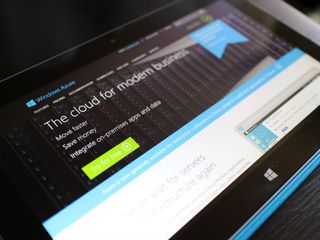 Nissan has selected Microsoft and the company's Azure platform to power Connect Telematics Systems (CTS) in all LEAF and Inifiniti models across Europe. The car manufacturer will rely on the cloud platform to provide in-vehicle solutions, interactions and to enhance safety. Said connectivity will also include important information like range prediction (for electric vehicles), mapping and charge station availability.
Teaming up with Microsoft will also enable car owners to connect to their vehicle even when outside. Activating climate controls, set charging functions and more can be carried out even when the vehicle is powered off. It'll definitely be an interesting partnership for those who are looking to invest in a new Nissan LEAF or Infiniti at some point in the future.
Press Release
Nissan selects Microsoft Azure to power Nissan Telematics System
LAS VEGAS, Jan. 5, 2016 /PRNewswire/ -- Nissan Motor Co. Ltd. and Microsoft Corp. on Tuesday announced that all Nissan LEAF models and Infiniti models in Europe will have Connect Telematics Systems (CTS) powered by Microsoft Azure. Since the Nissan LEAF's launch in 2010, more than 200,000 have been sold worldwide, making it the world's best-selling electric vehicle. Nissan selected Azure to meet customers' expectations about in-vehicle mobility solutions, create additional ways to interact with their vehicles, and enhance safety.
Nissan designs cars to meet the needs of the next generation of car buyers, the environmentally conscious "digital natives." Having transformed the performance, practicality and public perception of EVs around the world since the LEAF's launch, Nissan remains one of the leaders in EV technology. The connectivity to their owners and to the world around them makes electric cars more attractive and convenient. Maps, range prediction, charging station availability, charge status, plus all the services customers have come to expect when inside a vehicle are dependent on that connectivity. Azure provides a global cloud platform with cutting-edge security that allows Nissan to deliver services worldwide to this broad customer base.
Nissan CTS is coupled to Azure, allowing a remote connection to the vehicle. With CTS, Nissan LEAF drivers can perform a range of functions on their car, while not even inside. These include using mobile phones to turn on and adjust climate controls and set charging functions remotely even when the vehicle is powered down. An onboard timer can also be programmed to start the charging event.
As countries and regulations become more stringent on data privacy and technology standards, Nissan and Microsoft are committed to investing in meeting regulatory standards around the globe. Nissan selected Azure because of its enterprise-grade security and compliance. Microsoft was the first major cloud provider to adopt the world's first international cloud privacy standard, ISO 27018, providing another reason enterprise customers can move with confidence to Azure. Azure supports multiple operating systems, programming languages and tools, providing flexibility and choice for Nissan.
With the standard Hands-Free Text Messaging Assistant for all Nissan LEAF around the world, drivers can manage incoming text messages via voice control without taking their hands from the wheel or their eyes off the road. Drivers are alerted to an incoming text and, after initiating the system, can hear the text read out loud and respond by voice, or via the steering wheel switches using preset answers such as "driving, can't text," "on my way," "running late," "okay." These experiences are powered by the back-end connectivity and support of Azure.
Nissan can also send over-the-air "point of interest" (POI) updates as they become available, enabling customers to have the latest information as the company continues to refresh its services. Connectivity to Azure allows Nissan to bring new connected features to market faster and offer flexibility for the future.
The partnership allows Nissan to tap into Microsoft's deep expertise across critical areas such as data management and analytics. Azure offers Nissan the scale and commitment to security it needs to support its global operations. The expansive global footprint of Microsoft's datacenters provides the coverage to support Nissan's vehicles anywhere they are in the world.
"Microsoft Azure will help us deliver a more innovative and intelligent future for our connected technologies," said Celso Guiotoko, chief information officer and corporate vice president in charge of global corporate IS/IT, Nissan. "This is also a bold first step toward innovations that will realize future new mobility."
Nissan's connected platform powered by Azure is allowing Nissan to continue to provide its customers with exceptional value and add new services throughout the vehicle life cycle.
"Our partnership with Nissan shows what automakers can accomplish by tapping into Microsoft's intelligent cloud platform," said Peggy Johnson, executive vice president of business development, Microsoft. "Further, our collaboration reveals tremendous possibilities for how consumers can get more out of their connected driving experience."
Windows Central Newsletter
Get the best of Windows Central in in your inbox, every day!
Rich Edmonds was formerly a Senior Editor of PC hardware at Windows Central, covering everything related to PC components and NAS. He's been involved in technology for more than a decade and knows a thing or two about the magic inside a PC chassis. You can follow him on Twitter at @RichEdmonds.
This is shaping up to be an exciting year.

More and more is embracing windows platform. Very nice

This is good news, bring Windows everywhere! Former 1320 user. Posted from the Philippines.

Oh yeah... The take over is immanent and can't be stop... Microsoft is laying it down for world dominance... It won't be long now. The year of Microsoft.

Will just make it easier for skynet to take over...

Hopefully it wont be to codependent on azure given how quickly they've convinced people to adopt this sever farm platform yet dont seem to know how to handle traffic

Satya is pushing Microsoft in the right direction. Way to go!

Nissan and Volvo are becoming my favorite car brands lol. No way im going to buy a car that only supports Apple or Android. Terrible development by the way, cars should be platform independent.

In 2008 my Acura would fully respond to text messages to my WinMo just as described. Kind of worked on WinPhone 7, but not very functional for WP8 or for my L950. Of course it supported iPhone and Android. That's the first problem. The second is that car makes don't upgrade their technology out interface, they just expect you to but a new car. Until they decide the energy to updating their connectivity to match the pace of wireless development, a lot of this will go unused.

Windows 10 is just barely starting to reveal the long-game. Your current Windows PC, tablet, phone are NOT an accurate model of what is coming. They are the pioneer devices. A bit painful, sure. But so much is coming.

I really wish Microsoft would release a 7" double din touch screen car stereo that acts like a tablet, synching with your other Windows devices. As a car enthusiast who chooses Window its sad that all im left with is the usual brands that focus purely on Apple.

I hope this is just the start, seems like a limited "test of the waters" with just the Leaf/Inifnity models in one market.

Microsoft on my GT-R....if i had one :)
Windows Central Newsletter
Thank you for signing up to Windows Central. You will receive a verification email shortly.
There was a problem. Please refresh the page and try again.