'No solid plans' for Deus Ex Go on Windows 10 and Windows 10 Mobile, but the possibility is being explored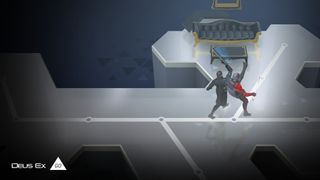 For a time, it seemed like Square Enix had thrown their mobile game weight behind Windows 10, bringing us Lara Croft Go and Hitman Go, two excellent puzzle games based on some of their popular IP. Sadly, it doesn't look as though Deus Ex Go is joining the party anytime soon.
I reached out to Square Enix to ask whether or not Deus Ex Go would be coming to Windows 10 or Windows 10 Mobile, given the company's support of the Windows 10 Store with previous 'Go' titles. While they said there are no plans for Deus Ex GO to come to Windows 10 or Mobile at present, it is something they are exploring for the future.
While it's not a definitive 'yes,' it's a little more encouraging than Niantic's near-complete radio silence on Pokémon Go for Windows 10 devices, for example.
Additionally, and perhaps unsurprisingly, a separate branch of Square Enix gave me a definitive 'no' with regards to the Deus Ex Universe app, which has tie-in content for the Xbox One and Windows PC game, Deus Ex Mankind Divided.
In the meanwhile, you can check out Hitman Go and Lara Croft Go on Windows 10 using the links below. Both are very excellent premium puzzle games drawing inspiration from the Tomb Raider and Hitman franchises. Hopefully, we'll see Deus Ex Go join the lineup eventually.
Download Hitman Go from the Windows Store
Download Lara Croft Go from the Windows Store
Jez Corden is a Senior Editor for Windows Central, focusing primarily on all things Xbox and gaming. Jez is known for breaking exclusive news and analysis as relates to the Microsoft ecosystem while being powered by caffeine. Follow on Twitter @JezCorden and listen to his Xbox Two podcast, all about, you guessed it, Xbox!
How about bringing Mankind Divided to Windows 10 as a Play Anywhere title?

I tweeted them today too and they said "maybe in future"

I hope it comes to Windows and its not the politically correct way of saying absolutely not.

I think they are reevaluating whether to do it or not since the market shrinked but I am positive it will come in about a year.

Well, the fact that they don't even have plans means it may come a year from now. No way they can plan/code it that fast.

I bought both GO games. I was eagerly expecting Deus Ex Go :(

Really hope DE:GO comes to Windows/Windows Mobile. Loved playing Hitman and Lara Croft.

Does seem like an odd choice as you'd assume they were already using cross platform tools for all their GO games, and the others are pretty similar with a few changes

After the interview (last year I think it was) saying they really wanted to support the platform as much as others in regards to their main mobile titles. Going back on their word is pretty poor.

Well all the future holds is an even smaller install base so I wouldn't hold my breath. Guess they're not fans of "Retrench" Mobile 10.....

Shame on them. I bought both Hitman Go and Laura Croft Go on W10M.

Hitman Go is a great little Xbox title. Would like to see many more.

I tweeted and got nothing. Will now grab the partners iPad and promptly rate it 1/5 stars. Trolling but hey.... I did by the first two games

I had high hopes too that this would make it to Windows 10

Test... Now it is working. I can comment on the app again

This game is very fun and addictive! Posted via the Windows Central App for Android

At some point developers aren't gong to be able to ignore Windows 10. It's market share in the tablet space is growing and that doesn't include other Windows 10 PCs. There will be just as many devices running Windows 10 as Android at some point. Hopefully by association Windows 10 mobile will get some of that love, but that would require MS to get behind the platform and get their act straight.

The association is NOT working. I think MS has been trying to get devs ok board with the win10 and win10m association but no one is falling for that farce. Tablets/ laptops run full win10 and don't really need to run the mobile versions/apps.

Well when was the last time Microsoft released a xbox live enabled mobile game. Posted via the Windows Central App for Android

Really surprised the Universe app got a definite no. You'd have thought that would be the easier app to make. Welp, their loss.

Everyone should be making apps with Xamarin these days for true, cross-platform app development...i only say this as I believe it has unity support

I got the same exact answer a ways back when I reached out asking if Hitman Sniper was ever going to make it to the platform.

Square Enix is a small studio? That's news to me.

They have different teams/studios that work on different projects. They are a small team, so have limited time & resources. They can't just drag in developers from other teams as that would impact the other projects. And hiring new devs costs a lot, so there'd have to be a strong business case to justify it.

This is what retrenchment looks like to the outside world

Man, I was really looking forward to it. Bought Lara Craft & Hitman for my Lumia 950.

Ok. But "no solid plans for Deus Ex: Mankind Divided on my Xbox" in that case.

All game developers, burn in hell!

What a stupid thing to say

It will probably come to Steam. ​Just like other well received mobile games. ​Thinking about: Sorcery, 80 days, Hitman GO, Lara Croft GO, Oceanhorn, Ascension (card game), The Room, Gems of war, Ticket to ride, talisman etc ​Yeah yeah it may not be using your fan favorite API but at least it will be playable on most tablets anyway. Which format is comes, no one really cares except fanatics.

Well, then maybe us Windows 10 gamers should avoid buying their new Deus Ex game in response. See how they like that, a little boycott for underestimating us.

Like most people I call myself a PC gamer and not a "Windows 10 gamer" Don't care if it runs Windows 7,8 or 10. Nor do I care which format the game is in or which store it is available.

I'm not entirely sure that "like most people" is a valid comment there. Can you back that up at all?

Ask around among PC gamers on non Microsoft fanatic sites. Most identify them as PC gamers. In fact it is the first time I hear someone saying "windows 10 gamer". It is a bit like saying "i am a steam player", which nobody does either. Platform generalization. Anyway my point was that it will probably be released on steam as most good mobile games are these days (like Sorcery, 80 days, Hitman GO, Lara Croft GO, Oceanhorn, Ascension (card game), The Room, Gems of war, Ticket to ride, talisman etc). That way desktop and tablet users can enjoy the game too.

And dislike "Go" (1 star) on all available devices.

Oh God I hate the mediocre excuses "we are a small studio..." BULLSHIT, Yeah maybe they are a small studio... But **** it they know they can, they just dont want to move lazy ass minds to write the code.

Oh God I hate the mediocre excuses "we are a small studio..." BULLSHIT, Yeah maybe they are a small studio... But **** it they know they can, they just dont want to move lazy ass minds to write the code.
Windows Central Newsletter
Get the best of Windows Central in in your inbox, every day!
Thank you for signing up to Windows Central. You will receive a verification email shortly.
There was a problem. Please refresh the page and try again.