Nokia Australia: Bluetooth 4.0 LE not coming to high-end Lumias [Update]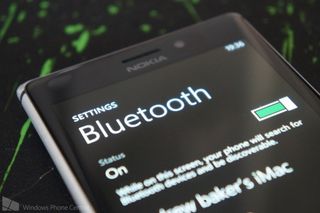 Update 10:30 AM ET: Nokia PR in Germany is now saying BT 4.0 LE will come to all Lumias but via future update, as we originally thought:
We're filing this one under 'maybe' but Nokia Australia, via their Twitter account, are claiming that current high end Lumias won't be able to support Bluetooth 4.0 Low Energy (LE).
The Tweet was in response to a question from Gary C., who asked Nokia about the status of the technology, which was expected to come to all Lumias at some point, perhaps through a firmware update.
Nokia Australia have noted that "Bluetooth v4.0 Low Energy (LE) technology will not be available for Nokia Lumia 8xx, 9xx and 1020… due to hardware limitations". Currently, the Lumia 520, 620, 625 and 720 reportedly support Bluetooth 4.0 LE, which can also work with the recently launched Adidas miCoach app and heart rate monitor. We have the heart-rate monitor accessory in house and are putting it through its paces, but it looks like we won't be able to test or use it on our high end Lumias.
It would seem odd to not support high-end Lumias, but there may be some truth in the claim. Nokia has pointed out on their official Conversations blog the limitation:
While higher-end devices were left out, it was thought that perhaps a firmware update would be needed. But that may not be the case after all.
Bluetooth 4.0 LE allows devices to stay paired longer without using a lot of energy. It is especially useful for hardware accessories like the Fitbit Flex, Jawbone and Adidas miCoach heart rate monitor that need to frequently sync in order to give the user feedback on their progress. It's also thought to be used in Nokia's upcoming 'Treasure Tag' accessory line that will allow users to tag items like keys or their bags with a small Bluetooth device. Users can then reportedly track the item for easy location.
We should caution that Twitter accounts, even when official, do not always have the most up to date information and this should be taken with a grain of salt until Nokia clarifies the situation. Nokia is expected to talk about Bluetooth 4.0 and future products later in October at Nokia World in Abu Dhabi.
Source: Nokia Australia (Twitter); Thanks, Geoff C., for the tip
Windows Central Newsletter
Get the best of Windows Central in your inbox, every day!
Daniel Rubino is the Editor-in-chief of Windows Central, head reviewer, podcast co-host, and analyst. He has been covering Microsoft since 2007 when this site was called WMExperts (and later Windows Phone Central). His interests include Windows, laptops, next-gen computing, and for some reason, watches. Before all this tech stuff, he worked on a Ph.D. in linguistics, watched people sleep (for medical purposes!), and ran the projectors at movie theaters because it was fun.
If this is true it will be a monumentaly idiotic decision. I can't comprehend how they can explain to customers that if you spent a lot of money for their flaghship you won't have access to certain apps, but the $80 phone can do it no problem

Maybe is a trick to fool Samsung?

Just in case they're up to their old tricks (copying). Galaxy 6, the next big thing with Blt 3 for crazy battery life as Blt 4 is over rated....

That doesn't make any sense.

I know..this sounds way too stupid. The 9xx, 8xx devices aren't a generation older than the cheaper ones. If nokia indeed didn't install the necessary hardware in the flagships and installed them in the cheaper devices..i shall have no other option but to be pissed..

+1, would be idiotic if my $800 Lumia 1020 can't do something a $100 620 can.


I'm going to assume it's not able to. Nokia said the 928 could do FM radio with GDR2 & it wasn't tell after we got the update Nokia said if you have a 822 you're good but no joy for the 928. I'm expecting the worst.

Maybe that is more of an issue with Verizon limiting FM radio. Remember when Verizon disabled group messaging on WP?

You mean like expandable storage?

really? -__-"
-1020
-920
-925

The implication that my Lumia 520 supports a superior Bluetooth tech compared to my Lumia 1020, which was released afterward, seems a bit odd. Hopefully this is not the case of two separate engineering teams not communicating, as it often the case at Apple (to keep projects secret for longer), therefore leading to numerous improvements that the other side must wait a generation to achieve.

I agree. They must have the newer hardware for LE

Release dates don't matter. When the products were put into design and development that does. It is possible that the "high" end phones were in the pipeline before the BT4.0 capable hardware was in use by Nokia. I'm offering an explanation not an excuse. :)

Well. The Microsoft Customer Experience is starting early!

I was thinking the same thing LOL

What..?? I didn't get it..

ALRIGHT NOKIA,WE NEED AN INTERVENTION!!
Edit: wtf? Dprubino77? Is that you, Daniel, what kind of trick are you playing?

?????? Where do you see that name?

He changed it after the story was up for a couple if hours

Hmm...seems very very strange that they will leave high end devices out of this. "hardware limitations"? The only thing that may limit is because the hardware is "too good". And it would be really really odd to see that happening...but hey! Infrared is also coming back so by now I won't take any "development" for granted.

Even the 1020, the most RECENT device?

Remember a 1020 is basically a 920 with more ram and a 41MP camera. The processing is the same.

Not exactly. The 920 and 925 have gorilla glass 2, the 1020 has gorilla glass 3. The 1020 and 925 have an AMOLED display while the 920 has an LCD display. The 920 has a bluetooth 3.1 radio with ERD while the 1020 and 925 have a 3.0 radio without EDR. They do all have the same chipset and processor though (krait 1.5 on MSM8960), so that hardware is identical. It's advertised as having BT 4.0 support and other phones with that SoC have it. So it's a software/firmware difference.

Well you buy the phone not supporting that spec, sp can't really complain that it won't get it in an update. Makes no difference to me personally, I'm site it does to others tho - but it didn't support it when you bought it

Actually my understanding was that the 920 was already BT 4 certified and the issue was with the OS; and this was couple of months ago, before GDR2.
I just hope this latest news are not true.

Does it say that on the box?

No it says Bluetooth 3.0
http://www.nokia.com/global/products/phone/lumia1020/specifications/

So we have the answer. They didn't say it will have something in future. We gotta stop expecting our dreamy cloudy fairytale unicorns on a giant rainbow out of the box if it doesn't say that on the box. FFS! What's wrong with us as a human race? Let's all go to the park and play football and look at some amazing women and enjoy a pint of beer instead?

One or two month ago, Nokia Hongkong says the amber update will bring BT4.0 to 520, 620, 720. Since then everyone expect BT4.0 will arrive to all devices, and assume Nokia Hongkong made a mistake on the statement.

Agreed.. Its kind of like an argument of I bought an LCD tv, and I was expecting an update to make it 3d.. Don't expect it!

" They didn't say it will have something in future."
Wrong:
http://wmpoweruser.com/nokia-lumia-920-and-nokia-lumia-820-passes-blueto...

It says on the box (or spec sheet or whatever) that it has a MSM8960. It says in the MSM8960 specs that it has a BT4 capable radio. So yes, it does.
It's not supported in software yet. It will be with GDR3.

That is correct. They're built on the MSM8960 SoC which is advertised as having BT 4.0 functionality and other phones built on that SoC have BT 4.0. In fact, even with an identical chipset/radio, the phones advertise different bluetooth versions (3.0 and 3.1). It's definitely software/firmware. There's no technical reason the 920, 925, and 1020 can't support BT 4.0, but Nokia might decide it's not worth the time and cost.

So if I may ask since I'm planning to get a Lumia soon, is it advantageous to get a low end Lumia device and forget high end?

Yea.. If you want to save money....

Nooooo...screen and camera...gorgeous..buy a high end Lumia..

The screen on my Lumia 720 is really good. Camera not so much so I do agree with the camera argument.

I meant that 720 doesn't have an hd screen..atleast in my knowledge..that does make a bit of a difference..from what I have observed..

apparently so (but it's not certain yet) if you're planning to use adidas heart rate monitors.. if you're more fond of having more games to play and a few more apps.. get a high end lumia since some apps and games are limited to devices with 1GB of RAM or more..

Low ends lumias are awesome...if ur getting high ends get a DROID

It will get BT4 with GDR3. Ignore tech support Twitter accounts.

*SIGH* Why do microsoft and nokia always seem so determined to shoot themselves in the foot? I really love the windows phone platform (got a focus the day it was released, have a 920 now), but between boneheaded decisions/lack of foresight and the just plain crappy handling of updates- they're really making it hard for me to want to stick with it.

You nailed it, it is very dissapointing when a companies you love tries to do everything they can to drive you away.
And Microsoft will do just that if they don't sort out the carrier blocking of updates and features like Data Sense; talking about you ATT.

Yeah been thinking of iOS lately myself. :(

I know....my OG Focus was more satisfying......

Hahaha, the OG Focus was a beast- good battery life, expandable memory, excellent screen (at time of release), and so much hackability- I loved being able to interop unlock it and add tethering for free on my unlimited data plan from a previous iphone 3g LOL. It was the phone that convinced a lot of my family members to switch from android/ios. Had that phone for almost 3 years before I gave it to a family friend, and they're still happily using it to this day.
I love my nokia 920 that replaced it even more, it's just little stupid issues like this that annoy the crap out of me.

"add tethering for free"? When does that cost money or need interop unlock? Tethering was released as a standard update in WP7...

Pre mango, there was no option to tether using a samsung focus. Also, ATT makes you pay through the nose (an extra $20) just to use tethering.

Hmm, on my old att plan tethering was included for supported devices as is my current 10gig family share and use it all the time, me thinks you may want to look into a newer plan...

I checked it out, and I'd actually pay $40 more per month (before any taxes & fees) doing the mobile share- due to the fact that so many of us on our family plan have grandfathered data pricing (one person uses wifi 99% of the time and only has a $15 data plan).

Your not alone. I was already thinking of jumping ship to android, this was the last push. I will admit, I have app envy and accessory envy. GDR2 has not shown up to fix my Gmail issues and I'm having live tile issues left and right. MS and Nokia, what is going on?

I'm never going android though.

Same here. I just wish MS would get their crap together and really put in a full effort on wp8 and getting accessory/app developers into the game.

Seriously. I love windows mobile/windows phone, but it's like they're trying to fail.

This gives me more reason to wait on the next version of the 1020, whatever it may be, because I hate waiting to get home to sync to my fitbit account with my 8X...

How Much does the heart rate monitor set cost??

Yay I've made it onto WP Central, I'll ignore the typo in my name this once ;)

Very sorry WPCentral for being off topic, but did you receive my important news tip I sent?
http://pocketnow.com/2013/09/27/nokia-lumia-windows-phones-getting-hover...

They're very picky when it comes to news. Even Amber rollouts they just choose a few countries and then keep quiet about it, even after manually bugging them about it :p

For what it's worth, I was planning to buy a Lumia 520 as my device to take to the gym and for working out. It being cheaper than an iPod touch and adding mileage to many of my purchased WP apps was a plus, but this (BT LE) is fate.

They would know. They live in the future.

I actually asked the miCoach team about this some days ago (whether available Nokia high end devices will be supporting the Adidas heart rate monitor) and received the following answer:
"At the moment, HRM Bluetooth Smart (or X_CELL used as HRM) compatibility is only available on Nokia Lumia 520 (except T-Mobile US), 620, 720. It is not a hardware issue but an expected behavior. These phone models are Bluetooth Smart compatible like our sensors.
More phones with Bluetooth Smart will be compatible in the near future."
It also does not really say if it will be new phones or already released phones that will be included but I guess Nokia is the better one to answer about Nokia related stuff. :-)

Nokia Australia is not any better for answering what has hardware support but is not yet enabled. They do tech support and marketing, that's it.

Wait! Does that mean that Lumia 720 is already able to live sync with my fitbit?

That would require fitbit getting off their collective arse and writing an app. But yes, there's no technical reason it won't work.

Is 820 a high end phone..no... If no it should get the Bluetooth 4.0... If yes... It shud get pro cam.. Is nokia fooling with 820.. Leaving oy in between...

Lumia 820 was 430 unlocked when it the market here. And high-end is considered at 450 here so it almost hits the mark... It should get Pro Cam though. You can install it unofficially like I did on my 720.

This would be very silly Nokia, very silly indeed.

I want the treasure tag for my Lumia 920 :(

And now I feel like my 925 is missing out something..

If they didn't bother to put the correct hardware in the freaking 1020 I am going to be royally fucking PISSED. I was looking forward to the day when a smart watch was worth buying so I could pair it to my phone, but if this bullshit is true then this is stupidest thing since Nokia not putting a back illuminated sensor in the 900's camera.

Actually, the stupidest thing in windows phone history was the 7.8 situation. Yes, I know 7.5 couldn't support all of 8's features, but they could've added more...

But that was Microsoft's blunder, not Nokia's. Also, considering how there were multiple FCC reports going through filing for 4.0, I find this claim hard to believe.

It has the right hardware. It's a country-specific account, they just do marketing and tech support, no clue what the hardware actually is.

Wow, if this is true seriously sad

wev can't take it this time, if they go ahead and leave us in the cold, we won't forgive them this time, it would also means many would not upgrade, many would wait for the next after 1020

The Lumia 920 was already a low spec device, 720p res acreens, dual core, 1 gb ram, Nokia made us pay so much for flagship devices and now they plan to fuck us like this, not cool NOKIA, not cool at all.

That Razer Goliathus mousepad <3

Woot? I think mine was bluetooth 4.0 (someone said amber update is included with bluetooth update)

I tried to tell everyone a while back.i posted a link to the Qualcomm page for the chip in the l925 where no mention of bt4.0 was there.

I'm sceptical of that. I would consider canceling my 1020 pre-order if I thought it was true.

But what does it say on the Lumia 1020 box? If Bluetooth 4.0 is not listed on the box, but you want BT4.0 for your device, then perhaps you should cancel your order for the Lumia 1020.

I have it on pre-order so I don't know what is on the box. I was going by rumours that the the 1020 woud support BT 4.0 LE. I still think the previous rumours outweigh the 1 rumour from Nokia Austraila but I would like to find out for sure. I'm already disappointed it does not supprot 1080p, wireless charging without the accessory and if this is true it may be enough to give pause.

Ignore country-specific Twitter accounts for anything other than things like "The 1020 is coming to Telstra next week." They don't have a clue what's in the guts of the phones, they probably see some app that advertises 520, 620, 720 support of BT4 and just assume it has to be hardware because the software is the same. The upper end phones have the MSM8960, they have hardware support for BT4.

http://support.microsoft.com/kb/2770012
Windows Phone 8 supports Bluetooth 3.1. This is an improved version of Bluetooth that automates the pairing process between Windows Phone 8 and Bluetooth devices, such as phone headsets, car audio systems, speaker docks, & NFC pairing. Windows Phone 8 supports the following Bluetooth user profiles: •Advanced Audio Distribution Profile (A2DP 1.2)
•Audio/Video Remote Control Profile (AVRCP 1.4)
•Hands Free Profile (HFP 1.5)
•Phone Book Access Profile (PBAP 1.1)
•Object Push Profile (OPP 1.1)
•Out of Band (OOB) & Near Field Communications (NFC)

Windows 8 Bluetooth support is crap. Such a frustrating experience with car audio, never happened on Windows Phone 7/7.8

It's been great for me and my wife using the MyFord Touch system in the F-150, the Logitech Boombox, and the Logitech Bluetooth adapter in our living room. We both have the Lumia 920 running Windows Phone 8 so it's not crap by any means for us. You may have other issues there.

I've found that the car audio support is better for 8 than it was for 7. I used to get drop outs and random skipping with wp7 but wp8 doesn't have that issue and also works with the previous and next buttons work unlike with android.

Maybe high end phones need newer version of os not just an update from nokia

I seem to remember reading the spec sheet for the chipset in th high end Lumia phones and I'm sure it mentioned Bluetooth 4 was supported along with FM radio. I'd find it very difficult to believe that BT 4 will not feature on high end Lumia phones.

Very weird!
I have a L620, a L520 has radio, mine not, but mine has BT4.0 LE, but a more expensive one, a top notch phone doesn't have those hardware???
I don't know how they think at Nokia

The processor in the 625 is the first to support dual sims too! Ooooooo

Nokia should clarify it. Windows Phone 8.0 platform has too many issues.

http://www.qualcomm.com/snapdragon/processors/s4/specs Nokia Lumia 920 has a option on bt4.0 via a additional chip

The optional chip is for analog Bluetooth 4.0. The MSM8960 supports digital Bluetooth 4.0.

The 920 has the 8960 "Plus" chip, says there it has BT4 integrated digital, with "analog" as a separate chip... anyone know what the analog part would be referring to?
Does this mean the 920 has a chip capable of processing BT4, but doesn't have the radio hardware to transmit it?!

This is a marketing magic. Nice looking with some of the patents but not too perfect. How many Lumia's we got already? This it's smelly. Nokia go back to Finland a create normal phones and leave this Zionist f...ng banksters from the Microsoft corporation!

Anyway I had always Nokia and I got this now with Windows, but only for Nokia. Next one will be e90 old nice phone for my collection.

This doesn't make any sense. The MSM8960 supports digital Bluetooth 4.0 on the SoC. Every other S4 Plus SoC has support for Bluetooth 4.0. I highly doubt Nokia removed it themselves on a high-end device while leaving it in lower-end devices. It has to be a firmware issue.

Or a Twitter account issue.
It's not the worldwide Nokia, just ignore it.

Sure glad i canceled my 1020 order if this is true. have to admit this would be a monumental mistake if true. hard to beleave the cheper device would have somthing the top dog phone does not.

This isn't surprising. The Lumia 720 is a much better phone than the 920. It has much better battery life (that doesn't get hot and discharge in 3 hours), much louder ear piece, much more stable software, a much louder speaker, and significantly longer wifi range.

And a much worse, smaller screen, worse camera, half the RAM, no built in wireless charging and slower processor. Much more stable software? I'm pretty sure they're both running WP8, are they not? The 720 is not better at all.

Just checked wikipedia for snapdragon S4
http://en.wikipedia.org/wiki/Snapdragon_29
The [8/9/10]20 all have MSM8960 SOC the US version of Galaxy S3 also has the same SOC
just search for lumia 920 there and you will see that it has support for BT 4.0, even the 720 has the same support, no mention of "BT 4.0 LE" though.
I guess that this post is incorrect. It may have to do with some proprietary thing that the HRM does?
The wiki for http://en.wikipedia.org/wiki/Bluetooth_low_energy seems to indicate that this is a software stack only thingy.

Thanks Nokia u fuck my day

Now tell me why the f*** the Bluetooth site has the 925 with 4.0 certified?
https://www.bluetooth.org/tpg/EPL_Detail.cfm?ProductID=29112 - main page
https://www.bluetooth.org/tpg/QLI_PRD2Profiles.cfm?varID=39504&ProductID=29112 - specifications, 4.0 detail

920T has the pro CPU with 4.0 support

Ffs. What a joke! 4 days till I get my 1020 and it's likely I won't be able to use a heart rate monitor with it. All other high end phones on other platforms can do it.... Oh well, at least I will have a better camera with saturated colours, washed out clouds and naff white balance. Yay for me and my expensive investment. Yay for Nokia. Yay for Microsoft ;)

Yay!
I'm looking forward to seeing what Microkia can produce.
Hopefully hardware designs that are more up to date and software updates and features that will be available more frequently!

Or just ignore Nokia [country] Twitter accounts. They say stuff like this all the time without knowing what they're talking about.

Man, I was waiting for the day that Nokia/MSFT upgrade my 920 so that I can get the polar h7 heart rate monitor. Looks like I should stop dreaming about this altogether.

Or stop paying attention to local support Twitter accounts that don't know what they're talking about.

Well, it took me reading down 3/4 of the comments until someone actually pointed out that it's just a MSM8960, which by definition is hardware support for BT4.
When will people learn to not listen to Twitter accounts for anything other than announcements or leaks? The support information about future features that come from them is almost never accurate.

Hopefully that's true, but there are some who are hesitant to believe that due to artificial limitations put into other Nokia phones in the past (lack of FM radio on the 928). My biggest issue is that we're starting to see "hardware fragmentation", similar to Android's "Software fragmentation". When MS initially revealed the WP platform, it was under the guise that all manufactures would have a base set of hardware features on all devices to maintain consistent performance and user experience, but lately since the move to WP8, examples like these are starting to pop up more and more frequently, which are pretty troubling. I still remember the focus rev 1.3/1.4 disaster during the nodo update- that was such a pain in the ass for a household that had 3 focuses at the time with a mix of those hardware builds.
Microsoft, Nokia, and any other wp8 manufacture can't hope to compete against android/iOS if all of their hardware is a mess where customers have to worry if or if not the flaship or highend device they are buying will support the same hardware features as a lower end device in the same ecosystem (pissed I can't use the adidas mi coach monitor on my 920). The promise of a unified hardware/software ecosystem was the main reason I switched from iOS to wp8, and avoided android like the plauge, but my continued desire to stay with the platform is being tested by constant boneheaded mistakesm, lack of proper communication, and lack of carriers/hardware partners all being on the same page.
I can deal with the anemic and slow growing app store (the store does 90% of what I need beautifully out the box), and I can deal with specs that would be admittedly low end compared to other manufactures- because no other phone OS is optimized so well to scale across different hardware and run this smooth. What I can't tolerate is the growing hardware fragmentation and deliberate crippling of devices.

The FM radio is seperate from the MSM8960. It isn't artificial, VZW just spec'd the phone without a radio.

That still falls in line with my original point- they shouldn't have been allowed to do that. All the previous wp7 devices my family had came with FM radio (3 samsung focus, 1 LG quantum, 1 samsung focus S). It feels silly that our current 920's have to wait for an update to get that feature back, and if we go with new hardware- there's the potential to not even have that feature depending on hardware limitations being made by a carrier/hardware OEM. My point is they sold WP under the premise/promise of a consistent experience across their phones, but slowly microsoft is letting that fall apart by either just not caring or putting enough pressure on their hardware partners/carriers.
Don't get me wrong, I absolutely LOVE WP8, and have been a customer since it's Day 1 release (spent almost 3 years on an iphone 3g waiting for wp7 to be released, bought a focus the day it came out), but I love it enough to see where MS is seriously fracking things up with their own ecosystem.

Why not? By that logic, all phones should have a 41MP camera, built-in wireless charging, high-sensitivity touch screeens, 1GB RAM, Beats Audio, etc. What you're asking for is that there be no hardware differentiation. At that point, just go with Apple.

You completely missed the point of what I said. I'm talking about BASIC hardware features such as FM radio (some nokia models have it, others don't when it was a common feature in all wp7 handsets) and the bluetooth issue (support inconsistent across all brands)- which should be in ALL PHONES from the start. Having to enable it later on or letting carriers be able to remove functionality is just plain stupid. By all means there should be some differentation in features like the camera, type of audio like beats, manufacture specific features for accessories from that manufacture, or even adding wireless charging on some models etc.
What I'm getting at is that the bare minimum should be maintained, especially on a flaship device. That goes a long way to maintaining the user experience for all.

I'm with Bob. There are still hardware requirements for WP devices intended to make the CORE experience of the devices similar. This is still the case, just look at the 520 and 920. Hardware features can't all be same otherwise how would you differentiate between different devices? An FM radio is not a core feature of the OS, this should not be required. Microsoft are doing exactly the right thing to create a solid experience across all devices while giving OEMs the ability to differentiate themselves from the competition with various other hardware features.

I guess I know why it takes soo long to have those GDR2 and so for each phone.
Nokia just changes the software for each kind of type, even if the phone supports other stuff.
They just cut it out of the software. If we get it straight from the devs, so unaltered we get every feature added by the software, but it goes by Nokia and those cut out features for each phone.
To get differentation between their phones, but they already have differentations by the camera, cpu, gpu, memory and storage space used...

Whoever at Microsoft and Nokia didn't prioritize BT LE over other features such as NFC should be fired. This just ensures another 2 - 4 years of cool BT LE accessories being sold in stores missing the compatible with windows logo. I am holding out hope that the 920 will get a firmware update to support Bluetooth 4.0. I will seriously consider switching back to iPhone if MS can't figure out that it needs to facilitate an accessories ecosystem through BT LE to be competitive.

It'll get BT4. Nokia Australia doesn't know what they're talking about, it has an MSM8960, it has hardware support.

I stand corrected Qualcomm says its an msm8960 s4 plus in the l925 it has 4.0 http://www.qualcomm.com/snapdragon/processors/s4/specs

As per Nokias own developers page, Bluetooth 4.0 WILL be coming to the 820, 920, in a future update. http://developer.nokia.com/Community/Wiki/Introduction_to_Bluetooth_supp... You can be guaranteed, it will also come to 925 & 1020.
Bunch a fuss about nothing!!!!

Also, the 920 & 820 have the Bluetooth WCN3660 chipset, which has BT4 capabilities.

http://developer.nokia.com/Community/Wiki/Introduction_to_Bluetooth_support_on_Windows_Phone_8

"WP8 and Bluetooth 4.0
Currently Windows Phone 8 supports Bluetooth 3.1 and includes compatibility with following profiles: Advanced Audio Distribution Profile (A2DP 1.2) Audio/Video Remote Control Profile (AVRCP 1.4 Hands Free Profile (HFP 1.5) Phone Book Access Profile (PBAP 1.1) Object Push Profile (OPP 1.1) Out of Band (OOB) and Near Field Communications (NFC)
But the good news for the developers is that both the Lumia 820 and 920 will support Bluetooth 4.0 as per Bluetooth.org. Bluetooth WCN3660 chipset exists in Lumia 820 and 920 which not only has Bluetooth 4 capabilities but also has an FM transceiver, so it's just the matter of time that WP8 will get a stack update. And due to its real world need and demand Microsoft will certainly put the required update soon.
There are two important terms that need to be understood:
Bluetooth Smart Ready Devices
These devices that receive data sent from Bluetooth/ Bluetooth Smart devices and with the help of sophisticated software mechanism transform this data into useful information. So when our WP devices will receive the BT 4.0 support they will fall in this bucket and be known as Bluetooth Smart Ready"

Even if it does support it which the PR department is now confirming it does, doesn mean that jack hole AT&T is going to give us the update. i.e. wheres waldo, i mean amber.

One possible (almost) misstep by Nokia and you all wanna switch to a competitor. A bunch of turncoats I tell you

For me this has nothing to do with it really.

I figured this was wrong. The chipset in 1020 supports it and is purely software issue.

I may ask how would you know if what kind of bluetooth i am using??

I have the dame question. Can we determine which BT version our device uses?

This is an example of MS keeping the products behind. There is no reason that towards the end of 2013 we should have to wait for a software update for a common protocol.

There are hardly any Bluetooth LE devices. Most sport devices use ANT+. Bluetooth LE devices didn't really start landing till now. One of the big ones Lockitron has been delayed for 6+ months now and just about to release.

I think they were confused about gdr2. It's already enabled and will be enabled for the higher end devices soon.

Dare I ask if this includes the 810?

This is kinda ridiculous I have a 520 only to use into my upgrade comes but Bluetooth 4.0 is important cause of devices like the fitbit I've been eyeing if I get a 925 or 1020 it not having 4.0 sucks tremendously

What I don't understand is why they enabled it on lower-end devices with GDR2/Amber, but the high-end devices have to wait for GDR3/Bittersweet Shimmer? Why not just enable all devices at the same time?

WHAAAT?! Tweet says due to hardware limitation but then the update says it will be enabled with an update. Something clearly has gone wrong, or rather some one at nokia needs to be given the boot "Cough", lol.
On a serious note everyone (myself included) who is sporting a flag ship device would be mighty pissed as this would be category beyond a monumental catastrophe. Especially given smart watches are coming back into "fashion" again.
Looks like im going to have to hold of that pacer bundle for awhile T_T, my gym group are all sheep (they all have upgraded from 5 to 5s - sim free aswell!!) and its driving me bonkers.

I don't feel comfortable exercising with a L1020. Even if it do or don't come to the higher end phones I'll still get a L520 to exercise with

The joggers here get beaten for their phones.

Hi There,
Can we then say that this link provides an almost accurate information
http://www.engadget.com/2013/07/08/bluetooth-4-0-nokia-lumia/

What a buzz. Lol. Why not just wait for the event in Dubai? That's what impatient people get. People who wants to know information ahead of everbody else.
Is it better that you are told that it is not available and then find out at the end that it will be available?
Or, being told that it is available but in the end it really is not available?

Seriously... The phone was not advertised with it.

Hey mister Editor-in-chief! Nokia Australia corrected the information, did you catch it?



Please tell me they included it in the 928. The lack of an fm radio can be overlooked, but no treasure tag? Not cool.