Nokia comments on Fitch's downgraded credit rating announcement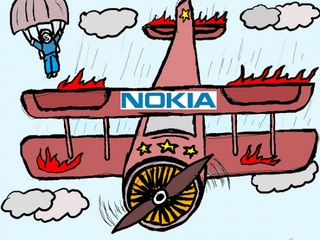 Nokia has released a press statement commenting on the recent credit rating downgrade carried out by Fitch Ratings. The rating agency cut Nokia Oyj to 'junk' and announced that the outlook for the manufacturer is bleak. This negative move follows Moody's credit rating cut to the lowest investment level, as well as Nokia's recent Q1 2012 finance report detailing a heavy €590 million loss.
Timo Ihamuotila, Nokia's Executive Vice President and CFO, commented the following:
Windows Phone enthusiasts know first-hand that Nokia's pockets are extraordinarily deep for a company in such a financial (and market share) hole. The marketing expenditure alone has been huge, it was only last year that we reported the manufacturer tripled expenses on promoting Lumia Windows Phones.
Ihamuotila highlighted in his comment that the company is still in its 'transition' stage by getting to grips with the Windows Phone adoption. As well as focusing on the mobile platform and partnership with Microsoft, Nokia will look to continue to lower the company's cost structure, while improving cash flow and maintain a strong financial position. A few figures were thrown into the statement for good measure - gross cash balance of €9.8 billion and a net cash position of €4.9 billion.
Both Nokia and Microsoft has had Windows Phone in mind as a marathon and not a sprint. The companies (as well as other OEMs supporting the platform) do not expect marketshare and sales to suddenly skyrocket, but it's positive to see Nokia able to hold its own for a while longer. Let's keep our eyes peeled for the Q2 finance report from the company which should take into account the Lumia 900 push in the states.
Source: Nokia, via: Reuters, MyNokiaBlog
Windows Central Newsletter
Get the best of Windows Central in in your inbox, every day!
Rich Edmonds was formerly a Senior Editor of PC hardware at Windows Central, covering everything related to PC components and NAS. He's been involved in technology for more than a decade and knows a thing or two about the magic inside a PC chassis. You can follow him on Twitter at @RichEdmonds.
So is now the time for MS to buy Nokia?

Everyone I've read expects Nokia to continue downward through this calendar year. If MS is considering a buyout they'll probably keep waiting.

Microsoft paid $9 billion to purchase Skype, but they won't pay $13 for Nokia? Meanwhile Nokia is going to shed its assets, some of which Microsoft values, just to survive? If Microsoft is going to pull the trigger, they're not going to wait until Nokia emaciates into a shell of its former self. At the very least, I expect Microsoft to offer Nokia a loan.

Who knows, but the difference between Nokia and Skype is that Skype was growing and is software. Nokia is contracting and is hardware. Microsoft doesn't make much hardware, the Xbox being the one huge exception. They did make a 900 MHz cordless phone back in the 90s that I had and totally loved. Does anyone remember that? It was WAY ahead of its time.

Whaaat! Are they hard to come by!?

I just did a quick search on eBay, but came up empty. If you find one you'll need Win95/98/Me and a serial port. It had a sweet little software call manager and was the first phone to announce callers over the handset and computer speakers. It was rad!

I think Miscrosoft and Nokia would be stronger apart and this relationship will look very good once Nokia starts rising again. I woulld not want to Microsoft go after them unless someone else forces the issue then they would not have any choice.

I stared buying Nokia at $5.40 per and have been each week. not a look out for the now but looking down the road when the stock comes back around $15-+ or better per share/

I think their main mistake was to announce they were dropping Symbian. If they just told they would be adopting Windows Phone, I think their Symbian sales wouldn't drop so fast and would help them to keep positive results. They are improving Symbian (now Belle) faster than anything else on the market, and they are still supporting it through 2016, so there was no need to say so early they were dropping it.
Of course their strategy would be the same, phase Symbian out and Windows Phone in.

Symbian was being slaughtered by Android before the announcement. I suspect the announcement was mostly to get Nokia employees to except its demise and to ward off shareholder lawsuits.


The average consumer never heard Elop's "burning platform" speech. Symbian is burning because smartphones(iOS/Android) are killing it.

i think that if they launch the lumia on all networks they will see great sale numbers. At the same price point they have on tmobile it would be hard for any smart phone buyer to ignore it. they just need to make the lumia a house hold name. If they make it how the iphone is something android has failed to do they will see great numbers in the states.

Seriously the US market is of no concern for Nokia. They always had very bad sales numbers there. Nokia's problem is the international and for Smartphones especially the European market where their sales dropped significantly. They sold almost 30 million smartphones 1 year ago now they are selling only about 12 million per quarter.

Yes, their losses are outside of the U.S. like you said, but they are looking at the U.S. as a place to show growth. U.S. performance was one of the positive things mentioned during their 1Q announcement.

That is obviously not true anymore. They know they will never dominate emerging markets the way used to again so they are looking to offset these losses by competing in the high-end as well and hopefully thriving there. The US is a very important market for this--they even changed plans in midstream to get LTE on the current generation after AT&T insisted. Plus look at the money they are putting into the AT&T campaign alone.
One Lumia sale is already worth considerably more than a Symbian sale and that situation will improve more yet with Apollo phones and beyond. Then there are the W8 tablets which I think will be a huge new market for Nokia.

You said Win8 tablets and I started to drool...

The W8 tablet pcs are still not available in my country , nokia however leads all the other cell phone manufacturers. Donn know when would they capture the tablet market in here.

Bloomberg is reporting that Nokia is in negotiation for selling a huge amount of its patent portfolio to actually survive Q3!

oh horse manure....they have billions of cash to burn through and they don't have a burn rate that high. searches for such article dont turn up anything.

This is all just a scam by analysts to depress Nokia's stock so they can pick it up for a song cause they know things are going to be stellar in Q4.

At $3.65 it can't go much lower. It was around $5 before the 1Q announcement and the 2Q results are not expected to be good, either. This is no scam. Nokia is in a tough place right now.

Might be a good time to buy a few thousand dollars in Nokia stock and sit on it for a while.

The finance market is in turmoil. Maintaining good credit rating is really hard right now on the euro zone.
Nokia is definately planning to sell some of its property. They could use atleast one extra billion of cash so that they could keep their debt at a reasonable level. And they needs to stabilize their bussiness this year.
By they way, alot of the Lumia marketing money is coming straight out of Microsofts pocket.

NOK is being assulted on all fronts in the US at the moment. It doesn't surprise me to see the some of the credit rating agencies wanting there stab as well.
Take these into account:
1. Given these agencies recent moves how credable are there ratings anyway.
2. If NOK doesn't borrow any new money then this rating means nothing.
NOK simply needs to stick to their plan. If they can sustain a turnaround you will see these same agencies / publications cheering NOK with open arms.

I believe it is of some concern for them. If not then they would not be pushing so hard here in the states. Yes they have lost sales in Europe which is why they success is at lease one region. I believe the north America market is perfect for that

NOK has a 3x debt to cash.

"Let's keep our eyes peeled for the Q2 finance report from the company which should take into account the Lumia 900 push in the states."

Nokia has already warned that Q2 will be as bad or worse than Q1.

You guys seriously gotta chance the "Nokia financial struggles" pic you use...we're on your side, remember? :P

I wonder, at this stage would getting a loan from Microsoft help them out? It worked for Apple.

It ain't over yet. Nokia is just in the first two quarters of deploying Lumias around the world.

Please add good good information that would help others in such best way.This post is exactly what I am interested. we need some more reliable information. delhiwebsitedesigningcompany.com
Windows Central Newsletter
Thank you for signing up to Windows Central. You will receive a verification email shortly.
There was a problem. Please refresh the page and try again.