Quick review of the DC-18, a portable charger from Nokia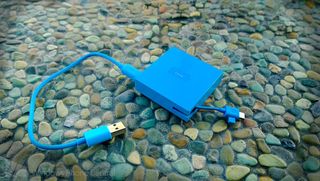 You can get pretty stellar battery life on Windows Phone. Variables like your specific phone, usage, and which apps you have installed (and whether they're running in the background) all impact battery life. You might want to carry a portable charger for those times you find yourself away from an outlet or power source. There are plenty of third party options when it comes to selecting a portable charger for your smartphone, but if you're rocking a Lumia why not get one to match it?
The Nokia DC-18 is a universal portable USB charger that you might want to check out. Here's our quick hands-on with it.
Sizing it up
A portable charger is something nobody wants to carry around all the time, but it's invaluable for the times you need power and don't have time to sit around an outlet. The DC-18 is modest in both size and storage capacity. With the DC-18 you're getting a rectangular cuboid shape measuring 57mm x 57mm x 14.9mm and weighing just 65g. It isn't super thin, but you can easily put this into a pocket if you really need to. Otherwise your bag is a good place to keep it.
The DC-18 has the microUSB cable built-in, which is great because that's one less thing for you to carry when you're mobile. You can easily pull it out of the body with the little plastic protrusion on the side The LEDs on the front of the device light up when you pull the cable out and represent how much charge is left inside the DC-18. On the opposing side you have a microUSB port, which you'll be using to charge the device.
The little charger comes in either red, white, cyan, or yellow. Odds are that you'll be able to match this to an existing smartphone in your collection.
The charge inside
When it comes to the amount of juice inside, the DC-18 isn't going to be winning many competitions. Its battery capacity is rated at 1720 mAh. For perspective, let's compare the capacity of some smartphones you might be using this with. The Nokia Lumia 520 has a 1430 mAh battery, the Lumia 920 and Nokia Lumia 1020 are rocking a 2000 mAh battery, and the latest flagship, the Lumia 1520, packs a whopping 3400 mAh battery.
For those concerned about the capacity consider this. The Camera Grip accessory for the Lumia 1020 doesn't just act as a comfortable grip with a nice shutter button, but it also packs a 1020 mAh battery. Which makes it perfect for topping off your phone or eking out just a bit more battery life when your late night is about to turn into an early morning.
The DC-18 is also a perfect complement for phones like the Lumia 520. Both in terms of price, but also because the DC-18 can easily give the Lumia 520 another complete charge.
Is this for me?
So would you get this if you're looking for a way to keep your power hungry Lumia 1020 or upcoming Lumia 1520 always charged? Probably not, there are portable chargers out there that offer greater capacity (like Nokia's own DC-50 at 2400 mAh). But this little charger is highly recommend if your phone doesn't have such a big battery to begin with or if you're looking for an easy way to make sure you have enough battery to get through a night out on the town with friends.
Want the DC-18? You can find it in various places online in places like Amazon or eBay for prices that range from $27 to $40.
Get the Windows Central Newsletter
All the latest news, reviews, and guides for Windows and Xbox diehards.