Holiday Realness - Nokia USA is keeping it real for the Holidays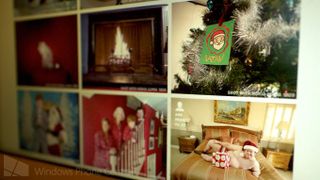 Nokia USA has kicked off a holiday campaign called Holiday Realness, which features their latest Lumia devices. Nokia says we all celebrate in our own way. If it's real to you, it's right. There's currently a short film showing how dog lovers celebrate their Christmas. There are a couple more videos expected to air on December 5th, but Nokia provides teasers on their website.
Expect these videos to have appearances from Nokia Lumia devices. A shiny red Lumia 1520 is shown off in the Canine Christmas video. One of the dog owners is shown taking photos with the device at the event. While he's taking photos, the woman with the Mrs. Clause outfit says:
The next videos tease surfing Santas and late night carolers. We'll probably see the Nokia Lumia 925, Lumia 928, Lumia 1020, or Lumia 1520 in these videos.
Nokia also includes a greeting card maker called Oh, Snaps! You can add your friends' faces in the photos. Check out one of the snaps below with WPCentral's Sam Sabri.
There are 21 snaps available and 5 are customizable with faces. You can download to print, create desktop wallpaper, use as a profile pic. You can also click to share them on Facebook or Twitter.
Tweets and Instagram with hashtag #holidayrealness are also displayed on the Holiday Realness page. Here's an example:
You might want to create your own tweets tagged with #holidayrealness. Nokia told us they'd be rewarding the best tweets with surprise giveaways.
Source: Nokia
Ok, that video was awkward. . . I'm just keeping it real.

Here's me thinking a lot of people would've enjoyed Daniel's face on Santa :D :P

What a weird video lol. I am not even sure what to say about this haha

You have got to be kidding me with that video. I watched all the way to the end thinking there would be some sort of "yeah right" punch line.

OMG! (that Oh, Snaps! photo O_O)

+1 I hate her annoying voice so much

And her friends :) Best part of the video was next year's roast (the P - I - G)

I like dogs. I like Lumias. I dislike that video.

My love for lumias made me stand that video.

Really odd commercial :-S

Doing it all wrong with that flash! Haha
Windows Central Newsletter
Thank you for signing up to Windows Central. You will receive a verification email shortly.
There was a problem. Please refresh the page and try again.