Nokia and HTC launching Windows Phone 8 devices in China this December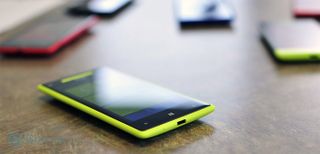 Rumors are coming in that Nokia and HTC will launch their Windows Phone 8 handsets in China simultaneously next month. To be exact, Nokia is throwing a launch party, partnered with China Mobile, on December 6th in Guangzhou, while HTC's party (appears to be on its own) will happen the next day in Beijing.
The two phone makers are keeping nothing back. The two days will see the introduction of the Lumia 920, Lumia 820, HTC 8X and HTC 8S to Chinese consumers. From a Chinese point of view this is an improvement in manufacturer attitude and brings the Chinese market up to a similar level with US and Europe. The latest generation of Windows Phones will arrive in China only approximately one month later than the first wave of markets - not bad.
The fact that both Nokia and HTC decide to make a party out of it probably says something, especially when the dates selected are so close to each other. We see there's fierce competition brewing within the Windows Phone ecosystem. Nokia is in the "king" position, while Microsoft seems to be trying to balance the power out by granting HTC the privilege of branding: a series of Windows Phone devices literally named "Windows Phone". It will be interesting to see how Nokia and HTC play their hands.
Curiously, there's no word on Samsung's ATIV S Chinese launch and availability. Also, it's said that the pricing of HTC and Nokia products in China will be roughly like this:
Lumia 920 > HTC 8X > Lumia 820 > HTC 8S, with HTC 8X and Lumia 820 "not far away from each other". That would be interesting. Pay a little bit more, and suddenly you get upgraded from a "budget device" to "flagship". Wondering how Nokia is to justify the pricing of Lumia 920. Yes there's fantastic camera and screen. But if it's priced too far away from competitor flagships in a period of economic struggle, it could put some consumers off.
Also note that Nokia launching the new Lumia phones with China Mobile probably means the Lumia 920 and Lumia 820 in question work on the carrier's Chinese-homegrown TD-SCDMA network, as previously covered. That means there won't be as much of an active black market as previously seen. The problem and blessing of TD-SCDMA is its uniqueness and incompatibility with CDMA 2000 as well as WCDMA. Ever since entering the 3G era, China Mobile has constantly been facing the problem of not having enough cool devices to drive conversion.
If you're an existing China Mobile subscriber, and want 3G, your only source of phones will be the carrier's own store. HTC will probably have the upper hand in competition if its 8S and 8X are unlocked for GSM (China Mobile & China Unicom) as well as WCDMA (China Unicom) networks.
Quite unlike the US and other markets, all phones sold in China are unlocked. Carrier stores only contribute a fraction to the whole phone market. People mostly buy a phone first (from anywhere: online, offline black market, independent phone distributors, OEM stores, etc) and then find a compatible carrier later.
Source: WPDang
Get the Windows Central Newsletter
All the latest news, reviews, and guides for Windows and Xbox diehards.