Nokia and HTC launching Windows Phone 8 devices in China this December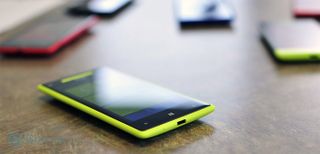 Rumors are coming in that Nokia and HTC will launch their Windows Phone 8 handsets in China simultaneously next month. To be exact, Nokia is throwing a launch party, partnered with China Mobile, on December 6th in Guangzhou, while HTC's party (appears to be on its own) will happen the next day in Beijing.
The two phone makers are keeping nothing back. The two days will see the introduction of the Lumia 920, Lumia 820, HTC 8X and HTC 8S to Chinese consumers. From a Chinese point of view this is an improvement in manufacturer attitude and brings the Chinese market up to a similar level with US and Europe. The latest generation of Windows Phones will arrive in China only approximately one month later than the first wave of markets - not bad.
The fact that both Nokia and HTC decide to make a party out of it probably says something, especially when the dates selected are so close to each other. We see there's fierce competition brewing within the Windows Phone ecosystem. Nokia is in the "king" position, while Microsoft seems to be trying to balance the power out by granting HTC the privilege of branding: a series of Windows Phone devices literally named "Windows Phone". It will be interesting to see how Nokia and HTC play their hands.
Curiously, there's no word on Samsung's ATIV S Chinese launch and availability. Also, it's said that the pricing of HTC and Nokia products in China will be roughly like this:
Lumia 920 > HTC 8X > Lumia 820 > HTC 8S, with HTC 8X and Lumia 820 "not far away from each other". That would be interesting. Pay a little bit more, and suddenly you get upgraded from a "budget device" to "flagship". Wondering how Nokia is to justify the pricing of Lumia 920. Yes there's fantastic camera and screen. But if it's priced too far away from competitor flagships in a period of economic struggle, it could put some consumers off.
Also note that Nokia launching the new Lumia phones with China Mobile probably means the Lumia 920 and Lumia 820 in question work on the carrier's Chinese-homegrown TD-SCDMA network, as previously covered. That means there won't be as much of an active black market as previously seen. The problem and blessing of TD-SCDMA is its uniqueness and incompatibility with CDMA 2000 as well as WCDMA. Ever since entering the 3G era, China Mobile has constantly been facing the problem of not having enough cool devices to drive conversion.
If you're an existing China Mobile subscriber, and want 3G, your only source of phones will be the carrier's own store. HTC will probably have the upper hand in competition if its 8S and 8X are unlocked for GSM (China Mobile & China Unicom) as well as WCDMA (China Unicom) networks.
Quite unlike the US and other markets, all phones sold in China are unlocked. Carrier stores only contribute a fraction to the whole phone market. People mostly buy a phone first (from anywhere: online, offline black market, independent phone distributors, OEM stores, etc) and then find a compatible carrier later.
Source: WPDang
Windows Central Newsletter
Get the best of Windows Central in in your inbox, every day!
That's cool. I'm liking htc's attitude toward windows phone now. I wrote them off before when Nokia put all their support behind wp7 but their bringing out stunning hardware and keeping up with Nokia in terms of release. I'm still getting the lumia but good work HTC :)

Absolutely! OTOH, the Ativ S is still MIA :(

"The latest generation of Windows Phones will arrive in China only approximately one month later than the first wave of markets - not bad."

Assuming the rest of the world actually GETS the 920, which is seeming less and less likely every day. We may end up getting the phones in December along with China. Maybe..

We will probably never get it - crappy ass ATT!

starting to feel the exact same way. You figure they would launch with the release of the OS *shakes head* This is where apple gets out ahead of the pack. Imagine how many people were probably interested in a WP but passed it up because they didn't want to wait and the iphone 5 is already out. AT&T is really starting to get on my nerves. It feels to me like they are not trying to interrupt the iphone 5 sales

ATT will never release it...

Now now, I just got chance to play with one and Finland definitely isn't in the first wave to get those devices ;) Thank god for flagship store though.

Oh yeah, the dummies are actually heavier than the actual device. That's a wee bit dumb.

Why would rest of the world not get it?
Release dates around Europe have already been announced and it's shipping in France, Canada, Germany, Russia and UK this week.

You must have missed the sarcasm in there, obviously the world will get the phone at some point.

They really need to announce the ACTUAL release date and preorders. I'm tired of waiting.

They have, not just in USA.
It's in AT&T hands.

And I live in the US, and I'm on AT&T.

I'm shocked the us carriers haven't given you more info. In aus I was able to preorder last week and they announced prices the week before as its outright. Im picking mine up next Thursday. Hope your carriers sort themselves out!

I really think that at&t could care less. They don't want to lose any iPhone sales over the holidays.

Change it to "couldn't care less" and I give you a +1.

Thank you! I really thought I was going crazy ... so many people say it as 'could care less' and it doesn't make sense.

Maybe the double negative is confusing to some folks. "doesn't give a rat's ass" is more to the point, although that opens up some new questions about rats. "doesn't give a shit" is also more direct and yet doesn't make much literal sense. Then there's "doesn't give a flying fuck" which is my personal favorite, but is also consfusing from a literal perspective. What's a guy to do to get his point across?...

At least they're caring a bit.

Echoing what everyone else says:

ENOUGH "LAUNCHES". Get some products in stores.

I forgot to mention sarcasm : o

Lol, probably before the us.

Yeah any news for the U.S. release on AT&T, for the Lumia 920, is strangely quiet.
Not even a single print ad indicating 'coming soon'.
I suspect it finally won't hit retail store shelves until Thanksgiving/ Black Friday weekend.
But even that's only about two weeks away and nary a word.
Worst. Product. Release. Ever.

Go Go AT&T! Plain sucks, tbh. Oh well, got mine preordered.

Yeah, I'm getting very tired of waiting. MS really should have done a better job working with the carriers. The same thing happened last time. Nokia should never have been allowed to hold a press conference so far in advance as they did. You get people very pissed off when you show something and dont deliver right away. So as much as I love and want a 920, shame on you MS, shame on you Nokia and shame on you AT&T!

Windows Central Newsletter
Thank you for signing up to Windows Central. You will receive a verification email shortly.
There was a problem. Please refresh the page and try again.