Nokia launches Gift Voucher promotion for select UK Lumia Windows Phones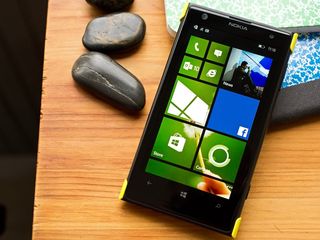 If you happened to be in the United Kingdom and own a Nokia Lumia Windows Phone that has been updated to Windows Phone 8.1, it may be worth a few minutes to see if you qualify for Nokia's latest promotion.
Nokia has released a Gift Voucher app in the Nokia Collection that will generate a pin-code that can be redeemed in your Windows Phone Wallet app for £20. The promotion is for a limited time and is being offered for select Lumia models. While Nokia doesn't list which models are eligible for the gift, our tipster confirms that the app works with the Lumia 1020 and Lumia 1520. Based on the Windows Phone Store reviews and our experiences the Lumia 920 and Lumia 925 are not eligible.
You can find the Gift Voucher app here in the UK Windows Phone Store. Let us know in the comments if you've had any luck claiming your gift voucher.
Thanks, Steve, for the tip!
Get the Windows Central Newsletter
All the latest news, reviews, and guides for Windows and Xbox diehards.
George is the Reviews Editor at Windows Central, concentrating on Windows 10 PC and Mobile apps. He's been a supporter of the platform since the days of Windows CE and uses his current Windows 10 Mobile phone daily to keep up with life and enjoy a game during down time.
I had one for my Lumia 1520

+1520 £20. Now to change my region back to us to get Cortana back :)

Worked for me on 1520. Thanks for the heads-up WPC!

I downloaded it. Didn't work for my 920 :(

Didn't work on mine either :(

1020, 1520, 1320 and 625 only.

have 1320 and 625 ;) yay ;) lol ;) gta san andreas 4ever 4free lol :)

UK only. Always UK only! /s I wonder if... Update: Bloody marbles, it does work changing the regional setting to UK! You'll now have a second Microsoft Account card under wallet. I guess this means you'll only be able to spend this money only if you access the English Store. Now enjoy and have a cup of tea my dear.

Chip-chip cheerios and all that good stuff.

Meh, full English breakfast and coffee ☕

I thought it was always the US

The UK and England aren't the same thing.

Sorry to burst your bubble... But I'm sure its always US no always UK... US are the ones who are getting most of the competitions that become available... I mean, you've even got Cortana available on US version of the update, all of us have to either wait or change our region (what hasn't worked for me for some reason) so sorry, but what u said isn't true :/

Mate, here http://bit.ly/1hSat5H

lol. When I clicked that link It opened cortana :P

We deserve it, US carriers are always reaming us in the ass

I'm US. Can I just switch regions, and download the app? Also, would this be considered stealing? I personally am not sure, but I'm leaning towards "yes" and probably won't do so, because people taking advantage of such promotions discourages future ones...

Lol was this an attempt to discourage people from trying?

No. Just new considering my own morals and values, and trying to see what other people have to say on the subject.
So I'm leaning against it, but free apps are always tempting... Hmm...

Well, people think its fine to do that with things like updates (with the Cortana situation outside of the US) so I guess its the same as that. :)

But Cortana is different. The only reason she's feature locked is because, due to the fact she hasn't yet received localization for any region than the US, she'd potentially be rather sub par. If people purposefully change regions to use her, it's on them if she's not ideal. But if they're willing to accept that, it doesn't really affect Microsoft in any negative way. But with this app promo, it likely costs Nokia out of pocket, so people who aren't supposed to be using it could cost them.

You need to log in with your MS account in the app, so I would assume it depends on the region of that account?

Just confirmed that changing regions works, three log in is merely to ensure you only redeem one voucher.

if i change my region to UK it will work? :O

Yes, just tested it, and can confirm it works. However, I'm not sure if if the US store will allow you to use pounds. Guess I'll figure out when I next try purchasing an app.

T&Cs http://www.nokia.com/gb-en/campaign-world-of-entertainment-x/tc/ App says t&cs state only 1520,1320,1020 and 625 bought in the promotional period are eligible if you try to use a non-eligible device but I haven't read them. Think maybe not uk only as the store screenshot looks like a different alphabet.

https://onedrive.live.com/redir?resid=2A3B93C66021BCED!3337&authkey=!ALF...

I haven't read the terms and clicked through and it worked on my 1020. Was there something about it being time limited also?

awesome my 1520 will be much better off now

Just redeemed the code on my 1520. Very straightforward.

This is brilliant Thanks Mr Ponder! Just claimed on my 1020 (wp8.0). Already had £17 worth of credit from another promotion, just updating my 625 and will see what happens with that! :-D

Yep, got it for the 1520 and 1020

Doesn't work for Lumia 820 either.

funny, the app has got bad reviews by users who didnt qualify for the voucher :D

How stupid must they be, the mind boggles.

No 920. Why, what's wrong with us 920 owners???

Lumia 1020 is eligible. Thanks Nokia for £20 voucher...... I also received £20 when I preordered Lumia 1020 (£599). But now price dropped to £350-399.

Worked on my Lumia 1020 :)

Superb just redeemed mine, made even sweeter by the ice cream cone i'm eating on the beach at the moment. Free stuff is always great. UK 1520

I started a thread about this yesterday, glad to see it's on the main page. http://forums.wpcentral.com/windows-phone-8-1/274863-free-%A320-gift-voucher-lumia-devices.html

Confirmed not working on uk 620, got all excited for a minute.

yahoooooooooo I got for both....Lumia 1520 and Lumia 1020, now i have 40pounds credit in my account Thanks for the tip

This is the second £20 voucher I've had off Nokia. It's nice, I haven't paid my own money for an app since I got my 1020.

Got my £20 with my 1520 plus got another £20 when I bought the phone. Thank u microsoft

Cool, worked on my non-UK 1020. Just region switch and some random UK address.

I hope it wasn't my address Posted via the WPC App for Android!

UK again geez when is it gonna be USA :P

Got it in my 1020 yeah... :D

Are you sure the 8.1 update is a requirement? I got this on my Lumia 625 and I'm still running wp8.

It has also happened to me, I can confirm what you are mentioning.

thanks thats my second £20 voucher i have so much now that i dont know on what to spend it

Me too! £40 just sitting there...

Be careful...they have expiry dates. I have one expiring on the 24th April (from a Nokia Xmas promo).
Hmm...£17 to spend, and nothing I want to buy!!

Awesome! Thanks to WPC for pointing this out too. 1520.

There aren't any apps to spend 20 quid on though haha! Still have 13 left and struggling to spend it...

Things with in app purchases is where the money is at (or goes).

thanks WPC! i got mine. Lumia 1520. from malaysia actually. :D

No 20£ for me and my L520 :'(

My Wallet app does not seem to be working. I dont know if it's since the update as hadn't checked it for a while before. When I download the gift voucher app I can open it and see the code but when I click copy and activate it tries to open and then goes back to where it was. I assume it's trying to open the Wallet app which is crashing. Anyone else finding this issue? I'm using 1520

Just open your wallet manually...click the plus icon and add the code (the code has been copied to your clipboard...so just paste and add)

I've managed to redeem now by going to the browser site http://commerce.microsoft.com and manually typing in the code. I've since discovered now that I am not able to copy text etc on top of not being able to open wallet app. Any ideas on how to fix this. Don't want to hard reset and have tried soft reset. Well happy with the 20 quid though!

Nice one! I have a 1020 and it was eligible, the only snag was I couldn't copy the code of the voucher screen. I had to type it in manually but that's a small price to pay for £20 :) Thanks WPC I don't know if I would ever had known about this otherwise.

I now have £80 of promotional money (bought and sold two Lumia 1020's on Ebay - their IMEI codes hadn't been used for Nokia's Christmas promotion)...
However, I can't ever find anything to spend it on!!
I cant even use my MS account to pay for OneDrive...and I also cant use it to pay for Nokia MixRadio. Hmmm - if only someone would release a movie maker app so I could spend some of the allowance before it runs out!
Great idea from Nokia and MS...gets people used to the process of paying for apps (I never bought anything on Android)

1020, 1320, 1520, 625 and Icon only. Why it mentions 1320 and Icon for a UK promotion I've no idea.

Odd how they mention the icon but the 1320 is available in the UK so don't see why that is odd.

Brilliant, worked for 1520. Thankyou

First time in my life a bought an app. thank to Gift Boucher...:)
and my first paid app is also WPCentral #ThankYouMicrosoft

Worked for me on a Lumia 1020 bought back in October and still running WP8. Cheers Nokiasoft!

I cant copy manually either. The wallet app will not open. It tries and just goes back to home screen

Got this earlier this morning uk time, shortly after i upgraded my 1320 to 8.1, thanks to Microsoft for both...

I'm guessing i can spend this on xbox360 as well. Will find out when i get home

Sure you can take the code that the app spits out and input it to xbox.com or your console. BAM!

That free £20 got me Trials Fusion on 360. Lumias Rock!

Might be worth looking at but as part of the promo you can get a load of gameloft games free, I just searched for Gameloft in the appstore and downloaded a few like nova, modern combat and sharkdash for free...

I love it! All done no problems :-) now I can go and buy some apps :-)

Bloody great! My phone thinks I'm in the USA at the moment.
Cortana or chance of a voucher lol

Thanks for the heads up! Worked on a lumia 625, 1020 and 1520 - like Christmas came early!!! What do we do with three app now? Can I delete it? Can I stop it running background tasks?

They're soooo god damn sexy! :D

Final Fantasy III for nothing and £11.01 virtual change? Yes please! :D

Wow! £20! That's amazing! Lumia 1520 here

YAY!! I just got this for myself on my Lumia 1020 & on my dads Lumia 625. I saw the app on the store before this post but ignored it as I didn't think it applied to me.

Got the voucher for £20on lumia 625 and added itself to my wallet in the Microsoft Account. When i purchased WPC it opened the wallet but charged my mobile account not deducted from MS acc. So is the voucher only for MS apps and not 3rd party ones on the store?Don't know but will try and report back. Respect.

Have tried purchase again and now offers to change payment details on verification page to the MS acc. If you miss this you will be charged on your monthly bill,so be warned. Respect.

It's a great deal but what do we do with the app afterwards? Just delete it or leave it?

Just redeem mine because last time I bough L1520 no free gift flip case on december (Malaysia). But start Jan~ Feb have promotion. So I claim this as my free gift.

Nokia 1520 and i get 20£ yessssss

I keep getting the below error message when trying to redeem the code. I did change the region to UK on the phone. My MS account is US based, but I did add a UK address under http://commerce.microsoft.com When i enter the code, it says there is $40 balance on the card instead of in pounds. 'The gift card code you entered does not match the country or region of your Microsoft account.'

Work in my Country (Argentina) L1020 and give me 160 $ that is quite alot!

I have L625, i do everything from then info and when i press redeem voucher it shows me "Sorry, but promotion is for selected Lumia models only, purchased during the promotion period determined in the Terms and Conditions". I tried it before a month ago and the result was the same. I have bought my Lumia on 19.02.14 and i think that is the problem, so is there any way to take my voucher when my phone is bought before the start of the promotion?

Hi You should be able to redeem gift vouchers through this link http://commerce.microsoft.com/. Regards