Nokia Lumia 1020 available on Three UK; contracts start from £34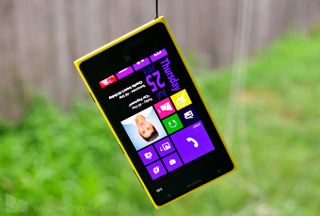 Mobile operators in numerous regions around the world are beginning to stock and sell the Lumia 1020. Nokia's rather niche flagship Windows Phone is an expensive delight that's packed with innovation and functionality, boasting a 41MP shooter, 2GB RAM and more.
So how much will you be looking to pay with Three? Contract pricing starts from £34 a month. You get unlimited data, 500 minutes and 5,000 SMS.
With that monthly fee is a £69 (leave the jokes out, folks) upfront charge for the Windows Phone itself. If you've yet to check out the new smartphone, read through our previous coverage, our detailed review, and head to your local Three store to try out the device.
Another plus with Three is the network will be automatically bumping customers to 4G once the network is upgraded. Better yet, there's absolutely no fee to take advantage of LTE, you'll just wake up one day and have the increased speed once your area is covered. Three has the Lumia 1020 listed in both black and yellow.
Source: Three (opens in new tab)
Rich Edmonds is Senior Editor of PC hardware at Windows Central, covering everything related to PC components and NAS. He's been involved in technology for more than a decade and knows a thing or two about the magic inside a PC chassis. You can follow him over on Twitter at @RichEdmonds.
Doesn't sound to bad but i use the giffgaff uk network £12 unlimited texts internet less talk time 250 minutes but unlimited to call anyone else on giffgaff i avoid contract phones like the plague lol

Absolutely, depends on what you want from a contract or PAYG plan. Both are viable options :-)

Three has a similar offer for £13. I think the extra pound for reliable customer service is worth it. I also avoid contracts, as I often leave the UK for extended periods and can't afford to roam for so long.

customer service with giffgaff iv found has been realy good been with the network for a good couple years now zero complaints iv only had one problem with the minutes a year ago they fixed it right away and restored my minutes.

Both work out about the same cost over two years, which is great as being able to pay monthly is helpful.

£12x24= £288 Phone £600 = £888
£34x24= £816 Phone £69 = £885

Full price cheapest right now is on three for £550

Blimey - bargain. My work pays for my phone so that's me sorted. Happy days!

Oh and Rich, have you spilt your pint yet? I'm fully qualified in telekinisis.

:-P I bet that's some pulling power when speed dating!

These contracts are crazy, but then again I don't touch subsidized devices, since my work pays for my unlimited data plan. I end up buying mid tier phones, like my current and awesome 820 (bar the the silly 8gb internal storage).

Niche device! I getting tired of the 1020 being placed in that category.
What makes it niche? It's no different as far as functionality than my 920....so what if it has a little camera bump. It feels good in hand, fits in pocket and performs just like any other smartphone "except it packs 41 megapixel awesomeness". STOP THE NICHE CRAP!!!! Doesn't sound good as far as a sales pitch!

The 925 has a "little" camera bump. The 1020 is more like a bump with a phone attached to it.

I'll keep my 1020....go ahead and keep your 925.

Three is the worst network in history. If you can't get a 3G signal then you get no signal as they have no 2G service. As soon as you go out of town or into the country, you're screwed.

Are you on 3? I am and get a signal pretty much wherever I go, including the rural location in Scotland where I live.

I certainly do get 2G signal in some places when I'm travelling by train. In terms of signal and price, I am quite satisfied with Three (as an Edinburgh resident). I used to have Vodafone, that's what I call crappy signal and unreliable service at insane cost.

Seventh year on Three and no complaints at all. Got three sims (EE, Vodafone and Three) with me all the time and sometimes randomly one of them do not have coverage. And recently in the cities I got better coverage from Three than others.

Wrong. I get 3G coverage everywhere.
They have the highest 3G coverage in the country at 98% 3G, vodafone and O2 are around the 85% mark.
They also have 2G backup in select areas such as rural england, wales and scottish highlands.
Best thing about Three is when they release 4G it'll be free for everyone whoever has a 4G handset and run on 1800MHz and 800MHz freqencies which mean excellent indoor and outdoor coverage.

Too bad it's locked to the Three network, even their PAYG plan. Seems like you cannot get an unlocked off contract Lumia 1020 in the UK from High Street stores. Guess I'll resort to importing again.

You haven't looked very hard have you?
Phones4u @ £549.95
Clove @ £588.00 (They did do the free acessory pack with all pre-orders but i think that has finished)

Phone4u I was told sold all phones on contract, but maybe you're right, and I was just looking for pre-order. In any case, pre-order is finished, so no more free accessory pack. =(.
Clove = not High Street, also, not too sure if Clove is import any way. Handtec imports their phones. What I don't understand is why in 2013, there's still device-network locking, even if you enter a 24 month contract.

Clove doesn't import. Bought my 920 from them in November last year and it's CV GB. Great service from Clove too.

www.unlocked-mobiles.com is selling the 1020 SIM-Free for £549.98 at http://www.unlocked-mobiles.com/sim-free-mobile-phones/nokia-lumia-1020-...

Crap! We dnt have carrier phones :(

I went in and ordered mine yesterday as if you preordered it you got the wireless charger and cover, the camera dock thing and a tripod. Worth £140 so getting back by £69 fee!! Will finish work at 4 and pick it up.

Got mine delivered today! can't use it though :( three was meant to send their home signal at the same time as i do not get three signal at my house, but they messed that up and have to investigate etc so i don't even know if i can get it now so i cant use the phone in case have to send back :(

Its like Vodafones sure signal, they don't really advertise it but if you have signal problems and are on a phone contract they may send you one if you ask

God Damn It........would you just give me this FU<KING phone on Verizon already........ you can seemingly get it on any carrier everywhere else in the world, and only on ATT in the US.............this is Bull$hit

A much better deal than anything on EE. 24 month contract, 9.99 upfront cost, 81 quid pm cost and only 1 /2 gb data allowance (might be abit more cant remember) i know its a high end phone but your paying almost 2grand in total. I think 3 is the way to go.

Christ...three UK have it but nit three Ireland. Sort it out!

Oh if I could only put my hands on a WP8 device... These things are so damn expensive here in my country, I'll tell you that's why many people don't buy Windows Phones here, they think it's rich stuff since they can be more expensive than iPhones...
I think I'll only be able to afford a WP8 when it becomes outdated and they finally lower their prices...
People here are starting to be able to afford WP7 phones (Lumia 710, Lumia 800 as example)

I hate my country so much for this reason
Windows Central Newsletter
Get the best of Windows Central in in your inbox, every day!
Thank you for signing up to Windows Central. You will receive a verification email shortly.
There was a problem. Please refresh the page and try again.