Nokia Lumia 1020 available for pre-order in Turkey; listed for 1,999TL at Turkcell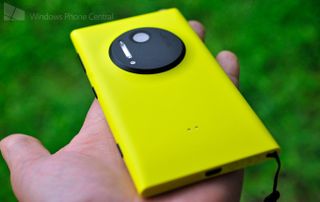 (Image credit: Windows Central)
The Nokia Lumia 1020 has been touched on before, in fact we only recently covered news that the Windows Phone launched in the Philippines. Now we're heading to Turkey where local mobile operator Turkcell has the device listed for 1,999TL ($990). Just like other markets, you'll be able to pick up the expensive niche smartphone.
Colours available include white, black and yellow. Again, just like other listings, you'll be able to bag a free Nokia Camera Grip accessory. Boasting a 41MP shooter, the premium Windows Phone will make a superb investment for any consumer looking to grab a high-end device. It's also interesting to see how many markets are stocking the Lumia 1020.
Head on over to Turkcell's website for more details and to place an order.
Source: Turkcell; thanks, Ali, for the tip!
Rich Edmonds is Senior Editor of PC hardware at Windows Central, covering everything related to PC components and NAS. He's been involved in technology for more than a decade and knows a thing or two about the magic inside a PC chassis. You can follow him over on Twitter at @RichEdmonds.
Not that I don't love the expansion of Windows Phone, but is it necessary to do an article every time one hits a new country/carrier?

Perhaps there could be a "recently released" column on the right hand side of the homepage that says the model and carrier/country of the phone being released? That might be easier/better for your readers to keep track of the releases anyway.

Thoughts?


(Edit: I had an example table in here but it didn't seem to work)

The WPCentral site is a global site. There are many eager readers from many countries awaiting this announcement. Just because you don't care please don't assume that no one else will either.

Reading the first sentence of my comment, it's clear that I certainly do care. I was merely suggesting to make the releases more accessible. By all means, tweet about it, but what special information needs to be put into paragraph form everytime there's a launch? In the unique cases where a release needs to be particularly wordy, maybe then write an article.

Objectively, yes, I'm sure some people do care about this more than I and are refreshing the homepage every couple of minutes in hopes that this news appears, but I don't think the number of people doing that can justify an article for each release.

While I do agree that WPCentral is a global website, I do think it's a great idea to(at least the desktop homepage) have a tab to the side for things like this

Because Türkcell didnt tell me that they have The 1020. But wpcentral did..

Right, I'm not against WPCentral announcing this information at all. Please, please, please read and make sure you understand what I am saying:

I believe the form of which the information is announced needs to change or at least needs to get an ADDITION to the homepage. Not only that, perhaps a filter to remove articles with a "release" tag.

That way all parties are satisfied.

While I agree that it is severely annoying, this is WP news and it is necessary... But, your idea would be nice.. The thing is that not everyone visits the website, and the mobile app shouldn't be considered for this.. I think the thing that is most frustrating is that it's a slow period for all WP News, so these type of articles stick out, and are annoying when you want some more exciting news... Nevertheless, the articles must continue❕

You're absolutely right in mentioning the slow news period. Perhaps I'm just bitter.

Heh, yeah, believe me, would rather have it rounded up. But sometimes the news trickles through when articles have already been published for other countries and since it's a rather slow day, we figured we'd separate them out a bit :-)

I have a question. Why the Nokia Lumia 1020 is so much expensive all over? I mean I don't get it. Of course the camera module is much expensive than the other components but why the smartphone itself is so expensive? 700$ would be a reasonable price to be set worldwide or even 750$ but this price is sure reaching those overpriced-overhyped Apple iPhone's standard. Can someone tell me some valid reasons of this Smartphone being much expensive?
Thank you.

They don't want people to have it❔

I can't speak for other countries, but phones are generally this expensive in Turkey, it is not just the Lumia 1020. The taxes are abnormal. Even if you actually buy a phone outside Turkey and want to use it there, you have to pay a tax of 115TRY (~$57), so... Yeah.

1 sene bekleseydim 920yle ayni fiyata alicakmisim demek ki 1020yi. ahaha

920yi satip alacaktim, vazgectim bu fiyatla

I have sent you a tip regarding the Lumia 1020 availability in Taiwan a few days ago, didn't saw it on WPCentral...

We already have it in Greece about 3 weeks ago.

Great to know that but it is too expensive to buy. i ll be waiting the prize to get lower ..

Oh wow, that is expensive... Think ill wait...
Windows Central Newsletter
Thank you for signing up to Windows Central. You will receive a verification email shortly.
There was a problem. Please refresh the page and try again.