Nokia Lumia 520 and Lumia 521 Windows Phones are tops at Amazon.com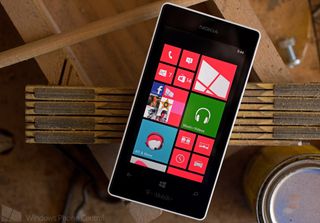 The Nokia Lumia 521 from T-Mobile and the Lumia 520 from AT&T are sitting atop Amazon.com's list of the most popular no-contract phones.
The two Windows Phones are essentially the same with both sporting 4" screens, 5MP rear camera, micro-SD card expansion, 512MB of RAM and 8GB of on-board storage. The T-Mobile 521 is listed for $124.20 with the Lumia 520 running $99.99 as an AT&T pre-paid GoPhone.
Both are well made Windows Phone 8 devices and while they may not be the powerhouse phone of say... the Lumia 1020 or Lumia 925.. either phone would make for a nice entry level or secondary phone.
You can catch all the ordering information here at Amazon.com (opens in new tab).
Thanks, Sean, for the tip!
George is the Reviews Editor at Windows Central, concentrating on Windows 10 PC and Mobile apps. He's been a supporter of the platform since the days of Windows CE and uses his current Windows 10 Mobile phone daily to keep up with life and enjoy a game during down time.
Might get the 520 for my son.

I was considering it for my son, but after seeing the screen in person, it's just too small for gaming. My son plays lots of games on his phone to pass the time....good shopping to you though

I was thinking the same thing. I've got two sons just old enough where I need to consider getting them phones. Good consideration on the gaming aspect though. Hmm.

A 4" screen is too small for gaming? Agree to disagree, I guess.

I also agree to disagree. If my kids "need" a bigger screen than the free-to-them phone I provide + monthly cell/text/data service, they can pony up some cash. Meanwhile, the smaller screen they do have doesn't seem to be a problem for them.

No kidding!
My daughter plays games on her ipod touch 4G with that itty-bitty screen just fine.


Small screen. Where do you leave us 620 users then?

Love my 521, far nicer than any of my friends iPhones or Androids at least OS wise. Definitely want the 1020 or phablet but I'm not switching from T-Mob.

I had a 521 and loved the smaller size (I don't do much gaming) cause it fit nicely in my pocket. But I couldn't resist and bought the 1020 from the Microsoft store, ATT unlocked it for free and it works great on TMobile with full LTE.
There are only a couple minor quirks like wifi calling isn't enabled and Internet Sharing is blocked by default (but I found a hack that re-enables it). I'm thoroughly enjoying playing with the camera and wowing friends.

Care to share that hack? I'm going to tmo soon and have a 1020.

Followed this. Works like a charm.

http://youtu.be/W4J5Gn0kPfw

Could you pls. tell me if this will work on AT&T Lumia 520 as well ?

I purchased the 521 for my housemate for his birthday (to replace an unlocked 710). The phone rocks and I don't think the feature set v. price point can be beat.

It really can't, it's easily as nice as a phone three times its price. Gotta love Nokia.

Just had to replace my 920 with a 520 and I have to say, it is a cute, plucky device. Want to get a cyan shell for mine!

Here's to hoping Nokia, with their well covered line from entry to premium phones, can move Windows Phone OS to the market share it needs and deserves! Go Nokia!

Fantastic. Let's get the mindshare out there. Once news gets out that Nokia/WP8 reaches 10% of the marketshare, it'll turn some heads. Hopefully next year we can achieve that.

I agree. I bought an HD2 day one, and later a Dell Venue Pro, all I can say is Nokia is the best phone manufacturer on Earth and that Windows Phone has come a long way.

I ordered a 520 on Amazon to use as media player (on Paul Thurrott's suggestion). So far so good! Plus I think it'll be great to use when traveling overseas once I unlock it.

Where is the 528 for VZW???

Ask them since they have the,"Fastest Nettwork".... : |
You would thinks since they're claim be the fastest network with more coverage area, that have a larger phone selection outside of Android & Apple to cover every customers price points/needs covering all operating systems

Well based on the fact that they're selling more Lumias than AT&T (the 928 blasted the 920 as did the 822), I expect the next crop of phones post-GDR3 to come to VZW.

Is there a way to see where they each rank for WalMart?

Awesome. For anyone considering this phone (esp. college students!) all I can say is don't hesitate. Even with the Nexus 4 dropping to $200 the $99 Nokia Lumia 520 is the best value in smartphones right now. I have a Note 2 and an iPhone 4s as well as the 520, and my daily driver for the last 3 weeks has been the 520. It syncs so well with my Windows 8 desktop.

have you tried internet sharing with laptop on Nokia 520 - does it work. pls. suggest

I'm wondering the same thing. I have a WP7, and from what I read on the internet it will only work with a hack that will temporarily disable my messaging. I might as well cancel my data plan if I can't find a phone with working internet sharing.

Just wanted to thank younabowl0e for being honest and non-bias towards WP even though you have both an Android & iPhone. Need more people like you here

They have been the top two at Amazon for at least a few weeks now. This is great news. Granted, in the "Contract Phone" section, the top Windows Phone is at position 15 or something. So this shows where Nokia should focus their efforts.

I have kept an eye on Amazon top lists... L520 & L521 have been in the top already for some time, so seems it's not just a temporary peak in sales.

If Nokia could sell 10M devices this quarter, things should really start to move for the platform.

Hope the success of this phone has some impact on their performance this quarter.

The 521 is my primary phone. There's nothing premium about it, but it works great. Everyone should have one :)

Switched from my HTC Surround to the 521 as well as gf switching from her android phone a few weeks ago and couldn't be happier. Ordered a Bluetooth headphone set on eBay that works flawlessly with the phone and I am now getting bombarded by friends and family with questions about the phone. Sister and brother-in-law (diehard iPhone users) are now looking at using their upgrades to jump to a Nokia thanks to my 521.

I picked up a pre-paid 520 while on vacation last week down in the US (plan to use it as a US line as a I vacation there lots).
Great phone, I shut my canadian phone off and the 520 was perfect. Pictures were really solid, touchscreen was responsive and everything else about it was perfect. Glad I invested in it and now I will never have to pay roaming again.

I picked up the 520 for £79.95 on PAYG at Carphone Warehouse. At that price, it's peerless. I wanted to shake some sense into the mother who was busy inflicting a low-end Huawei Android phone onto her daughter while I was in the shop. I didn't, though. I merely cast pitying looks in their direction.

My favorite feature of the 521 (on tmobile at least) is the wifi calling. I have some other engineering students looking at these phones now also. The problem is we spend a lot of time in labs where there is no cell signal at all. However, the campus has great wifi coverage everywhere including in the labs. Haveing a phone that auto switches to wifi and keeps the number while still making and receiving calls and texts is great.

I wish there was a carrier version of the 620. Don't care about smaller screen. Want the 2 cameras flash and better build quality.

I'm really enjoying my 520 after selling my S3. Although I like Android OS better and will eventually get a flagship or high end Android, I will keep my 520 as a spare or for times that I don't to risk theft or damage. As more apps come to WP8 and WP8 gets some updates, I'll even love my phone more. I'm hoping Google will develop some more apps for WP8.
Windows Central Newsletter
Thank you for signing up to Windows Central. You will receive a verification email shortly.
There was a problem. Please refresh the page and try again.