Nokia Lumia 520 available for $50 at Best Buy, today only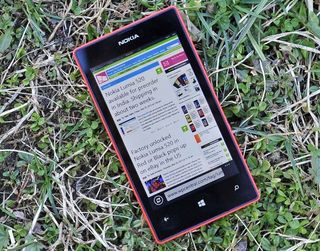 For today only, celebrating the Easter holidays, Best Buy has the Nokia Lumia 520 available for just $49.99. The Windows Phone has sold strongly in numerous markets, pushing the platform's market share in multiple regions. This is due to its affordability matched with features and functionality present.
It's on AT&T, but you'll be picking up the device with no contract, which is always a slight bonus. That and you have a saving of $20 off the recommend price. Be sure to hurry if you're interested as the deal only lasts until the end of today.
To serve as a reminder, we're looking at a 1.0 GHz dual-core Snapdragon S4 processor, 512 MB of RAM, 8GB of onboard storage, a 4-inch IPS LCD display at 480 x 800 px, a 5MP camera on back with no front-facing camera and microSD support.
Source: Best Buy (opens in new tab); thanks, Andy, for the tip!
Get the Windows Central Newsletter
All the latest news, reviews, and guides for Windows and Xbox diehards.
Rich Edmonds was formerly a Senior Editor of PC hardware at Windows Central, covering everything related to PC components and NAS. He's been involved in technology for more than a decade and knows a thing or two about the magic inside a PC chassis. You can follow him on Twitter at @RichEdmonds.
Better way to use this as an mp3 device instead of buying an ipod

You don't need to bring it down to the level of an iPod. This is a proper phone, with full WP experience (minus a very small number of apps that require 512+ RAM).

I wasn't bringing it down, just saying that some people might buy this phone to use a spare or backup device. When I go into the MS store in Portland people always buy this phone to use as a mp3 device because it is cheaper than iPod touch and has more to offer :)

Did the same thing. 64 gigs micro sd

It's a smart alternative!

Was actually considering doing that myself. I have a 16gb tmo L925 and the space just isn't enough for what is otherwise a lovely phone.

The 520 is a great phone!

Sure is wonderful. I own the vastly superior Lumia 1020, yet the 520 has an aesthetic charm and solid user experience that brings me back to it many times over.

Not with this new music app..

yep.... they need to bring back exactly what was there before and just refine that!

That is what I mainly use mine for, but music app is horrible! My iPhone 5 music app is way better than windows phone, iTunes Store is easy to buy music from compared to confusing layout on Microsoft's. I mainly use cloudmuzik to listen to my google play music collection while I am in the shower.

8.0 was great. 8.1 is a beta app. It will I improve in time.

Oh, and all this time I thought you sang in the shower! lol

That's a terrible idea, the DAC in the ipod classic is phenomenal, partner it with some decent headphones and the noise is non existent. Why Apple choose to pair such great converters with such horrendous headphones I will never know.

I'll probably trade my old iPhone 4 8GB and get this! Full Windows Phone 8.1 with Cortana at this price is much better than keeping an old iPhone that can't even get Siri and lacks SD Card support.

Go for it! I have a 520 and it feels like I got a lot more than what I paid for :)

Mu daughter likes "My Talking Tom", will it work on your device?

Yes it is available on Windows Phone

Yep! I have it in my Lumia 520 as well!

Really impressed with the 520 I bought for my wife. Works really well on WP 8.1 too.

Lumia 520 is my first Windows Phone as well. It made me believe how well WP OS can run on a low memory (RAM) device. Later, I wanted a good secondary camera and upgraded to Lumia 720. I still use both and sometimes I feel 520 is better in my hands (fits better).

Same here. I got one for my wife a while ago on sale for $70 and still thought it was a great deal. It's a fantastic phone. There is a certain charm to it.

I never regret my decision to buy the 520 over an android phone or iPhone any day, any time!

FUCK WHY NOT BEGINNING OF NEXT MONTH! MY FUCKING VOLUME BUTTON IS BROKEN. FUCK YOU OBAMA!

Well damn. Darth Bane would be proud, lol

What Obama got to do with this?

EVERYTHING! OBAMA CARE DOESN'T COVER LIGHT SABOR INJURIES!

Colorado has something to help with the pain

That's it! IMPEACH THE BASTARD!

Exactly. Impeach the Bastard, before he starts two more wars and kills thousands more men and women. We all know what he's done is far more serious that his predecessor. So, go ahead and get those proceedings started right away. Time is a wasting.

He wants to be a WW3 President! Give him a 1520 to avoid nuclear war!

He's leading the nations armies to Armageddon.

Thosands?!? If he plays war games in Russian backyard we are talking more like millions.

Yet he won the Nobel Peace Prize simply because he wasn't George Bush ;)

More like just handed the Nobel Peace Prize, then he turns around an invades Libya without Congressional Approval, and bombs kids in Yemen lol

Well, yeah - because he promised to undo all of the harm that the warmonger George W Bush had done (orchestrated by his father, no doubt). We all know how well that's turned out as the US are still engaged in their invasion (some call it a 'war' but that's false).

We all know what he's done is far more serious that his predecessor.

Good lord, not to digress from a great deal on a great phone but that statement is dillusional and without credibility. Just like comparing Benghazi to being worse than the 13 Benghazis that happened during the Bush years.

If you like your phone you can keep your phone.

Lol @ you can keep your phone

I think I will go pick this up today for my daughter

Tell her no boys and you'll give her a MicroSD lol

Lol, definitely no boys. She is way too young and MicroSD was already on the list along with a new Bluetooth ear piece (for me)

Most Best Buy stores are closed today -.-

Yeah, I just went to mine, and it's closed, also fry's and my barber shop :/ (first easter in the U.S., didn't know :P)

Buying the L520 is pretty much pointless as now days games n apps are coming for 1GB phones.

I have an 820, but the only apps that require 1 GB are games, which isn't that big of a deal for a lot of people.

Its pointless only if the price of Lumia 525 falls down to that of 520 (Remember what happened to Lumia 510 which wasn't upgradable?). Everyone doesn't buy phones for games (That's why we are still about to see new Lumia 630 and 635 I believe). Above 99% of store apps are supported by 520 very well. Gamers should avoid, not just 520 but 620, 625, 630, 635, 720...

It's great if you want a mobile with lots of storage. Unlike the goddamn 920, 925, 928, 1020, 1030 models. SMH

Wish they would just offer up the 925 as a no contract device. $99 would be a great price for it at this point.

Actually they have... There's a recent article on it, and it's actually $79 with no contract.

Refurb, not new; thats a no go.

Carries the same level of warranty as a NIB device, so for me it's a non-issue.

^this. Bought one yesterday as a spare.

Picked mine up this morning. It will be a good back up for my 1520 or if I just want something smaller for the day. The things are going for around $150 on eBay, so I thought might as well act now.

It will work with aio right?

I got the 925 for T-Mobile for$199 you can't beat that price.

Except getting the ATT 925 for $80, of course.

Or for $30 more, get the Lumia 925 off-contract on AT&T. Refurbished, but still....

I'm considering this one also for my daughter. Had her playing with it at At&t the other day. She liked it.

If you've been planning on getting her a smartphone or some sort of device, this is indeed quite the bargain. I'm definitely keeping this in mind, in case I ever need a back up device. For now, my 1020 and 520 will suit me nicely.

Only if you add a line or upgrade your phone, you can't buy it outright.

No there was a out right buy. Meaning no contract. Dont remember were though.

Yes, there was. On this very site even, my cynical friend. http://www.wpcentral.com/grab-refurbished-nokia-lumia-925-att-just-7999-...

Did you actually try to buy it? I did, you couldn't.

I'll check later, but I hope that's not the case, because I'm actually considering grabbing this deal.

This. This very site (WPC) posted it just yesterday. I'm jealous, because I bought a 520 a few months ago, now you can get a 925 for $80!

Yes, but then you have limited storage. At least with the 520 you can keep a few 64 GB microSD cards loaded with music and swap them as desired.

At this price range..its better than any android phones..

Far better... I wish we had contracts and price tags like this in india. I should've already bought 920, 1020 and 1520 altogther already... But phones here are a way costlier. Lumia 520 is still $140 - $160 in Nokia stores and around $120 in flipkart..

Whoa... Crazy. Wish I could but these devices and ship 'em to you guys. $140 for a 520? Absurd!

Yeah, it's true Nokia/Samsung/Sony/HTC or any other OEM phones (and tablets too) are too much costly in India. That's the reason whenever my uncle goes Arab Emirates, he buys 2-3 high end devices in his every business tour!

Best Buy is open today? Poor souls.

A lot of people like to work and earn a living, you should try it.

I do. I have two jobs. D ick.

No best buy is closed on Easter

Damn that photo is way too old..but feels like yesterday...windows has come a long way since

LOL! They should've posted a WP8.1 in 520 shot...

So this is a story.
But when AIO was selling the last stock of their 620s for $50, that didn't get a story?
Hmmmm.

Blame yourself. Easier on all of us.

Well, look who decided to grow some balls... internet balls that is lol

Same deal on Amazon https://www.amazon.com/dp/B00E45043A/ref=cm_sw_su_dp?tag=hawk-future-20&...

Aio Wireless has the 620 for 49.99 with no contract. Isn't that a better deal?

Out of stock. Don't know if it will be replenished.

Dang please put the521 on sale

Best buy is closed for Easter today

Curious if anyone has done the 8.1 preview on this phone and how it works? I didn't have an opportunity to load it on mine before they pulled it.

WP 8.1 works fine on my coworkers 521 and it is the same phone as the 520 except it is for Tmobile. Since the 8.1 update is for all WP8 devices, it should work perfectly for the ATT 520.

Curious about slowdowns etc. I figured it works work. :)

I didn't notice any slowdowns and ladydias said everything worked fine on her husband's 520. Microsoft did a great job of optimizing WP 8.1 to run on all WP 8 devices as promised.

My husband has a 520 that we updated to 8.1 and it works just fine.

Aio is selling the 620 in yellow for 50 as well...

Amazon has that offer too

I'm owning both 520 and 525 ;)

I have 1 new in box plus 2 used. Will sell if you miss this deal. $50 for nib. Keeping older ones for spares.

I switched from a dead iPhone 3gd to a Lumia 520. Great phone, would definitely recommend. Plus, 8.1 makes it feel like I've got a new phone.

I think is great deal it nice phone which will support wp8.1

The 520 provides a great user experience, great price point, and fully serves smartphone needs. I used mine for a few months before upgrading to the 1020. If anyone reading is on the fence about it, just do it. It really is a good deal.

520, 925...give me 1020 or Icon with somewhat similar deal. I'll take it immediately, but I'm still happy with my 928

Tinker/Development phone.

I bought a nokia Lumia 925 for $80 refurbished on Att website yesterday. Much better phone for $30 more. I also got a galaxy s4 for $180 off contract, wanted note 3 but they were sold out of refurbished units...

Yeah, on contract or upgrade, you just didn't buy it outright.

No contract, period. Stop bitching when u have no idea..how no contract and upgrade works. Let me tell you, whenever you want to buy a no contract phone on Att...they require you to take a new line (no contract) or use your existing for upgrade....now upgrade here doesn't mean that you signing a contract or you gonna use your existing upgrade...i bought this phone yesterday on one of my line which was due for upgrade Feb 2015.....here the thing is i am not eligible for any upgrade but still can buy any new no contract phone from ATT and this will not change my upgrade dates....i am still due for upgrade on Feb 2015. So, this is a outright buy. Hope this helps.

Awesome phone for $50. Great for kids and older parents who don't need lots of memory or extreme camera. Best of all, get a $100 line credit when you add it to your ATT Value Share plan, and at $15/mo for unlimited talk/text and share 10GB, it's a steal! I'm loving my AT&T Mobile Share Value Plan. Added 7 addt'l phones and my $100 credit each are starting to show up! :) Even though it's a GoPhone, go to ATT and get normal SIM (no charge), add it to your account (no activiation fee since it's a no-contract phone) and wait for your $100 bill credit if you use it to add another line! It's Win-Win!

How is that possible if all the Best Buys are closed because of Easter. is it online only?

Wmpoweruser found the lumia 529 for the same 50 buckss on best buy.

Do you mean the Lumia 521?

It's 50$ on amazon... And has been.

It's only $50 on amazon because amazon always matches Best Buy pricing. When the Best Buy sale is over, amazon will raise the price again.

L520 is sold for 200$ here in my country, Little too jealous of you guys!

Same here. Hope to see this kind of pricing in my country too.

Why in Europe Shops are selling this device for 150€?

The 925 is a better deal... The 520 feels cheap. Good phone but coming from 920... Heh I got the 925.

The 520 feels cheap because of the cover they put on the back. It's flimsy. Spend the 10-15 bux and get a replacement one from Nokia and it doesn't feel cheap at all.

Best Buy is closed today...in AZ that is.

Closed in Canada too.. What's shitty one day sale

Open browser and go to BestBuy.com

Me too. It's the camera which lets down this phone for me.

I dont understand... Its Easter Sunday everything's closed how can they have a one day sale and be closed

Is it possible to buy, ship and use it in Europe?

Its very possible. Use FedEx to ship to your country OR use USPS to ship it to proxy shipping service (normally their warehouses are situated in New York). The latter one would be little cheaper (if there is such option available for your country).

Just buy one from the UK. Not much more expensive, and you don't get rumbled for import tax!

The 520 is a very good phone for the money mine is running 8.1 class my mate has the 920 it is shit this is better every time it might be 512 mb Ram just under 50GB memory quality

Sorry...you are utterly misguided. The 920 has a more powerful processor and double the ram. It is unquestionably the better phone (for many other reasons besides!).
Your friend probably needs to do a hard reset....

Man, I just bought one from the MS Store online like at 6AM for 60 bucks. Now, Amazon and BB offer it for fitty. What the heck. My first order on MS Store too. Tried Cancelling it, but unlike most online stores, you have to call. I did that and they said they couldn't cancel it cause it hadn't charged my card...don't even know why that matters. Whenever I order stuff from Amazon, I just go to the site and hit the cancel button. Microsoft just said to call again tomorrow.

Here in Australia you can get the Lumia 520 for free if you buy the Lumia 1520 from Harvey Norman, today only.

Might be a dumb question, but can I just pop in my 920 sim card into this phone, or must you use the SIM card that comes with it?

You can swap phones amongst carriers owned by the same company...AIO, GoPhone, ATT. But if you're using it on a different carrier, then no. Example being you using Lumia 920 on T-Mobile. You can NOT use that sim on AT&T branded phones, unless they're unlocked.

I still don't know why WPCentral are failing to mention the 64GB 1020 being on sale for £160 (after referral rebates) in the UK.
£160!!! No ongoing contract....it's the best price ever for sure - yet it I being missed by WPCentral. Ah well :)

Why don't you say which UK store has that, for that price? Kind of doubt that good a deal.

I have tipped via the WPCentral app...and I've left numerous comments!
http://www.hotukdeals.com/deals/nokia-lumia-1020-yellow-64gb-240-o2-refr... I have two coming - £160 each (with free unlocking!) after £80 of Amazon voucher rebates.
No ongoing contract...

Thanks for the link will look into that. Sometimes WPCentral is slow to pick up tips, my guess is they just have a lot of them to get through and can't publish everything.

After reading through that deal, it seems like way too much hassle to get that, but nice find regardless.

It really isn't that much hassle :).
1. Sign up for the refer a friend process (anyone can sign up)
2. Click through from the referral email
3. Choose the £13 p/month price plan with the £240 upfront cost
4. Wait for phone delivery
5. Wait for the 30 days to pass - the friend referral is then confirmed (£80 total reward).
6. Cancel contract. 64GB Lumia 1020, in yellow and unlocked for a total of £160 + £13 first month charge. Lots of people think it's a great deal...it was the hottest deal on the website for a full day!

When summed up like that it does sound simpler; will forward to a friend, since I already have a 1020.

The Lumia 521 is on sale at NewEgg for $59 using promo code CEWK1068, offer ends ends 4/26. Also you can get the 520 at the Microsoft store for $59 with a free case of an official Nokia backplate(different colors available)

I want those official Nokia back plates.

NL520 is the best phone till date in this price range! & having wp8.1 beats android too!

Can I get the phone unlocked. Is there anyway to unlock it ? I need to quick answer. There isn't much time left for the day

You can have it unlocked by AT&T for free after six months.

I would have gotten this but goin to wait for the 635. Posted via Windows Phone Central App

Hope they would bring that kind of pricing here in the Philippines too, and to the rest of the world of course.

@Oatmeal Warrior: Go for NL 525 instead of NL 635. But if your preference is dual sim than 635 is a fine choice..

Are there any means by which we can change RAM of a smartphone just like we do in PC?

Of course not. AFAIK, smartphone components are not designed to be modular, they're fixed to the mainboard.

Dammit!! It's always the ONE day I don't go on WPCentral that there's a sale on 520's! :( Posted via the WPC App for Android!

Had this a while and its a solid little mobile, WP 8.1 runs smooth as butter.......... My Mrs has S4 and wants to swap........ No thanks