Nokia Lumia 525 launched in India for INR 10,399; available in stores right away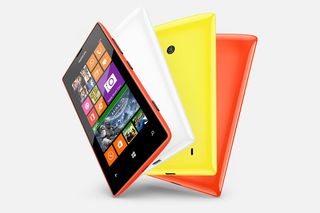 Following up the launch of Nokia Lumia 1320 at a press conference in New Delhi today, Nokia India also announced the launch of the Nokia Lumia 525. The phone is priced at INR 10,399 and available in four colors – glossy orange, white, yellow and matte black. The phones are available in stores immediately.
The accessibly priced Nokia Lumia 525 is a variant of the successful Lumia 520 that went on to become the highest selling Nokia Lumia smartphone in India. The Lumia 525 offers a 4-inch super sensitive IPS LCD (800 x 480) and 1GB RAM with dual-core 1GHz Snapdragon S4 processor for a great Windows Phone experience. More RAM in the Nokia Lumia 525 means more compatible games and apps compared to its predecessor with only 512MB. The microSD slot is a great addition.
In an exclusive offer for Indian consumers, the Lumia 525 will come with a special package of premium games worth INR 2025 from Gameloft absolutely free of cost. This includes popular titles such as Modern Combat 4, Asphalt 8, Assassin's Creed, Shark Dash, and Nova 3 among others. The Gameloft offer will be valid for consumers on Airtel, Vodafone, Aircel, Reliance, and Idea networks untill March 31, 2014.
At INR 10,399, Nokia Lumia 525 is a great buy and as the most affordable Windows Phone device in the market, looks like a terrific package. I'd highly recommend it to smartphone buyers on a budget or the first time smartphone buyers. What are your thoughts?
Windows Central Newsletter
Get the best of Windows Central in in your inbox, every day!
where is black for india (920)

Where is the comment that is relevant to the post?

Next to the dark grey, maybe.

LOL ! (amost fell outta chair)

This will rock in Indian market...at this price

I am just excited that this will mean more marketshare for WP in one of the world's biggest markets - translates to more and more developers bringing their work to WP!

Is it much of an upgrade for lumia 520 owners?

In terms of access to most new games, yes. The extra ram means you wont have to wait for optimisation.

If you already own a 520? No.

Oh my god , what to do with my Lumia 520 ?

Yeah, 1 Gb and free premium games? That is so heartbreaking for us

Oh dude, 520 is 1 year old smartphone. 11 month actually.

Will the games be available free for life time or only till 31st March ??

Hang on for few months.Nokia would then announce Lumia 530,635,730 and 635.maybe in MWC.

Keep using it. You people are going too crazy over the extra RAM. At least wait until 512MB phones stop being updated.

Looking forward to exchange my L520 with it! With 3k more...

It will be in flipkart within a month, with exchange offer just like the previous models. But i wonder what's the use of 1GB ram with so little internal memory that gets filled up with just two huge games or three?

Yes, but one of the most awaited features of the "soon to arrive" WP 8.1 is the ability to save games in the SD card.

Thanks for the info! In that case an upgrade to L525 is a must... 1GB ram would be like adding cherry to the cake. And I guess this awaited feature may boost the sales of low end devices even more.

It's 1G memory There will still be 8GB of internal storage

Where's 8GB? and so i told "so little" internal memory. You actually get 7.28GB (out of 8GB, 0.72GB is reserved for virtual access), next the OS alone takes about 2.5GB. Other files... Say 0.25GB. So now you are left with around 4.5GB only. Calling it "so little " should not be wrong for games that requires 1GB ram and space you can assume...

Even if you downgrade to 525, you're gonna miss your ClearBlack Tech. screen and the Flash for sure...

I want in xchange of my l520

If 635 has 1gb I'll jump at it

I doubt any new wp8 phones will be released with 512mb ram, so yeah it will have 1 gb ram

Hopefully it will arrive in the US on At&t and T-Mobile.

My eyes! What is the reason for the profanity here?

Is there enough storage to install all those games?

Absolute winner in India!!! Wow Pricing!!!

WP 8.1 will bring functionality to store apps on SD card,so storage issue on 8GB phones will be eliminated in upcoming months,hence 525 is a great buy at 10k.

I would have think to replace my 620 with 525 if it has the flash to camera.

The 620 should get the ability to store apps and games to SD when 8.1 comes

No flash is my biggest issue with the Lumia 525 but I get that it can only have so many features for that price. It's still the best valued phone out there.

I would say no for that! you will miss out Flash,Front Cam,NFC,Clearblack Display,a better display with more ppi,Compass(Essential for here drive and city lens).
Its better to wait for 630/635


Don't you think you are asking too much for the price????

How much was Lumia 520 selling now? 10000Rs?

No My friend got it last week for INR 7800

Hello bro i wanna ask u something about subway surfers

Few days back it was up on Amazon for as low as 6,900. Now it costs betwseen 7.5k to 8.5k depending on the seller

Hoping for some good exchange offers . I have a 520

This is going to rock the charts! For the first time, Nokia launched a mobile at a very competitive price..

Actually nokia has been going this all the time ever since the launch of L520. Only the consumers are more tempted by the cheap plastics of Samsung running Analdroid all down the streets...

Great. Can buy my dad this one for sure. Or do i wait for money penny?

Moneypenny will cost more,at 10K this is the best!

Where we can get exchange offers for 525??
I have 520..

Just wait and have patience for the flipkart exchange offers....

its also available in canada @ expansys.ca for 200$

Shit i bought Lumia 520 2 months ago

By any chance, will 512MB RAM make the other devices lack 'features' when it comes to WP 8.1?

I would have loved it if they made the 625 just a bit larger than the 620 (maybe 4.3in to 4.5in) with 1GB RAM, rather than the 625 we have now. It's like the 62X line is a play of not-so-normal sizes.

This is the phone i want to buy my son. Got to wait for it to come to the uk

Waiting for the Lumia 725 or 730. Nothing comes close to lumia 720(spec's and features) in mid range category !!

Yep if exchange offer comesup for 720 m sure gonna exchange it

Feeling jealous now in my Lumia 620 I did'nt get any special free game offer ☹

I prefer l1320, have owned it for 4 days, very impressed, no need tablet mini, it does both as a phone and mini tablet.

No prob . I'm depending on the proxy trick so far for my L520 . But can't install subway and temple run 2 with that . Sooo confuced . Can anyone help me ?

download Xap and deploy, Subway Surfer works fine on my 620 but TR2 is way too buggy,so its better to wait for optimized version,if you want to play TR2

how to deploy apps from downloaded the store? it says invalid xap file!

When can I buy it in offline stores or online?

Looking to exchange my 710 with this. But I badly want glance screen (not able to confirm it for 525), dolby enhancement, and flash (cannot live without it!)... I'm so confused :/

I am saved. I ordered lumia 520 two days ago from amazon.. Now i am canceled the order when delievered.

yeah great deals on amazon - http://goo.gl/6WSkdC

Can I exchange my Lumia 520 with lumia525 bcoz I buy lumia520 about 9700 Rs plz reply
Windows Central Newsletter
Thank you for signing up to Windows Central. You will receive a verification email shortly.
There was a problem. Please refresh the page and try again.