Nokia Lumia 1320 launched in India for INR 23,999; in stores next week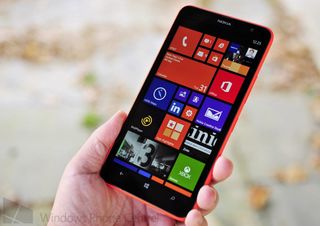 At a press conference in New Delhi today, Nokia India announced the launch of Nokia Lumia 1320. The phone is priced at INR 23,999 and available in four colors - orange, yellow, white, and black. The phones would be available in stores from January 13, 2014.
The phone was unveiled at the Nokia World 2013 in Abu Dhabi a couple of months back along with Nokia Lumia 1520. The two phones are Nokia's first foray into 6-inch displays to stake claim in the growing market for phablets.
While Nokia Lumia 1320 is slightly taller and thicker than the Lumia 1520 and even heavier (220 grams versus 209 grams), they feel pretty much the same in the hand. With rounded corners, Lumia 1320 looks like a bigger sibling of the Nokia Lumia 625, with a better display of course.
Specifications
6-inch 1280 x 720 IPS display, Gorilla Glass 3, ClearBlack polarizer, Super Sensitive Touch, Lumia Color Profile and 60 Hz refresh rate
Snapdragon S4 1.7 GHz dual-core CPU
8 GB of internal storage; micro SD expansion
1 GB of RAM
5 MP f/2.4 rear camera; 640 x 480 pixels f/2.8 front facing camera
Bluetooth 4.0 LE, no NFC
3400 mAh battery
164.2 mm x 85.9 mm x 9.8 mm; 220 grams
Nokia Lumia 1320 has solid specifications sheet for a budget-friendly smartphone. Right behind Nokia Lumia 1520 which boasts of a quad-core 800 clocked at 2.2 GHz, the Lumia 1320 with the 1.7 GHz S4 is the fastest of all Windows Phones in the market.
At INR 23,999, Nokia Lumia 1320 is a great buy if you are looking for Windows Phone goodness on a larger screen at an affordable price-point. Like the Nokia Lumia 1520, Nokia India has done a good job with the pricing. Are you looking forward to pick one?
Windows Central Newsletter
Get the best of Windows Central in your inbox, every day!
Wow, that price point is amazing!

525 is also launched for ₹10,399.. Also includes 10 free gameloft games with its purchase..
1. Asphalt 7: Heat
2. Modern Combat 4
3. N.O.V.A. 3
4. Order & Chaos
5. Shark Dash
6. Earthworm Jim
7. Assassin's Creed: Altair's Chronicles
8. Let's Golf 2
9. Brain Challenge HD
10. Asphalt 8: Airborne free games for lumia 525

That's excellent pricing and great value with all these free labels...

Its all good.....but with each of the games weighing in at around 1GB each...wonder where they will be stored...hmmmm......

My thoughts exactly. Maybe when WP 8.1 finally arrives folks with 8GB of internal memory can get that sorted out.

Just 8gb ?? & only 5 mp..

Its better have pureview camera, but sadly not. Think to upgrade my L822 to 920 or 925.

All Lumia should have pureview camera on the first place imo . Because when I first buy a Nokia Lumia 620 . Everyone ask me the same question , "How is the camera ? Is it good ?" So sad :'(

Really? U want a pureview cam in a low end phone, samsung does that, o wait...

Nokia doesn't have any low end phone . Even for lumia 520 , there's dual core , 8Gb inner memory , 512Mb RAM . Compare to Galaxy Y . So ???

Yes, and maybe they could even throw in a car and a two weeks trip to Europe with the phone. I think the 100$ (give or take) price of the 520\525 covers all that.

Ok. You want pureview? Add more money. So Nokia can sell $300

Good pricing.. Nokia why u no give 1gb ram for 720? XD ...kinda regretting now that i bought 720 cause i might need to buy a new phone again only after like 1 year! :(

I almost bought a 720, almost. Ended up buying a new 920 for only 50€ more, thankfully. But even if they do to the 720 the same they did to the 520, you'll end up having to get a new phone. With the new 525 having 1G of ram I don't expect a great future for 512mb ram phones.

So far 512MB phones run WP8 just as well as 1GB phones, and they can run 99% of the apps. As far as future updates, that remains to be seen. Supposedly WP8.1 will hit all current phones. But why would you buy a budget phone expecting it to be future proof?

My only gripe about 1320 is 8gb internal memory.
Hopefully apps on SD card coming in WP8.1

Is GDR3 also released in India

GDR 3 os already available through Microsoft all over the world. You can avail it.. For the process, google it... But for GDR 3 + Lumia Black, U have to wait. Nokia is yet to release it for existing devices.. (1520, 1320 & 525 already have Lumia Black)

Excellent pricing for 525.waiting for 530 with flash and front cam and compass

One can buy a Samsung galaxy note 2 at this price...8 gb is a real deal breaker...six months back i paid 18000 for my 720 and now it feels stupid....this phone should have 920 s camera and 16 gb internal memory...then it would be a very good mid range and some what future proof phone...i would have happily bought one even for couple of Ks extra....

And where can you find the Note 2 for ₹24000?? It is for ₹30000 on flipkart. I'm pretty sure that's around the minimum it gets.

And where can you find the Note 2 for ₹24000?? It is for ₹30000 on flipkart. I'm pretty sure that's around the minimum it gets.

Well not exactly @24 k maybe but you can buy one @27-28 k ...the point is nokia should have offered well rounded mid range phablet at around 27 k or they should have priced this 1320 @ around 18-20 k because there is no value in buying this @ 24 k....and flipkart do sell phones at higher than market price...just check some of the user reviews on flipkart it self....

This argument doesn't hold good. Note 2 is discounted to this level after remaining in the market for more than one year. 1320 will also be discounted. If you want to buy high end phones on cheap, then you have to wait for some time. Generally phones are priced at a premium when they are launched . This is quite prevalent in the mobile industry and it's called skimmed milk policy.

well i agree the price ll be discounted but still 1320 is just a 6 inches screen nothing more...nothing high or mid end about it ...its just an entry level budget phablet and it should have been priced like that ...

Well Note 2 is just 5.5" screen. It is one year old as well, in case you are thinking in terms of Android. I am actually waiting for a Lumia with 5" screen, at least 1gb RAM, either 16GB internal with SD card or 32GB internal with pureview camera. A 1.7GHz dual core will be fine by me as well as 720p resolution. And since nothing expected like this until at least April, I might even go for L1520 by may or June. Waiting with fingers crossed. Hopefully Nokia releases something with afore mentioned specs by that time.

Mr Baxi or Bakshi, why don't you put symbol of Rupee (₹) instead of INR? you ashamed of it or what?

Because that's what the currency of India is called; INR. You should know that if you're from India.

lol. Really!! That's all you noticed?

I guess some browsers are not able to render it properly and the rupee symbol is displayed as a block. Even rupees symbol is displayed as a block on Google Chorme.

It's Baxi. Obviously. While I use ₹ in all my documents and emails, it's not yet a symbol acknowledged all across (browsers/CMS/clients). So I avoid it while publishing on the Web.

8gb.....same in my L720. Nw only 730mb is free. I keep deleting some apps to download new. This really irritates. This needs to be addressed immediately by Nokia/MS.

If rumours are correct it looks like they will fix it in Windows Phone 8.1. Seems like SD card memory will be available for apps. Hope its true!

Gr8 price! But nexus 4 will be a tough competition! I am gonna get this when price drops below 20k.

If i exchange my 520 for a 525 how much will i have to pay

go to a priority center and they will give you the best deal on exchange you can locate them in your city using the link ... http://www.nokia.com/in-en/store-locator/ be sure to click nokia priority and refine those results

I feel the Lumia 1320 is slightly overpriced, it should have been no more than 18K, forget the free app offers, we still get app vouchers worth ₹1,250/- anyway.

Wait dude its d begining wait till price slashes

Damn 8gb memory, now i have only 1gb left for daily survival.

Glad to see Nokia announce and have stock available so soon for 1320 and 525. That is supply chain progress.