Nokia Lumia 620 available from just £104 at Phones 4u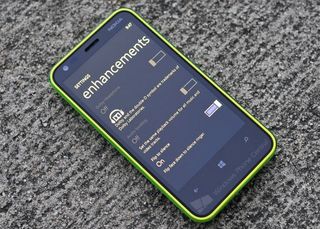 UK mobile phone retailer Phones 4u is offering the Lumia 620 from Nokia for just £103.96 as a pre-paid upgrade. For those who are looking to kick off a new start with the Windows Phone, the device is also priced at £127.96 with a £10 top-up. That's not a bad price tag and the deal will last through this weekend.
The Lumia 620 at Phones 4u is available in black or pink and can be taken out on Orange, T-Mobile for £103.96; Virgin, O2 for £125.96; or Vodafone for £127.96. It's a more advanced brother to the cheap as chips Lumia 520, but at this price we'd recommend going for the Lumia 620 if possible. You can check out our review of the Lumia 620 for more details.
Source: CoolSmartphone
Get the Windows Central Newsletter
All the latest news, reviews, and guides for Windows and Xbox diehards.
Rich Edmonds was formerly a Senior Editor of PC hardware at Windows Central, covering everything related to PC components and NAS. He's been involved in technology for more than a decade and knows a thing or two about the magic inside a PC chassis. You can follow him on Twitter at @RichEdmonds.
How to you have flip to silence, I don't have it on mine >:(

The next software update should add it next month.

There's just something about this phone that attracts me...

I have a 920, but want to also get a backup device with removeable battery. I feel like I should get the 820 because of the wireless charging, faster CPU, and 1GB RAM. But every time I go to buy one I get fixated on the look of the 620 and can't bring myself to pull the trigger. That green dual shot case looks awesome, and I really like the idea of a 2nd device with a small screen that is very easy to carry for when I don't want to be as "encumbered".

Unfortunately, I live in the US and it seems like the 620 accessories are hard to come by here. Also, the 820 and 620 are basically the same price on eBay, so it's hard to pay the same money for a phone with quite a bit lesser specs.

I have a 620.. It really is a cute phone that handles itself very well.

I have a 620, and I love it, but why get a whole phone as a backup? Have you considered the DC-18 portable charger instead?
I bought the 620 because I wanted an unlocked PAYG phone, so the £129 I paid for a refurbished 620 was way less than any unlocked 820. The 820 seems like a much better phone.

Not as a backup battery, but as a backup phone. Iow, if my phone breaks or I lose it I have a backup. Yes, this has hapopened to me before... and my whole business runs off my phone, so when it's down I'm losing money. I prefer to have something on standby than to ru nto the phone store and pay full price for whatever I can get my hands on.

In the US on eBay, 620s go for $230 (common price) and 820s regularly go for $250 or even less (little less common but frequent), sometimes down to $215. Both new. I think it's just because (a) the 820 has been widely available here due to it's official release on AT&T and (b) the 820 seems to be in a lot less demand than the other Nokias.

I really do think carriers here miss the boat here on serving the market for smaller phones. With women in particular... I know sever that pick their phones by what will fit in their crowded purses easily...

Ah I see.

Well in that case I think a 620 would be fine, but if there's not much in it on price then getting the 820 would seem to be the obvious decision. You're paying a much lower price than the UK, I think - I couldn't find an 820 for less than £195.

I've only had my 620 for a month, but so far there have only been a couple of apps that I couldn't run, so I expect all the major business apps would be there for you on the little unit too.

I wonder if the fault is with your carriers or Nokia themselves? They're great designers, but their supply of phones, accessories and customer service is very poor even here in Europe. If I want a different case, I need to go to eBay. I've tried their online and phone customer service, and it was a total waste of time.

I agree with you big time. I have a Cyan 920 and love it. I've always wanted a 620 as a complimentary device though. I have a Zune HD and its been great but then MS made it so that we can't download songs straight to the device anymore. The 629 is the smallest Windows Phone available and would be perfect to replace my Zune HD since I could just add my Zune pass to it. Plus the options of Spotify, Pandora, Youtube, etc. One day I'll pull the trigger on a it.

Yeah, the one thing that really holds me back is the wireless charging. I've replaced my USB chargers with wireless pads (LOVE 'EM!) for the 920, so I'd have ot double up for charging. Wiht the 820 I could just swap the phones on the pad and it would be so easy...

Been trying to decide for a long time... but then every time I see a pic of the 620 I love the design so much. And the green dual shot color scheme.

Nice deal!! Think this phone is selling well. But I got a better deal today. A brand new Lumia 720 for 180 quid

Ebay seller UK based locked to Virgin but that's ok for me. Carphone also doing this phone too for 109

http://www.carphonewarehouse.com/mobiles/mobile-phones/NOKIA_LUMIA_620/PPAY?colourCode=BLACK

http://www.carphonewarehouse.com/mobiles/mobile-phones/NOKIA_LUMIA_520/PPAY?colourCode=WHITE

And the Lumia 520 @ 89

wow, i payed way more for mine. but i dont regret it at all :)

Bastards ! Only recently bought it for 147 FACE PALM

I bought this phone in Feb for £120 and after reading all the good reviews, I must say I'm so disappointed with it, I'm back to my Lumia 800.

FIrstly, and this maybe a WP8 thing, but I've got a 64GB card installed were I've got my music installed and it's so slow to play music. When I hit shuffle, there's at least a 2 minute lag where it's "thinking" and in that time, I can't do anything and any further button presses get queued up and executed afterwards. The screen itself it also pretty laggy, and sometimes takes a couple of swipes for it to move,

Now I know this isn't a review of all the features of a phone, and some of this might be inherent weeknesses in the OS itself, but one of the things basic things you need to get in a phone in this era is music playback (along with wi-fi and calling).

The general responisveness seems to be a lot slower than my 800 too, which I find incredible considering it's a dual core and faster processor.

I really wouldn't recommend this phone to anyone else, and instead save up the extra pennies and get something else.

Love the snap-on case though!

just what class of sdcard that you use?

It's a Sandisk Ultra 64GB Class 10 - not a knock off one either. With 40 GB of music on it

I have a 620 and don't experience anything like that. There is a split second delay when you swipe to the next song, but nothing that effects performance like that.

It does sound as if there's something wrong with your particular phone. I've not used a 620, but my wife has an 820, my daughter has a 520, and I have an 800! The slowest and laggiest of all the bunch is my 800 (which I used to think was great until I played with the 820).

I had a San Disk 32GB class 10 before. It caused lots of issues with my 820, complained enough and Nokia sent me their own class 4 32GB card. Works much smoother. Don't know what is up with the San Disk ones.

I have 2400 songs on my SD card and I get about 2 seconds lag when playing random with Nokia music. The Microsoft player doesn't even show any songs in the songs list, but works fine with either artist or album view. Go figure.

I paid £140 for my 620 great phone does everything i need it to do at a great price at o2, for anyone looking to upgrade to the WP8 OS this is a no brainer at this price!!! Get on it people. Although once the 720 comes down in price think Ill buy one WP8 for the win :)

I must stress that there's every chance this is an inherent OS problem, and I know this isn't a support forum, but in order to show exactly what I mean, and to show I'm not making it up here's a video.

http://youtu.be/JJn2h0_fNWQ

As stated before, In my particular instance it's shuffling music from the SD card, with 40GB on it. I can't confirm if it's the same problem when playing off the internal storage as obviously I can't store that much on it .

In any case, the phone is going back for repair as the up volume button is broken, so I'll highlight the issue then and see if it's fixed at the same time.

I think that's some kind of compatibility issue, or an issue with your particular handset.

Mine has a 32GB card, class 10 too, and it's perfectly responsive. There are a few "thinking" pauses when doing tasks (showing the bead animation) which I expect the 7, 8 and 9xx series phones don't need to do, but nothing like what you're showing in the video.

What happens when you run the music from the 8GB only, with the micro SD out of the phone?

The Lumia 925 downsized to a 3.8" display (like Lumia 800) would be awesome and would be a sales hit I'm sure.