Cheap but cheerful Nokia Lumia 620 available in Russia at an affordable price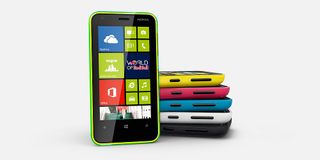 The Lumia 620, the Windows Phone 8 smartphone that's currently launching in emerging markets, has made its way to Russia. Available in five different colours: green, black, white, pink and yellow, the Lumia 620 is offered to consumers with minute personalisation in mind. Already released in China, Thailand and India, the Windows Phone is priced aggressively against competing hardware.
The Windows Phone sports a 3.8" TFT display with a 480x800 resolution, 512MB RAM, dual-core 1.0GHz Snapdragon, 8GB internal storage (with MicroSD support) and a 5MP rear shooter. The Lumia 620 is available from official channels through Nokia for 11,990 rubles (approx. $400), as well as Euroset (only green, white and yellow variants) for the same price.
via: WinPhoneLive.ru; thanks, Stanislav, for the tip!
Rich Edmonds is Senior Editor of PC hardware at Windows Central, covering everything related to PC components and NAS. He's been involved in technology for more than a decade and knows a thing or two about the magic inside a PC chassis. You can follow him over on Twitter at @RichEdmonds.
so they launch a "CHEAP and cheerful phone" that was supposed to be $249, in EMERGING market for $400. How does that make sense?

I got a sudden shock too, when I saw the $400 price tag. I thought "agressive" meant something around $200.

It's weird... It launched at 250 in Malaysia and 275 in Thailand

I already got used to that everything new here in Russia is 30% more expensive then everywhere else. Good news is that in couple of months the price will drop drastically as non-official channels begin to sell the novelties.

U nailed it ;)...8$ makes more $en$e

Come to uk i want this phone!

It's already being sold in Clove.co.uk at a much cheaper price, though stock arrives in a couple of weeks.

$400? WHAT?

How in the world is this supposed to compete with a Nexus 4 selling for $300?

Wow. Just wow. Why are you comparing with the US price for the Nexus 4? Do you not understand how the world works?

Surely that's a subsidised price? I find it hilarious when people say "But the Lumia 920 is only $150!" when that price only applied when they're locked into expensive 2-year contracts.
BTW in the real world the Nexus 4 8GB is closer to $500 and the 16GB is ~$550

400$ price is affordable? You have got to be kidding me. This phone should be around 250$.

In Russia everything twice more expensive, L920 cost 900$ when in US its 450$

Good point, forgot about that. This would've been a good thing to mention in the article.

This is for a market outside the US. Things are more expensive than you all think.

I know how expensive it is, I lived there, plus just yesterday I compared prices with my friend from Russia, so yeah....

I think that there is an extra zero since 11,999 does come out to be somewhere close to $250. Besides, since when does a comma go before 4 numbers?

Ok. Just checked the link and there is actually an extra 9 in the story. The actual price is 11,990 rupees which comes out to $219.43.

You are right about the exra 9. But in Russia they have rubles, not rupees and 11,990 rubles is indeed around 400$.

Thanks! I was looking at the price that I missed it said "rubles" and not rupees.

XE.com converts 12 000 RUB to $396.88
http://www.xe.com/ucc/convert/?Amount=12000&From=RUB&To=USD

Why isn't the orange one pictured?

400 dollars in country where people are beggars

Beggars? Their poverty rate (12%) is lower than that of America and most of Western Europe. Moscow also happens to be the world's capital of billionaires (they have more than New York).

Montgomery, please forgive him, he has absolutely no idea what is he writing about.

I know a few friends here in the states that are interested in this phone. They are cheap skates, but want a WP. I think.if it launched in USA it would do well.

Not released in India yet. It sucks how the phones are more expensive in Emerging countries!

do u have any idea wen wil L620 be released in india ? i'm waitting for it ...

By early Feb. 920 and 820 just started getting shipped today. M waiting for my 920.

The phones are nice, and love the colors.

I would like to inform the WPCentral: you have been used for the source the Winphonelive.ru. Stanislav, owner of this website, is a known violater versus copywright. The news about the 620 in Russia wrote WE, w7phone.ru. NO LINK FOR W7Phone.ru from Stanislav. He wrote a couple of sentences and, happy, received two links - from WMPoweruser and from the WPCentral. Check our both news for time. 1. Winphonelive - http://winphonelive.ru/wpl/babebcbc83bdb8%d0... 2. W7Phone.ru - http://w7phone.ru/nokia-lumia-620-postupila-v-prodazhu-v-rf-79630/ We were faster for 19 minutes! I wrote you a link yesterday. Why the thief Stanislav, WPCentral?


Dude, I know that feeling.
Perhaps, Rich had to dig through a huge amount of tips to get to this, and simply ignored the rest.
This is one situation when the early bird does not get the worm.

Yes, but now, now you can correct it :)

They really need to get it to $250, not sure why things outside the US end up so expensive, but someone else will be offering a phone for $250 ish and that will be enough to undercut it a lot.

yet to arrive in india. eagerly waiting for it.
Windows Central Newsletter
Thank you for signing up to Windows Central. You will receive a verification email shortly.
There was a problem. Please refresh the page and try again.