Nokia Lumia 720 hands-on, the unibody with microSD support [video]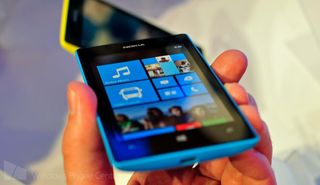 The Lumia 720 is a mid-range Windows Phone, which was announced by Nokia and looks absolutely stunning. While not the most advanced smartphone on the platform, the device packs some serious power. Nokia quickly ran us through the delights of the Lumia 720 in the video above.
The Lumia 720 will be heading to multiple markets this year and will be priced at €249. That's not a bad price, considering you'll be getting a new Windows Phone with a 1GHz dual-core processor, 512MB RAM and 8GB storage, microSD support, super sensitive screen and more.
Rich Edmonds is Senior Editor of PC hardware at Windows Central, covering everything related to PC components and NAS. He's been involved in technology for more than a decade and knows a thing or two about the magic inside a PC chassis. You can follow him over on Twitter at @RichEdmonds.
I'm confused why the three dots are there... They weren't on previous wireless charging covers...

Previous were shells e.g. the 820. This is a cover. Shells replaced the whole back of the phone whereas the cover goes over the existing body of the phone. This is how it makes contact with the battery.

Oh, snap. So that means all the cool n9/800 look will be gone when using QI. The 720 with an additional cover will look like the butt-ugly 820.

Man I just saw a Lumia 820 today with my colleague (recommended by me) and it looked fantastic! And I owe a 920. BTW the screen looks crispy clear even though it has a lower resolution than the 920!

I wonder if by adding a microSD slot to this unibody 720 if they're not hinting at a 922 with the same slot later? We now know that they can do it if they want to.

Thats a good thought there. You might be right about that. Makes sense!

It looks like a better version of the 8x

It looks like a thicker version of the 8x, thats for sure

The 8X is 10.1 mm thick while the L720 is 9 mm thick. That put the 720 thinner by 1.1 mm, not by much but still thinner.

This is how you make a mid to low end device. The standard has been set!

I like the looks of this device much better than the L810.

That's what i came here to post :D

what do you say, 720 or 920? I really like the front-facing camera and I like that it has more aperture (even though it doesn't have OIS), the SD card and it has a removable battery. If it wasn't because the processor,memory and screen, I would surely pick this one up, but I'm in doubt now.
PD: There is not much price difference in my country (Argentina) as we have to buy it unlocked from the US. The 920 and 620 are estimated to arrive in April but I waited since December and I couldn't get the damn phone and I am worried something better will replace it somewhat soon.

Depends on your priorities. I doubt the FF camera is that much better. If the price is the same or similar I'd stick with the 920. You get a better processor, higher res screen and the much better OIS Pureview camera. Also there's 32GB built in, sure the 720 can take SD cards, but that's an extra expense and personally I find it a hassle having to juggle SD cards.
To me the main reason for going for a 720 is the better form factor, the 920 needs to go on a diet. Also I think 4.3" is probably slightly easier for one-handed use, I find I have to stretch my fingers a little with the 920.

Yes I guess the FF camera isn't such a big deal. And I have somewhat big hands so I think I'll get the 920. Even though, it's true that the 720 is significantly thinner, smaller and lighter than the 920.

There is no removable battery at 720, it's unibody design also.

Am I the only one who noticed this Phone comes pre-loaded with yet another exclusive "Nokia Glam Me" App? i tried searching on marketplace (WP7.8 & 8) the app is not yet available :(

The App has been Demoed in this video at various points, I think its some sort of Nokia Instagram? http://www.youtube.com/watch?v=oSNEeiW8Gfs

It is the ultimate tool for teenage_facebook_posings Here is a video of that app: http://youtu.be/M3I_tHlmizU

It looks like there is no bezel around the screen and the corresponding gaps either side of it like on the Lumia 920. seems like they addressed what I'd call a design flaw. The gap between the polycarb case and the bezel was the cause of my creaking and the dust and dirt that gets in there is not ideal. Same goes for that gap between the bezel and the screen.

Damn that's a nice looking phone

This is a super sexy phone

I like it, it looks nice.

Looks like this bad boy is coming to Vodafone in the UK:

http://www.windowsphone.com/en-GB/phones
Windows Central Newsletter
Thank you for signing up to Windows Central. You will receive a verification email shortly.
There was a problem. Please refresh the page and try again.