Nokia Lumia 920 also heading to Three UK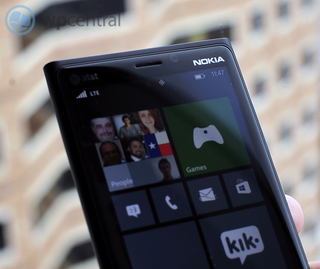 The Three UK Twitter team has revealed company plans to stock the Lumia 920 in the future, which is currently exclusive to EE. This follows a detailed blog post by Vodafone who have stated they intend to offer the Nokia flagship Windows Phone in early 2013. We expect both network operators (among others) to start shipping Lumia 920s when the green light for 4G is given.
Three has sported Windows Phones since Microsoft launched the platform back in 2010, and the continued support will be welcomed by subscribers who may be looking to upgrade in the new year. Should you not be able to wait for the Lumia 920, or if you're not into Nokia, the operator already has both the HTC 8X and HTC 8S available on plans.
Nokia has chosen a different path with the Windows Phone 8 generation of hardware, opting for an exclusive partnership with a single operator. This has differed from its usual strategy to get its mobile devices into as many hands as possible. Fortunately this period will be drawing to a close soon, and EE's exclusivity with not only the flagship Nokia Windows Phone, but 4G as well, will be no more.
The Three UK website is not reporting the Lumia 920 as "coming soon" so we'll hold our breath until official confirmation, whether it be the addition of the Lumia 920 on the "coming soon" section of the website, or a detailed article on the Three blog. That said it has been affirmed by its Twitter account handlers, who should have adequate access to internal information to answer such queries.
We'll be sure to update when we have concrete evidence that Three will be stocking the Lumia 920. Until then be sure to expect such announcements by major UK networks in the near future - especially with how Windows Phone appears to be in the headlines for all the right reasons lately.
Source: Twitter; thanks, Joel, for the heads up!
Windows Central Newsletter
Get the best of Windows Central in your inbox, every day!
Rich Edmonds was formerly a Senior Editor of PC hardware at Windows Central, covering everything related to PC components and NAS. He's been involved in technology for more than a decade and knows a thing or two about the magic inside a PC chassis. You can follow him on Twitter at @RichEdmonds.
Lol i switched from three to tmobile just to get the l920. Broke my contract too haha (tho phones4u picked up most of the tab for it), maybe i should have just waited! Then again, this is great news for wider lumia availability. Three is a great network.

Three is good, I bought my 920 from phones4u who also have been great. Best phone I have ever had, including my old iphone 3gs.

It was me who tipped off wpcentral :) ive been with 3 uk for nearly 8 years, fantastic network. My contact for my samsung omnia 7 has nearly finished, and i was gonna get at a galaxy s3 on 3 because a 920 on EE is way overpriced. So you can imagine im ecstatic over hearing i can have my first choice phone on my favourite network!

I have a 920 with a Three sim in it, thank you Clove! There's no way I would have dropped them, unlimited data and free tethering for a very low price, I'd be crazy.

I am on three.
One question when you bought this phone do you just have to plug the sim in and it works or do you have to contact three?

Any word on colours? Will it be available in yellow or will Phones4U be holding on to that one a while longer?

That's great for Nokia to expand it consumer reach. I hope Canada can follow suit and have Telus and Bell stock the Nokia Lumia as well.

Great news Three, but what about the 820?

Just need O2 to jump on board next. Don't think it'll be long before they do considering how they've already backed Wp8. :)

Was not going to wait ages for three to release the 920 so got mine from Germany unlocked and put my three sim in. Better and cheaper than going with EE.



Again like mendez i have been with Three since they arrived in the Uk many moons ago. I too have a Omnia 7 and my contract end date is actually tomorrow and ive been so reluctant to change as i really like 3 and my unlimited data plan. So yea great news for me too

Folks, I am sorry for the thread hijack but as a regular poster here I hope you will forgive this thread hijack.
I never ever do this but hope you don't mind and I hope you can help with your votes and social network shares to promote further gun control via DemandaPlan

https://www.facebook.com/#!/DemandAPlan?fref=ts and http://www.demandaplan.org/

Can there finally be change? http://youtu.be/64G5FfG2Xpg

See also http://www.mayorsagainstillegalguns.org/html/home/demandaplan.html

Can't wait, but dependent on pricing, I may hold off for the 920 successor. As much as Nokia like to treat thier loyal customers like shite, im not stupid enough to pay maybe £450+ for a handset in February, that will be superseeded in June...