Nokia Lumia Icon retail unboxing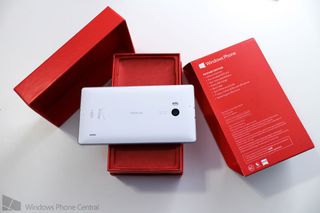 We've reviewed the Nokia Lumia Icon a few days ago and showed you the cool case Nokia sent it in, but now we have the actual retail packaging. This is the packaging you'll receive when you buy an Icon from Verizon. The device is available on February 20th for $199 with 2-year contract.
Head past the break to watch our unboxing video.
The box is primarily red with white text. There are Verizon and Nokia logos embossed on the outer sleeve. The sleeve also describes on the back what the package contains:
Nokia Lumia Icon
Pre-installed SIM Card
Non-removable Battery
Wall/USB Charger
Data Cable
Quick Reference Guide
Product Safety & Warranty Brochure
Global Support Brochure
What's interesting is that the label mentions NOK929W. The Lumia Icon was originally going to be called the Nokia Lumia 929. You can still see this name in the phone settings, but this device is officially called the Nokia Lumia Icon.
When you open the box, you see the Lumia Icon right away wrapped in plastic cover. The display is also covered with a piece of plastic labeling various buttons like the camera key, power, volume, back, home, or search.
Placed below the Lumia Icon are the reference guide and brochures. We admit we usually skip reading these documents, but you might find something interesting. Underneath, there's the wall charger and USB cable. Earphones are not included in the packaging, so you'll need to use your own to listen to music.
Nokia Lumia Icon specifications
Windows Phone 8
Lumia Black firmware
5-inch full HD 1080p OLED display, ClearBlack, Sunlight readability, Glare-free, Super sensitive touch, Gorilla Glass 3
Pixel density: 440 ppi
Qualcomm Snapdragon 800 Quad-Core processor, 2.2 GHz
Adreno 330 GPU
Camera: 20 MP PureView, ZEISS optics, OIS, 2x lossless zoom, oversampling, dual LED flash
2 GB RAM
32 GB internal storage (no micro SD)
Bluetooth 4.0 LE
2420 mAh internal battery with Qi wireless charging
Dimensions: 5.39 x 2.79 x 0.39 in
Weight: 166g /5.86 oz
Nano SIM
Networks: LTE: 700MHz; SVLTE Band 13; Band 4; CDMA: 3G EVDO 850/1900 Rev A with Rx Diversity; Global Ready: GSM (850MHz, 900MHz, 1800MHz, 1900MHz) UMTS (850MHz, 900MHz, 1900MHz, 2100MHz)
What do you think of the Nokia Lumia Icon packaging from Verizon? Let us know in the comments! Also, make sure to read our full Nokia Lumia Icon review in case you missed it.
Windows Central Newsletter
Get the best of Windows Central in in your inbox, every day!
Nokia has really nailed every phone out there in,terms of specs!

Except for frequency support I agree with you. They really should have included support for the TMobile bands too. The iPhone shown in the article supports all of the needed frequencies.

That is dictated by carriers. Verizon phones don't work on any other carrier...not even a Verizon iPhone.

You're wrong. The Verizon iPhone 5S works on both at&t and T Mobile

The Icon will also work on T-Mobile and AT&T, though not all of AT&T's LTE (only band 4).

It does support LTE Band IV which is supported by T-Mobile

It says SVLTE band 4. I'm not sure if that is the same. Posted via the WPC App for Android!

Accept for MicroSD support.... It would be PERFECT if it had expandable storage. Cloud is worthless to a lot of people with very limited data plans and 32gb is not enough for everyone.. With 8.1 Supporting apps on SD, it's a almost needed feature in the next gen phones...

This phone is really good

I'm I the only person who finds this device unattractive?

In my opinion, it's good except its thickness

Looks like a thicker iPhone

If you think this looks anything like an iPhone, you've lost your credibility to comment on design.

Seriously? You do see the picture with the iPhone right next to it, right? They look nothing alike.

I agree. I don't find it attractive at all. It's just a "colour block" with really sharp edges and a slightly curved back. Not the best design in the world but I mean it's not HIDEOUS.

The only unattractive thing I find is the Verizon logo at the front

Yeah but that's the way it works unless your are Apple. I think banding will get better when we start seeing MS phones. That will at least eliminate the need to have Nokia on there as well. I would love to see a device with just the Windows logo on the back with a small verizon across the bottom. Less words makes more of a statement.

Correction: That works on all phones outside of the US.

It's a bit boxy, but that seems true of any Lumia device, really.

A perfect sized power house. I wish, it would've come to India too ! :/

Yeah... But i wanna know if you can get an unlocked version in US.

It comes unlocked directly from Verizon :)

Great review, but for the love of mankind its a "Noh'kia" - Not a "Know'Kia" The Queens English please...

While your pronunciation is correct, it has nothing to do with the "Queens English".

Grew up saying it know-Kia. I know it's not the 'right' way of saying it, but feels weird when I say nuh-kia

Stephen Elop once said, it's alright to pronounce it whatever way you like but inside the company they say "nuh-kia", so there you go.

Tomato=Tom-ahto. We say Nokia in 'Merica. Back off.

Pssst. Nokia is a Finnish word not English.

Queen's English? After the way Brits wrecked Old English then Middle English, there's no room to complain.

Isn't it more like nok-ya?

Still no word on retail price?

I honestly doubt it. Lumia 1520 runs for around $700 on AT&T, my guess Verizon may have a bit steeper price tag because well... Its Verizon

I always throw packaging in the garbage.

Lol. I still have my L720 package ;)

still no worldwide version??

Nokia may launch similar hardware later on for AT&T and worldwide.

No they won't. This is Verizon exclusive.

Yeah like b4 Verizon got the 928 while the world got the 925 so I'm guessing the world will be getting a 929 in a mth or so which is kinda pointless with 8.1 round the corner!

As far as design is concerned, yes your right. But hardware is not exclusive to Verizon. So MS/Nokia could reproduce this in a different looking design but with the same size and hardware and market it globally.

In white is pretty awesome!

Everything white is pretty awesome.

Cool that it comes with 8.1 pre-installed

Lol, wtf? Where did tou read that?

I have 8.1.1 on my 920, that's old firmware! ;)

Please made it available globally. Wanna buy this one !

Make it available here in England and the rest of the world!
This is why windows phones lag behind the big 2! This is a superior phone but can I go into my local phone shop and buy it? No! I'll be just surrounded by the latest android and iPhones!

Ditto.
Can't buy this, or the 1520 in Brazil.

I agree. We wonder why WP8 is taking so long to gain market share but the "carrier exclusive" has been killing it since the 920 on AT&T. I live in Arizona and the only way to get it is to pay a penalty and change carriers??? They gotta fix this if they want to compete!

Don't we all wish that that was the reason Windows Phones lag behind the big 2!

I really like the design on the front of the box, very minimalist but sexy all the same. Would have rathered the other one though.

Curved glass, too. Soo smooth.

Attention: according to previous news, there is no Glance Screen & Double Tap Wake in this phone. @Mark can you confirm please?

That is 100% true I'm afraid!

I am really curious about the rationale behind this ridiculous backward step. It is a deal breaker for me.

Screen sensitivity is also set to normal by default. Have to change to high if you want to scroll with gloves, forks, knives.

That and no removable storage. No valid reason for these omissions.

I wonder if the Icon will get this feature when it receives the WP8.1 update (as it is listed in the current features list). Curious if the MS implementation in WP8.1 is different than the Nokia implementation in Amber/Black.

By far not enough Verzion logos on the box

They are getting wiser. Plenty 4U on the phone itself though.

Its really exciting, but unfortunate when thinking that the global version never be released soon.

Fantastic phone with great specs, I really hope this is released in the UK.

Qi. All that needs to be said

It looks to be the perfect size, is there a way I can get one off contract and unlocked unbranded, or do I have to wait. Another thing the packaging is so much better than crappy att, same box but in red makes it look special like a present vs here is your phone you flicking customer.

Am I the only one who thinks it looks like a surface to with the white and silver, like a surface phone.

Love the looks. Nokia makes some nice looking phones Posted via the WPC App for Android!

Am i the only one who thinks the lack of earphones is weird?!!?
I love Nokia but im disappointed with their flagships. This phone is bigger and thicker than the S4\Lg G2 and yet has a smaller battery and weighs 30% more.. Nokia seems to need far too much volume in a phone.. I absolutely hate Samsung design (they have only one) but envy what they have been able to cram into in the S4.

You actually use the head phones that come in the box? Weird

The ones that came with my 920 were probably one of the best sounding earphones I've ever had ;P

My 920 didn't include any. In fact none of my Nokias have.

Really? Did you get yours from AT&T? Since I'm Canadian I got mine from Rogers and it came with everything.

Can't wait to own this one. Hopefully it isn't too hard to find come Thursday.

Beautiful phone and beautiful packaging. Posted via the WPC App

That iPhone looked so secksy

I can't be the only one who doesn't like when the display is not centered. That aside, I hope they bring a handset with equal or better specs to AT&T. Hopefully it'll have wireless charging, too!

This time of year I wouldn't be buying anything until after MWC. This is a nice phone, just about justifiable to upgrade to from my 920 (if I could get it in Australia), but no SD expansion, really? C'mon already!

Can run in Europe carrier.?unlocked of course )

No SD card and non removable battery? Sorry, not for me

Nice packaging, but why no headphones?

Would be cool if the white Icon had white glass at front, (like iPhones,) as the two-tone thing is getting cheap looking. Heck, do the same for all other high-end white Lumias as well, Nokia.

I actually think it looks classy. I, personally, don't like to see where the edges of my screen are. Posted via the WPC App

I agree with fonefan. The black front REALLY helps, especially when you're watching videos. The black front gives you that theater feel :)

Will it have the same touch screen issue as the 1520?

Did anyone see the unboxing over at Pocketnow?

So retail packaging is basically the exact same as the 8X and 928...

Pre-installed SIM card? So I don't even have to take the one outta my 822!

If your getting a windows phone in the next 6 months, this will be your best bet - From what we have been told by the editor of this site, there will not be new hardware at MWC - so dont count on it. My guess, is that they will most likely show some new hardware at Build in April, but that hardware will prob not be released until May / June, and it will most likey have similar internals to this phone, and maybe lose the capacitive buttons on screen. If your on Verizon, this will be the only Windows phone for at least 6 months, that is until the samsung version comes out, but why would anyone get the samsung over this, too many nokia exclusive options, and 10,000x's better build quality that samsungs plastic pos phones. If your only interested in micro sd card support, wait for the samsung, otherwise, this will be the best windows phone on verizon for a while.

I assume from the collection of photos that this phone only has one side, the back?

as far as verizon only working on verizon, the htc 8x windows phone worked unlocked out the door tmobile and att as well.

I wish there was an international version of it... Specially without all those carrier logos on the device :)

Looks no different from the box and accessories from my 928 or the 822 I had.... Way to change things up Verizon !

I was really hoping for an LCD instead of an OLED. I have the 928 and the screen was burning in before I got the update that let me put the lock screen timout settings at never. I'm still convinved that even with the never setting its not burning in any faster than it already was. Its not too bad now, but at the rate its going now by the time its 2 years old, it will be.

Should I buy this phone or wait for 8.1 devices to drop? I've been waiting since Dec 2012 to upgrade to a worthy phone. I currently have the 822. Thanks yall

I'm in exactly the same boat. I've been off-contract with AT&T since October 2012; just waiting for the right hardware. I'm still liking my Titan, so I wanted something with a screen at least 4.7" (while I really like the 1520, it's just too big for me). So now I'm trying to decide if I should jump to Verizon for the Icon or wait a few more months. If this thing had been released last fall, I would've done it. Now, I think I'll just wait a bit longer...

Would it kill American carriers to not turn their phones into mobile advertising signs?

I miss Daniel Rubino's hunky hands and manly voice. They should have shown the phone next to a Lumia 1020.

How much larger is this than a 920? Edit - Actually took time to read the specs - not much larger at all I see.

They should have released in India.

Yes bro we need such pieces. This is not good marketing.

I want this phone and i will get it. Problem " Money "
Windows Central Newsletter
Thank you for signing up to Windows Central. You will receive a verification email shortly.
There was a problem. Please refresh the page and try again.