Nokia to offer free wireless charging plate to many Lumia 820 and 920 customers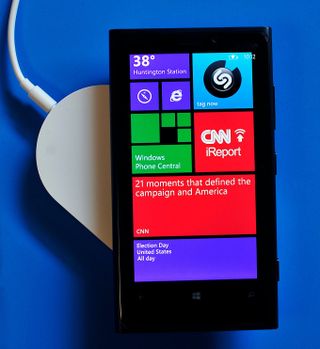 Looks like AT&T giving out free charging plates to those who purchase a Lumia 920 may be part of a bigger proposition. The good news come by way of UK seller Phones4U who put up a link and details on how to get a free charging plate with your 820 or 920 purchase.
The site, nokiafreecharger.com appears to be very much like the free-Lumia 710 back-cover offer from earlier in the year, whereby you purchase your phone and then apply for a free add on accessory, in this case the Nokia wireless charging plate. Details of the offer state that it will be offered from November 2 through December 31st, with the application process starting on November 16th. User should visit the site within 14 days of their purchase, punch in their unique IMEI number, fill out the application and they should have their new charging plate within 28 days.
Although AT&T users will get what seems like the best on-contract price in addition to a free wireless charge pad, there is no word yet if they will have to utilize the same process of applying and waiting for their pad, or if AT&T will hand them out with a purchase.
Source: Phones4U, Nokia; Thanks, Carl, for the heads up!
Daniel Rubino is the Editor-in-chief of Windows Central, head reviewer, podcast co-host, and analyst. He has been here covering Microsoft since 2007 when this site was called WMExperts (and later Windows Phone Central). His interests include Windows, Microsoft Surface, laptops, next-gen computing, and for some reason, watches. Before all this tech stuff, he worked on a Ph.D. in linguistics and ran the projectors at movie theaters, which has done absolutely nothing for his career.
I wonder... Will I see one for Finland as well :o

Hope it (AT&T) will continue to have this deal till the second week of the 920 sales, or longer.

I wonder if the free charging pad is for both pre-orders as well as store pick-up.

I wonder if it's also for the 810 for Tmobile

That sounds to good to be true but let's hope for the best. Got my 920 yesterday :)

Screw you...gotta wait 3 days

I absolutly love it! :) If you want to know more about something in particular just ask

Based on all the reviews I have a few questions for you:
Do you have a gym membership and do you find it necessary to cart it around in a wheelbarrow? Because all the "professional" reviewers keep saying it's SOOOOOOOO super duper extra incredibly extremely heavy and big. Would you agree with them or call them sissies?
My only other question is more for ATT: When the efff do I get MINE?
;)

No, i don't think it's to heavy or bulky. It feels like a quality product in your hands. I actually think that it is one of the most ergonomic phones ( for my hands at least)

I think that the only innovations that sone phone makers have had was to make them smaller to the point that they no longer feel like a phone. This phone is no heavier than an I-phone with it's protective Otter Box cover.

Have you been able to try out any of the lenses? If so, how are they?

Don't expect anything special from those lenses, they are just simple shortcuts to apps. Maybe that changes in the future but at the moment they are nothing to be excited about

Could we all get together and pressure ATT to let all of the Lumia 900 buyers upgrade early to the 920? I'm not asking for anything free, but I would gladly pay $100 for the 920 if I was eligible to upgrade.

Check your upgrade status. I switched to at&t from Sprint for the 900 and I apparently have an upgrade waiting to be used.

Does it say iphone upgrade? That's all mine says. Damn you ATT! I'm not going to leave let me get the discount!!!

AT&T does let you upgrade early if it's within 30 days of your upgrade date. At least that is what I was told by a customer service rep. Anything more then 30 days i doubt it.

This seems to be true. My contract was up 11/17 and the website stated this morning that I was eligible to the $99 upgrade to the 920.

If you are on a family plan, you can use somebody else's upgrade for yourself.

Also, if you are withing 30 days of your upgrade window, you can ask them to let you upgrade early.

You know that won't be happening with at&t. Just pay the $100 and be happy it's such a steal.

I got the 900 day one, so I was not available for an upgrade until next year. I went to the AT&T store on Friday, 11/9, and asked about the upgrade. They told me that I could "early upgrade" for $250 plus the $99 for the phone, so $349 total with a new two-year agreement.
While I waited for my wife to get her phone upgrade to the 920, I called AT&T customer service and asked them if I could upgrade. They told me the same thing. But I asked the CS rep to ask her supervisor to look at my account and see if I could simply upgrade for $99 because I had seen in some forums where AT&T was doing this. It took about 30 minutes on the phone, but they OK'd the $99 only upgrade for me because "I had been a customer since 2000 and I always paid my bills on time". So, AT&T customer service noted their "ok" for the upgrade on my account and the AT&T store rep was able to give me the phone for $99 with a renewed two-year agreement.
But, the folks at the AT&T store had no knowledge of free wireless chargers so I didn't exit with any (2 920s in the house now with the misses).

Does this mean it will be for Lumia 810 as well? I would be so happy.

I hope this makes HTC shit a wireless charging pad for the Verizon 8x :P.

This makes me really jealous. I doubt T-Mobile will offer a free charging plate with the 810. :(

Well this seals it...waiting for Black Friday for hopefully a killer deal on a 920 and I also get the charging pad!

Yep! No need to rush to AT&T just to score the charging plate! Black Friday, here I come!!

Can I buy it now and do a price match later, since it's only 2 weeks from Black Friday?

Price match with who? It varies by retailer.

AT&T. My friend price matched her iPhone 4 to $0 after the iPhone 5 release. She bought it 2 weeks earlier. Just wondering whether Black Friday is special or something;.
Well, I perfer to buy it from Microsoft Store if the availability date is the same. (Got 3 $25 gift cards). But I just can't wait.

Almost every retailer I know doesn't price match Black Friday sales; lame I know, but that's what the fine print says. Amazon Wireless will probably have the best deal, but hopefully brick and mortar stores put it on sale so I won't have to wait for them to ship it to me.

Will they price match to their own price on that day? I did with Micro Center but don't know others.

2 years ago I purchsed 2 Samsung Focus's about this same exact time, then on Black Friday they went on sale. The store would not do anything but when I called corp office they did a price match and put a credit on my account for the difference on each phone. I have been with ATT/Cingular/Celluler One for 14 years, don't know if that makes a difference.
Looking to get the 920 for my wife and the 820 for me on Friday. I need the storage and the 820 will take upto 64gb sdxc card. If they are cheaper on Black Friday I will just call and get the credit for the diffeence.


That's good to know. What is the corp office? Is is the contact us number on the official web? (Sry for this potential dumb question :) ) I found it interesting that 820 have extra storage while 920 doesn't.

I guess just AT&T, the place you call if you want to order new equipment or need tech support, was not sure what to call it. Didn't want you to think I just called the brick and morter store verses going into the brick and morter store that refused to do anyhting.
My Focus has a 32gb sd card giving me 36.9 gb of usable space, which is currently filled with mostly music. I am constantly uninstalling/installing apps and games and juggling things around so it is not completely filled and don't even have all my music synced. Can't wait for 72gb, figure 68gb will be usable!!


Back when the original Focus came out, I dished out 199 for it. Less than a month later AT&T came out with a buy one get one free deal on the phone. AT&T said anyone that bought the phone in the last 30 days and had another user eligible for an upgrade on their contract could come in. My dad got the Focus for free. I imagine they would do a similar agreement if they offered a bogo again, but maybe not refund you if they reduced it for the holiday.

Been waiting too long! I hope something pans out for ya'll on Black Friday though. That's when i'll be getting my kids and wife gifts. I'm really looking for a deal on the Kindle Fire HD 7 for my wife but Daddy get's his toy first! :)

Why not buy it within 2 weeks of black Friday and return and rebuy of there's a better deal?

If application starts on the 16th I'll be on my 15th day since purchase! Hopefully they make an exception.

I believe at Carphone Warehouse the charging plate comes at the point of sale. Though I'd like to attempt this process and snaffle a second one for work. I got a free Play 360° when I upgraded to the Lumia 900 but returned the phone as Phones4U missold the package (for the second consecutive upgrade I've had through them).

Speaking of eager beavers is this coming to Canada?

Yeah... I'd be upset if it didn't.

Wow, my 900 purchase is getting worse.

When did you get it? If you got it from ATT, you have ~30 days to exchange it usually.

Hopefully I can get the charging plate from the actual store. It's not all that bad to wait, but I feel like I shouldn't have to.

So who preordered from Best Buy lol

I did, I'll pricematch and still get $50.00 from Best Buy that will go towards Christmas stuff. If this site is valid for US residents- double score. For it'll mean that I get PAID $50.00 (redeemable only at BB of course) to upgrade to the Lumia 920.

I did.
As soon as the AT&T pricing was announced I called and cancelled my order with BB. It was very easy.

I did too @PhilR8 how is that even possible? Im going to go check now

I hope T Mobile gives away a free wireless charger for the Lumia 810.

I really hope that att/msft/nokia come up with an early upgrade for The beta testers..#smh @att

I'm getting with Sprint right now to talk about ETF costs. I'm thinking this deal just tipped the scales, and I may head to ATT.

With my work discount and 5gb, 2gb, 2gb and a flip I actually pay less than when I was with sprint for nearly the same exact plan minus the data.

Great support from Nokia as usual!

Hi Daniel any news regarding the release dates of lumia 920 in india

This is great news!!! It just keeps getting better and better!!!

The early upgrade is for the blahphone now by some miracle if you can get a 920 then let us know


Charging plate and Windows 8 Pro upgrade
"All customers purchasing their Lumia 820 at Carphone Warehouse will be eligible to redeem a free copy of the Windows 8 PC software upgrade, worth £49.99
This offer is redeemed by Nokia post purchase- all stock of the smartphone will have a sticker on the box showing how customers are to redeem, by visiting www.nokiapcupgrade.com 14 days after purchase and entering the unique code on the box sticker and their IMEI number"

That is a really competitive price, hopfully this gets people who know nothing about windows phone to purchase them purely because of the cost factor. Increasing the user base.

This is because they have blown the launch in the UK and this is part of an attempt to keep people hanging on rather than just buying an 8X which is available at the same price as a 820 - the launch was suppose to be the 2nd and now it looks like it might be at least the 15th for the 920 and maybe the end of this month/start of december for the 820.

CPW is planning the launch of Lumia 820 on 9th November

They might be 'planning' it but it's doubtful it will happen - Phones4U are saying at least 21 days for the 820 and we are hearing nothing different out of nokia.

Good price for Lumia 920 :-)

I have my info from Carphone Warehouse intranet, they've posted it yesterday

Spoke to CPW today and they said my instore preorder of the 820 should be available in 2 days from the store.

Does anyone know if AT&T would allow me to get the 920 on November 9, even if my early upgrade date is late December? O haven't gotten to run over to my local store to ask yet. Thanks!

I'm pretty sure they will offer you the full upgrade price within 30 days of your upgrade date.

Great, then I shouldn't have long to wait. Thanks for the response!

Its not within 30 days, you have to do your upgrade during the same month of your upgrade date's month.
For example, if your upgrade is on December 20th, you would be eligible at the start of December (December 1st).

I know this is off topic, but if the pricing for the Surface Pro really is what this site is reporting you will have many really pissed off customers MS..
http://news.softpedia.com/news/Microsoft-Surface-Pro-Pricing-Leaked-on-G...
This is the exact same thing that apple just did but releasing the ipad 4 the same year the 3 cam out. at the very least there should be a trade up. Yes, i knew it was coming, but i thought it was going to be higher in price. This is almost twice the machine as my RT for not much more money.
What gives MS???

RT comes with "Office 'Light'", I believe you need to purchase MS Office with the Pro.

ur comment has nothing to do with my statement. lol

t-bill is saying that the true price of the Surface Pro should be increased by the cost of Office 2013, because unlike the RT, the Pro does not come with Office 2013. So increase it by like $200 or so...

does anybody know whether this is US only, or carrier only or something?



Just to go slightly off topic, but why does the picture above show 5 different tile sizes? I thought WP8 tiles only have 3 options, or did I miss an annoucement?

No, the wpCentral tile is actually a 2x2 tile (the whole green, broken, square, with black bits mixed in).

Ah...gotcha! But what about the blue tile on top, with the temperature and Huntington Station? That's a 2x1 tile.

Maybe I'm mistaken, but could you get a free charger at AT&T and then get another free charger using the website from the above article? 2 free wireless chargers (worth a total of $100).

That's what I'm wondering too.

At&t better change the upgrade option on my account page from iphone to Lumia 920. Microsoft get on their case, they are not pushing Nokia phones. Even on the TV ad they show the phone but don't say it's the Nokia. When they have iphone ads they clearly state iphone. How is it that they are exclusive? Anyway, they better give me a free wireless charger too!

My understanding after talking to my local att rep is that you can get any phone on the early upgrade it doesn't have to be the iPhone, but they do charge you an additional 250.00 on top of the new contract price, so to get the 920 on early upgrade it will cost a total of 349.00, if someone knows different please let me know

Also, you can't pay the ETF and then start a new contract ( which would be a hundred dollars cheaper ) you would have to close existing contract and start a new contract with new phone #, please someone correct me if I'm wrong, no really, I really want to be wrong lol

I'm not sure those prices are true, unless I'm misunderstanding what you are saying. You can usually upgrade to a newer phone early and AT&T will charge you a early upgrade fee. That fee depends on how far into your current contract you are. For instance, for the past 2 months I've been able to upgrade to a new phone and would only be charged a $36USD upgrade fee (ending my contract about 3 months early).
You can check your own eligibility/fee upgrade status from an AT&T phone by dialing the following number: *639#
(star, 6, 3, 9, pound)
Although, when I did that myself it said $36 upgrade fee, but when I called AT&T directly they said they'd waive the upgrade free and marked it on my account for when I come into the store this week to get an upgrade. :)

I'm 18 months into my contract which just now makes me eligible for early upgrade, the att rep looked up on computer and said yes your eligible for early upgrade but you have to pay an additional 250 on top of the new contract price, I was not happy with that, so I asked about the ETF scenarios and he told me I couldn't do it that way unless I closed the entire account and opened a new one which is not feasible since I have 5 phones on that account, and only 1 eligible for early upgrade, so I'm not sure what to think at this point lol

I'm not paying $349 for the L920! My L900 is perfect. Nokia needs to get on At&t about this, why not let us upgrade to L920.


Right now I could upgrade my AT&T Focus to a Lumia 900 (or one of a great many other iPhones, Android Phones, and WP7 phones); I'm assuming tomorrow I'll be able to pick a 920.

Oh man, I hate free stuff.

That is a nice present from Nokia.

so, WP8 tiles can do multiple colors?

Sure, you can select many colors, but I found nothing to create your own. Sad... (HTC 8X)

No, but the apps can have their own color that you can't change. Accent color only works for apps that use it.

Any present from Nokia for us Aussies?

ATT is out of the wireless chargers as of 11am EST on 11/7 due to extremely high demand according to the CSR that i spoke with.

I called att and they said they are not offering a free wireless charger. Also I went to a store and it seems that no one knows anything about the phones.

I just ordered my Lumia Nokia 920 and the AT&T folks did not know about the free charging pad.

This is really frustrating. I woke up at around 4:30am (est) on November 7th to place my order and got the phone no problem (I wanted the free charging plate)- didn't see any mention of the plates on the site, just through other sites online.
When I heard people were having issues getting their plates, I checked my pre-order status- no plate showed anywhere. I called AT&T and they said, no, you aren't getting a plate. The official response was "they are all gone". So by 5:00am (est) they were supposedly "out of stock because they were limited to whatever Nokia had sent them". Sounds shady to me and like a marketing gimic.

According to a rep I chatted with yesterday... if you pre-ordered the Nokia Lumia 920 yesterday, you will be sent the free charging brick albiet sometime in the next two weeks.

Apparently the promotion was working correctly if you ordered through the business site. If you ordered through the personal site, the promotion was not working correctly (you weren't being prompted to add the brick to your order).



The NokiaFreeCharger.com website is only for UK as per Nokia Support.

AT&T does NOT offer the best on-contract price....
WalMart is offering the Lumia 920 in every color but yellow for $49 on contract. This does not include the free charger, but you can request that through Nokia starting 16 Nov 2012.
This is just an FYI for those interested.....
Windows Central Newsletter
Thank you for signing up to Windows Central. You will receive a verification email shortly.
There was a problem. Please refresh the page and try again.