Nokia offering free discount vouchers to new and existing German Lumia Windows Phone owners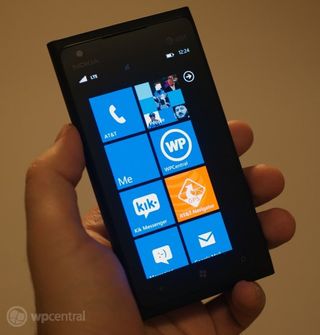 Nokia is offering vouchers for those who reside and Germany and have purchased a Lumia Windows Phone. If you didn't think the blocks of ice housing Lumia devices were enough to sway your mind, then perhaps this offer of €50 worth of vouchers for new and existing Nokia Windows Phone owners will help?
We've been informed by our tipster that entering "P9YE5Y" as the voucher code (along with your personal details) will enable you to select from a variety of discount coupons (totalling €50) for use at retailers and more.
Not at all a bad offer, but do you believe it's almost reaching a point where we're being paid by Nokia to use their products? Let us know your thoughts in the comments.
Source: Nokia; thanks, Aerone, for the tip!
Rich Edmonds is Senior Editor of PC hardware at Windows Central, covering everything related to PC components and NAS. He's been involved in technology for more than a decade and knows a thing or two about the magic inside a PC chassis. You can follow him over on Twitter at @RichEdmonds.
Is US going to get this deal?

The US got a better deal - $100 at launch :)

It should be more at WP8 launch. WP8 devices wont be as cheap as WP7 devices were because WP8 will have high end specs.

Let's see whether existing customers really get the vouchers. They seem to be sent via mail and the fine print in German states that it is for new purchases only. The fact that you can register for it today means nothing in Germany, really. :) Tomorrow the registrations will probably be evaluated manually by cheap workers hired for the job.
But if this works for me too, this would be fine. When I bought my Lumia 800 for 399 it included a 50 € voucher for apps already, and now another 50 € for dealers from which I buy frequently anyway would be very nice.:)
Next Tuesday by the way, the German electronics retail chain Saturn is slated to do a deal on all Lumias. E.g. 399 for the white Lumia 900, unlocked, off contract of course.

I got my Lumia last week, and it worked. Just create an account on the site, enter the voucher-code above and register your phone's id (*#06#). I recieved the 50 points instantly and allready ordered my Saturn-giftcards. Season 1 Game of Thrones - here I come!
Thanks alot to wpcentral for the news *thumpsup*

Actually this is something along the lines of what I think Nokia should have done, though slightly different from what I would suggest. They should hand out vouchers for existing Lumia device owners which could then be used when purchasing upcoming WP8 devices. What better way to not only garner goodwill with people who thought they got shafted and ensure that a customer is kept within the ecosystem? I realise this might be risky with the cash flow problems they are undoubtedly going to be running into in the near future, but seems to be something they should consider.
If the customer uses the voucher themselves, they remain in the ecosystem. If the customer doesn't use the voucher, it cost Nokia nothing. If they passed it on for someone else to use, its a chance for them to introduce new people to the WP8 ecosystem; I think ignorance of the WP8 platform and how it stacks up with their competitors is the largest obstacle to the platform gaining traction.

Any news on when this sort of deal will come to Australia?

Our local ATT store recently cut the windows phone display down to 1 Lumia 900. Anyone else see this?

How did I know what all the comments would say before reading them?

I'm sorry but all this trying to convince people to use a windows phone is just crappy,if their haven't switched in 2 years they probably won't.....and all the people telling people that they are stupid because we see problems with the platform are the reason for the low market share......i love the apps and the clean look of the apps but the main problem is the start screen ,yes there are live tiles but for anything not on the first screen feel lost . People are use to scrolling left to right not up and down,just imagine if the desktop scrolled up and down. Yes people like the clean os but they also like to customize & windows phone don't have many options to make it your own yes android goes overboard but WP don't have enough options ....i will be using a iPhone and windows phone till I can just use a windows. (sorry for the misspelled--- etc)

With the money Nokia is being paid by Microsoft, paying people/selling handsets at a loss, is certainly a good way to go. I suspect that's what they were doing when the 710 was £129 and then £99 in the Carphone Warehouse, here in the UK. One way to establish a user base and increase the number of users on a platform, is to offer then great value in the beginning. Speculate to accumulate. Once people get handsets in their hands, half of them should fall in love with windows phone. Its getting them to give the platform a chance, or even to simply notice it/know it exists, that's the biggest problem. Once they try it, the OS/platform will sell itself to most users.

Off subject, but it sure is funny how ATT comes up with good commercials for the Galaxy S3 for the olympics but none for WP now or really at all

Ok, sorry for the dim question, but where do you use this code to get the "coupons"?

Hmm, problem solved. However, the offer is only open to people who bought their phones in the period 22.06.2012 - 13.09.2012. Major bummer as I bought mine in April. And you have to send them a copy of the sales reciept in order to validate the vouchers.

You should try http://discountengine.co.uk they are giving much better deals on there website.

Thanks
Nathen greg
Windows Central Newsletter
Thank you for signing up to Windows Central. You will receive a verification email shortly.
There was a problem. Please refresh the page and try again.