New Car app from Nokia helps you out while driving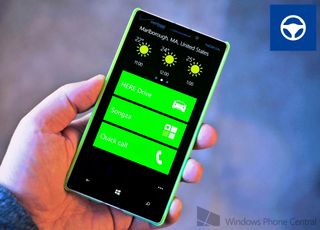 Nokia bundled an app with its Lumia hardware which would kick into action when the smartphone was NFC paired with the CR-200 wireless charging car unit (see our review). Unfortunately, those who didn't own the car charger by Nokia, but still wanted to enjoy the enhanced driving experienced, were left in the dark. That is until today. Nokia has released a new Car app for Lumia Windows Phones, which works without the optional accessory.
The app itself works in an identical manner to the experience loaded when paired with the car charger, but Nokia Car now makes it possible to use this friendly interface whenever and wherever. Loading up the app will bring the user to a familiar (or not so familiar) splash screen with some information and three app shortcuts. The detailed information can be swiped to show battery status, current weather readings and the time and date.
From here the display won't turn off, but will be dimmed after some time while displaying this screen. It's perfect for driving since there are shortcuts to configured apps that remove the time consuming task of moving through menus and other screens. Everything is displayed and accessible with minimal input from the driver.
What's interesting about this new app is the ability to configure exactly what apps are listed in the shortcuts menu. By default, users have HERE Drive, Nokia MixRadio and Quick call, but it's possible to select anything from the installed apps list. Weather can also be altered to show a certain location (default uses GPS) and display readings in either Celsius or Fahrenheit. Nokia Car is a simple, yet effective app to help reduce distraction while in control of a vehicle.
You can download Nokia Car from the Nokia Collection on the Windows Phone Store.
via: Windowsteca; cheers, Guy, for the tip!
Windows Central Newsletter
Get the best of Windows Central in in your inbox, every day!
Rich Edmonds was formerly a Senior Editor of PC hardware at Windows Central, covering everything related to PC components and NAS. He's been involved in technology for more than a decade and knows a thing or two about the magic inside a PC chassis. You can follow him on Twitter at @RichEdmonds.
First comment!!!!
Looks awesome... But its car accesory is very rare at indonesia :( (pardon my eng)

Honestly that was a perfect sentence except at is supposed to be in

I already found a problem with it. The location services and the app text that shows where you are, are not exactly connected. It finds me in Manchester USA, but then writes Manchester, UK in the weather view.

Same here, Hamilton VIctoria Australia, tthe app gives temp in Hamilton Canada. This is not from Esop!?? Looks to be draining the battery very quickly than ever.

Looks good, only prob is that I can't seem to choose Music+Video as an app option, only Xbox Music. Music+Video is so much better while driving due to the swipe to change track facility...

How can i comment using my disqus account?

No you cant. Because WPC hates disqus. :p *just kidding*

Will these new apps come from Microsoft in the future? Or with Nokia still make them?

Hopefully the Nokia team (soon to be the earlier Nokia team that will still be the awesomest (yes, I know) MS team) in Finland will still provide us with all their awesomeness also in the future :D

The team formerly known as Nokia.

Let me check my crystal ball...

For many people this would be more useful than "Kids Corner". If baked into the OS and swipe from the lock screen it'd be great. Unless you want Kids Corner and Drive Mode.... would that be too much swiping at a lock screen?

I was a big fan of Nokia Drive but I have to say it has been letting me down lately. It picks the strangest routes. Not even changing from faster to balanced or shorter it picks the rout that makes sense. Once it even gave me a route that took longer than the balanced route when I picked the faster route. It's just weird. Then I downloaded and bought CoPilot and it also has been a disapointment.

I've had the same thing happen over the last month or so. I'm in Connecticut, USA. It's odd. Try Navigon. It is a power suck but the best of all the ones I have tried including CoPilot, Drive, Waze and MapQuest. I have been using Drive, though, because it is less power hungry.

I am in CT as well and Navigon has never let me down in the NY, CT and MA area.

I'm all about Waze. The power issues got way better in recent updates. Beating traffic via crowd sourced data is so valuable in Los Angeles. I'm not sure why Here won't do live traffic rerouting.

In India, I felt here drive was not good at beginning... But it has gone better with updates and gives almost like 80% accurate routes... I am using it regularly for my travel...

Am having the same probs (UK) with Drive, got a thread on it somewhere. CoPilot seemed fine when I trialled, but can't afford it at the moment.

Exact replica of "car dash" app..

Doesn't have the speech recognition features of Car Dash

@akks You have it backwards, as Car Dash was inspired by this app, which Nokia showed off early in 2013.

@Daniel is correct. I was inspired to make Car Dash after seeing the original CR-200 app

So we could conclude from this that he's akksbackwards.

oh cool... my mistake..sorry..

Very useful car app but would be improved if native apps such as Cortana were available to it.

It allows you to make a shortcut for Facebook but not messaging. Think we have a bug. It will allow me to make a shortcut for games even.

You are not allowed to text while driving

Well - you could start it with any NFC if the stupid question to open the Tag would not appear

I believe I've read that's changing with 8.1. You'll be able to add "trusted" NFC tags that won't ask :)

I have just grouped the tiles I use when driving at the bottom of my start page: Here Drive +, Waze, Inrix Traffic, Beats Music (I have asked them for a big, easy-to-access "Offline" mode button and Weather in the Distance. Seems easier to me than adding another app. Especially when the case I am using makes NFC tags unreadable.

Always eager to try new Nokia apps! Downloading it now...

Now they need an update for driving mode for an option to launch the car app automatically when you get in your car.

Exactly because car mode is pointless atm!

The difference between this and car mode is that car mode requires you to connect the phone via bluetooth.
I think this app would be more useful if it also allowed automatic answering like car mode, you want automatic answering even if you don't connect it via bluetooth. @R0bR Use a nfc tags in your car to start the app, if you have a phone with Nfc

Currently, even NFC is still a 2 step process and still needs you to touch OK to continue... Its not any better than just having a shortcut on the home screen. Actually,nits worse than that since you have to pay money for NFC tags. So it costs money to automate a function that still takes the same amount of steps and still involves touching the screen.

It will get better with WP8.1. For trusted NFCs it wont ask anymore. But still you have to unlock the screen.

exactly, they need to combine it w/ the new driving mode feature so it launches when you connect to your handsfree bluetooth in the vehicle.

For a minute there I thought I was looking at an article for CAR DASH. Its like a carbon copy almost.

I'm pretty sure Car Dash mimicked Nokia's app. While this app is "new" to the general Lumia user, people who have had the CR-200 for the last 6+ months have had this app for awhile already.

Quite possibly. However, if Nokia Car had the ability to start music via voice control or have the weather read out to me instead of having to look at the screen while driving just couple of examples, I think most people will probably stick with Car Dash. Now if Nokia Car implemented these things, I would drop Car Dash in a second. So I am keeping both apps for now and see how Nokia Car progresses.

@alfonz Car Dash dev here. Glad to hear that you seem to like the voice control and TTS features of Car Dash. I'll do my best to keep updating the app to keep you interested in using it

I'm a big user of Car Dash. My only complaint is you can't launch the Music + Videos app or playlists with it. That would be useful. But I think its a limitation of the OS because the music app isn't a function call you can make?

Glad to hear you like Car Dash! You are correct I can't do anything with Music + Videos. I do need to see what can be done with the new Xbox Music app though.

Very, very nice! Just needs to be a little faster.

You STILL can't replace the MixRadio with Xbox Music+Video?

Download the beta Xbox Music. That shows up. Let me explain: Your Xbox Music + Video? It's not an app. So you can't put it in there. Not Nokia's fault. This is WHY Microsoft is pulling stuff out of the OS and making them separate apps.

Dan, yes this works for BOTH Car Dash and the CR-200 app, but its buggy as hell. I tried it for a few weeks and hated it. It badly needs a refresh. Plus I can't use my 10 song credits with it! :(

Yeah and Xbox Music takes forever to load my collection. Edit: Try "Hey DJ!". It works with voice commands, making it even easier while driving.

Sad part is XBox Music REQUIRES Music Pass. Why should I Pay just to play music already stored on my phone?

If you just hit the back button when it asks you to sign in, you can use the app. Unfortunately, you have to do this every time.

Marlborough, MA? Nice to see a rather specific & local (to me) location. :)

Here's a crazy idea: watch the road instead of checking your phone.

Have you never used a GPS/navigation in your car? Or listened to music in your car?
This app makes it much safer & easier to do both with your phone.

THIS IS AN EXACT COPY OF CAR MODE WHICH WAS BROUGHT OUT MORE THAN 6 MONTHS AGO!!! http://www.windowsphone.com/s?appid=320e61db-0cb7-48a7-889f-525ff197eb57

The Car Mode app (I've been using it for months) was and is just a work around to launch the Nokia Car app that was designed to only open by having the CR-200 device. In Car Mode's (the app you linked) description you will find: "Car Mode works on all Nokia Lumia phones – please make sure your Nokia Accessories app is the latest version (updates are delivered through the Store)." The reason you have to have the Nokia Accessories update for the Car Mode app is that Nokia Car from Nokia has always been a part of Nokia Accessories and could only be opened with an actual Nokia Accessorie (the CR-200) but the Car Mode app (that you and I have) enabled Nokia Car to work without it. In short, Nokia has FINALLY allowed Nokia Car to be used without having the CR-200 OR the Car Mode app that was made to bypass the need for the CR-200 accessory to be able to launch Nokia Car.

Correct Deacon, and if you wanted "Car Mode" to work with an NFC tag when placing your phone in a generic Qi car charger, you had to pay $0.99 by way of an in app purchase.

Thanks, this makes a lot more sense now...

My main concern is since Nokia has all these exclusive app, will these app will be available to all windows phone no matter the hardware manufactured

I have the car charger but never knew such app existed until now lol

Great.
I have a generic Qi car charger with an NFC tag attached, I downloaded and paid for an app called Car Mode just two days ago so that it would activate this app as if it were the Nokia CR -200.
I hate wasting money!

That App already existed, ir was called Car Dash, it is exactly the same do I guess Nokia bought it

This app simply looks great. I have to figure out how to pair Nokia music to my car stereo one of these days.

Very cool! I still like CarStand 2.0 ALOT better...more customization and more features!

This seems like a good idea and a good app

If they could add a simple weather radar image in that so you know when you are headed into heavy rain... that'd be great.

Excuse my ignorance , but how is it different from the Car Drive+ that comes with the phone ?

wow, this looks ALOT like Car Dash! Love that you can pick any app with the Nokia app.

Hmm, now I can take my driving apps etc.. out of my app folder and put them in this one instead.
Come on people id it not the same, set phone on charger select app folder or drive app and..drive maybe?

It's a nice feature but why don't they allow you to use Drive Mode without having to have a bluetooth device?

Huh? What for is a car app showing battery status and weather info ?? There may be many useful things to provide when driving but I don't think I ever needed the above. Hmm..

I think battery status is a must!..but not so much weather...unless It displays hourly so I know if it is going to rain on my drive home
Windows Central Newsletter
Thank you for signing up to Windows Central. You will receive a verification email shortly.
There was a problem. Please refresh the page and try again.