Nokia releases new versions of HERE Maps and HERE Transit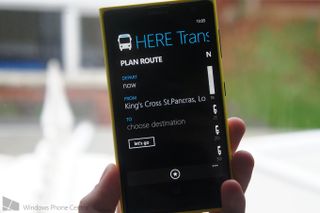 Sure, Nokia World 2013 is still going strong and new hardware have been announced, but Nokia has today unleashed updates for two of the company's Windows Phone apps. HERE Maps and HERE Transit have both been bumped to new versions. But what's new? Jump past the break and we'll bring you up to speed.
In HERE (version 3.5.481.8) Maps we've noticed a new logo has been added. That's not all, though. The main feature in this update is the ability to now save and group favourite places, sharing them across the HERE network. You can name new groups, move favourites around within said collection and arrange everything to your liking. See above for some screenshots.
You can download HERE Maps from the Windows Phone Store.
Again, much like HERE Maps, there's a shiny new Transit logo. The HERE Transit is a rather large update, so here's a handy bullet list of what's new (according to the store description):
Customize your walking speed, preferred walking distance, number of changes and transport modes for better personalization
Spot nearby stations with LiveSight for better orientation
Get built-in, turn-by-turn walk directions in map and list view for door-to-door guidance
See your favorites with one tap. Add and edit them with other HERE apps and on here.com
Long-tap on a station on the Nearby screen to start journey directions
You can download HERE Transit from the Windows Phone Store.
Rich Edmonds is Senior Editor of PC hardware at Windows Central, covering everything related to PC components and NAS. He's been involved in technology for more than a decade and knows a thing or two about the magic inside a PC chassis. You can follow him over on Twitter at @RichEdmonds.
Indded, I am waiting for Lane assist and 3D maps in Nokia Drive, so I can ditch my garmin alltogether.


This is a welcome update to HERE Maps. I miss the ability to easily add a favorite place on my Lumia 920. Perhaps it was possible before this update, but it was much easier on the HTC HD7.

Phriz.be now available for Window phone 8 wow

Phriz.be download link http://www.windowsphone.com/en-us/store/app/phriz-be/30a41bfc-7e0e-47e3-...

There's also something called HERE Explore (beta) that's just been made available.

Probably a City Lens replacement.

Thanks for noticing that, I'm installing it now to check it out.

HERE Explore helps you find places using a new contextual recommendation engine. Find a late night snack, a scenic vista point, or a selection of interesting places around you. HERE Explore Beta recommends places to go based on your location, the quality of places, and the time of day. Search and discover places to eat, stay, or sightsee and save these to your own private collections. And when you're ready to go, just hold up your phone and see your destination revealed by a floating sign. • See recommendations based on where you are or where you want to go
• Search for places around you from a customizable list of categories
• Customize the app and make your favorite searches even quicker to access.
• See search results displayed in a list, on a map, or in LiveSight
• One-tap access to more place information, such as photos, reviews from trusted sources and contact information
• Add photos and reviews of places you've been
• Get drive, walk or public transport directions to a place
• Hold up your smartphone to see floating signs that show you where places are located and tap to see more about that place
• To remember and save places, add them to your own private collection

that sounds great. So I just wait until the Symbian Check-In will appear in WP8 Here Maps


Here's a store link for HERE Explore: http://www.windowsphone.com/en-us/store/app/here-explore/ad397a96-9adc-4f31-b132-ea6c8fc26d5c

Finally, transport modes.

Yes. I have been grumbling about this since I got my Lumia. It pretty much made the Transit app useless in NYC since it aways routed me using busses. I was using a really good transint app called Mango Transit in the mean time but HERE just has features that I am looking forward to be able to use.

I'm not sure if I'm a big fan of the new tile color. But I definitely hope for a drive+ update soon!

yeah... not too happy about nokia moving away from using the accent colour for pinned tiles. a choice would at least be nice...

I do miss (Nokia) apps following accent colors.

I quite like the new tile colour, makes it uniform across all Windows Phones

Yeah they ruined my start screen with the change to blue tile.
I have the crimson accent colour and had HERE Maps pinned right at the top left of my screen (medium tile). I had carefully organized my tiles so that almost all of the screen would be the same colour.
Now I have a big blue spot disrupting my crimson start screen...
The new blue tile looks nice, but they should keep the option for accent colour.

I think, the update for here drive coming soon. Lumia 1520 pictures show, blue coloured here drive tile

http://conversations.nokia.com/wp-content/uploads/2013/10/Nokia-Lumia-15...

Both Drive+ and Maps looks like beta in the photo.

I was hoping that there would be an option under settings in order to enable "use accent colour as tile colour". The new tile colour has ruined my tile arrangement (I had here maps with a bunch of other accent coloured tiles). :p

Me too, it's completely ruined my solid red start screen! Surely now that Nokia are owned by Microsoft they should follow the MS design philosophy, not move away from it!

My biggest issue with Here Transit currently is that there is no offline mode. Even when pinning an intinerary, it will actually just save the destination and will re-contact the servers to get the detailled steps. That's a big problem because I mostly need this app in the subway, where I don't have any network signal. It makes the application pratically useless for me. I wish there was a way to search the itinerary while I'm at home, pin it, and then being able to review the steps offline while I'm on the go.

How well does your GPS work in the subway tunnels there?

Badly. But it does not need the GPS to tell me what subway line I need to take and at what station I need to get out.

I am with you!
Main purpose of Here Transit is to keep people from getting lost in the foreign city.
[ Foreign country ] + [ 3G Traffic ] = [ Huge Expenses ]
Personally, I do not need 'up to date' time table info on my phone. Usually, I prepare myself for the journey in my home place. So 2 week old data is fine for me. Moreover, I do not need a time table. I need routes.
Anyway, it's better to have slightly out of date but accessible offline Here Transport routes, than have Up to date and way too expensive data from the same app.

Nice Transit update, too bad Nokia never updates transit systems they say they do.

Ah great. Always found that HERE transit was quite lacking. Hopefully these new features resolve that

HERE Transit is now available in Brazil! Yay!!

How did you installed it? I didn't to manage to install it on my L 920! Thanks in advance.

I clicked in the QR code. Works fine on my 925.

Thanks Dudu. I used "Lumia Updater" and it was there, but did not managed to install it, also tryed to istall it using the QR code.

That's odd... But, hey, glad I could help. You from Brazil, too?

Yes, São José dos Campos ;)

What? Where. Im not seeing it...

Yup I just got a new 920 today and went to install Pro Cam and got "Nokia Camera" instead. So I imagine you just need to go into updating pro cam (or smart cam I guess) and it'll replace it with Nokia Camera (talks about Nokia Black in the blurb). Glance also has come out of beta with notifications - just waiting for someone to msg me so I can see it working...

Holy cow, they actually did it! This was something i suggested via Nokia feedback a while ago to combine Pro Cam and Smart Cam b/c it took too long to switch between the apps via lens' (only sorts aps alphabetically) and one was left deciding between Smart Cam or Pro Cam as the default camera button app. This is a way better implementation of the Pro Cam and Smart Cam concepts, thanks Nokia!

I'm getting a not available for your device message. AT&T 8X.

They opened up Here services to non Nokia Windows Phones in the US

I think this is the appropriate place to ask, anyone still using City Lens after Maps have the LiveSight feature? Do you just completely switch away from City Lens?

I never had CityLens, I don't have a Nokia Windows phone, but I do use the LiveSight Feature quite a bit.

The HACK for store to get Nokia (Pro) Camera on any Lumia devices after Update 3 not working. So i can get the Nokia Camera app :( Any solution?

They should add coordinates support as well for remote area navigation.

Wowwww nokia camera is there in store!
search for it guys!
i'm downloading it now

thats what I'm wating for since I own a Lumia 820. I use this feature so much with Maps on my Symbian devices and organized all map favorites. And it was so painfull to scroll on Lumias until I find my favorites as there was no search function. Hurra

Wolfgang

Did they add more cities to HERE Transit? There is no love for my city even though several 3rd party apps have the transit schedules and routes for my city (but none of their interfaces are as intuitive and easy to navigate as HERE)

They really need to do this. My city is quite large and HERE Transit doesn't cover it.

Not sure if they support your cities it but Mango Transit was my go to app in NYC until now. I will be trying out HERE Transit for a bit and seeing if the routing has improved now that I can choose the form of transit I want to use.

They now have support for the Washington Metro rail system. That's one thing I was looking forward to.

Wonderfull...always show me my location.... Updated...green to blue...

Also download Here Explore from Nokia!

Satellite images for HERE are still incredibly dissappointing. Bing Maps on WP7.x had fucking stellar map images (even in remote locations, small villages), even better than Google maps in a lot of cases.

Microsoft needed to buy this as well.

Also notice the Tile has a darker blue now than the other HERE apps

very nice very nice indeed, Like,, the only thing I think is missing is voice guidance on walk navigation, like on the brilliant nokia N8, I think it would be very cool. IT was on the n8 so why not lay it on Lumia devices aswell.

Shame that since the update, Transit seems to no longer work. I used to use it on a regular basis, but now its not working, I'll have to look elsewhere.
Windows Central Newsletter
Thank you for signing up to Windows Central. You will receive a verification email shortly.
There was a problem. Please refresh the page and try again.