Nokia Storage Check gets some bug fixes in latest update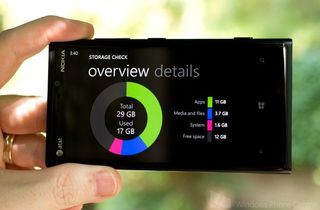 The Nokia Storage Check app for Windows Phone has gotten a small update to version 1.2.1.2. Unlike the last bump, which added some significant features, this is just some bug fixes.
For those of you who are unfamiliar to Nokia Storage Check, what it does is give you a categorized snapshot of what is taking up space on your phone. It supports both profile and landscape views and can even clear out temporary files that are being stored on your device.
It's not quite clear what exactly the latest fixes are, so if you notice something specific, please be sure to post your findings up in the comments section.
You can get Nokia Storage Check here for free, or follow the QR code below. Thanks, erfanullah and vinxent10, for the tip!
Before the update my Lumia 820 showed approximately 200MB of "temporarily files" even after clearing, and now that number's gone down to 185MB post update.
But I suppose that might've been due to something else.

Your lucky, my temp files is over 3gig. Massive down side to WP is the lack of updates and fixes to the OS in comparison to competitors

Your lucky my other storage is at 14gb...

Lol, in 3 months i've had more system updates on my L920 than my SGS i9000 had in one year. I purchased my L920 in January.

Which carrier do you have? Storage check is (still) not working on my Lumia 820 here on the (US) AT&T network, which, sadly, has not pushed out the 1308 update for the Lumia 820 yet (still stuck on 1249).

I'm guessing that this app DOESN'T WORK WITH WINDOWS PHONE 7, am I correct?

Why would it? WP7 doesn't have the cache issue. You can probably even root your phone and install one of the several homebrew cache cleaners if you really wanted to.

I have an oven. It too doesnt work with WP7.

READ the article before you comment.

Must be a pretty poor oven if it won't work with a phone inside of it ;)

Lance, would you like your phone to have a storage problem?

Its for Global Lumia users w/ firmware version 1308 and above

And certain devices, doesn't work on 822 and some others.

Still no support for Lumia 822? I have 2MB left on my phone, and 12GB of "Other Storage" on my phone. It's rediculous. (Yes, I know it's Verizon, but man). /:


O_O U can use "Shrink Storage"

Shrink Storage worked temporarily, until my space got so small, I have really no apps or games on my phone anymore, I had to delete them to make room for Shrink Storage to be able to cache the files. (Also performance at this low of memory is lacking). Just hoping the 1308 is sent from Verizon already, they always were extremely slow on pushing updates.

I have a 822 as well. I finally read an article that explained what the issue is in WP 8. It has to do with automatically uploadeding photos to SkyDrive, and, even if you store photos/videos on an micro-SD, a duplicate copy gets put in the "Other" storage on the phone. I still have the automatic upload turned on, because I like the feature. Instead, I have had to delete apps from my phone (and hold off on installing others) to free up space. I have 342 MB free right now, but that space can fill up quick. I am almost at 10GB in my "Other". I am assuming a hard-reset will clear out the space, but I haven't had the time to setup my phone and all the apps again. I want to do this anyway, since I want to change e-mail address associated with my Microsoft Account. Anyway, hopefully the GDR 2 will be available soon so that we can get this app working on our phones, and let's hope the 822 isn't the last to get the update like we were for GRD1.

822 last? Talk about the 810 here -_-

Its no longer a separate app...its been integrated into Settings. And still it does not work for the 810 :/

It was never a separate app on my 920.

I believe its for WP8 users only, I'm not sure though.

810 is wp8, as far as I know.

You're confusing the Beta with the official version...beta is separate, the official version has always been in Settings. Always.

Hey Daniel, any chance you could offer your thoughts on the limited updates/support for 810/822? I know 810 is EOL and 822 will be EOL but there are still many in circulation and for devices that launched 6 months ago, it seems like they've been left behind.

822 EOL? No, not until 2014.

It's still a separate app for me. I have regular Storage Check under Settings and then Lumia Storage Check separately on my Rogers 920.

Read Daniel's post, please.

Um... If that was for me, I already did. I was responding to beachhopper.

I had that happen at one point. I had it already present in settings, saw the Nokia version in the story and downloaded it. At that time the difference was that the Nokia version also listed maps. But I deleted it, and kept the original version which eventually got the same update. I no longer see Nokia Storage Check as a distinct app on the story, so it might have been some kind of incorrect listing that has since been rectified. You should be able to uninstall the standalone app with no problems.

Again, the one that shows in the app list was a beta. Delete it, the one in settings is up-to-date.

Ah. Well neither work for me :)

Vodafone not pushing 1308, won't be getting branded phones ever again.

Still no luv for the Lumia 810. What's up with that?!! This is the only issue I have with my Windows Phone. But it's a big one.

http://en.wikipedia.org/wiki/Nokia_Lumia -->
according to this the 810 has already been discontinued since 2013 april. I dont know what this discontinued sh*t means, it can be either "end-of-sale" or worst case the "end-of-all-kind-of-support-we-dont-care-it-anymore-go-home-man". My math skills arent perfect (I just have a simple MSC of Electrical engineering), but its like what, 6 months? You buy a phone on the day of release, and after 6 months the "dear" provider tells you that you can throw it into the trash. Now thats what I call consumer society, bravo T-Mobile (this expensive electrical waste was exclusive to them if I read correctly).

it means this
http://www.wpcentral.com/t-mobile-eols-lumia-810-getting-lumia-521-april-24th

WPcentral reported about 810 "we can confirm now that it has indeed been EOL'd (end of life) on the carrier." thats Wiki says its discontinued, BUT of course it doesnt mean in Nokia eyes should not be supported anymore only because Tmobile isnt selling it anymore since april. Nokia could just give you updates without tmobile testing crap anyway, but it seems Nokia doesnt think it is important? or tmobile is the only one who can do it it? we dont know. but yeah, its stupid how you have to depend on your carrier to see your phone supported or not, like if you were paying 2 years or 3 in a contract.

Still no 822 support. Lame.

This is an excellent app. This update only makes it better. Thanks to this I was able to install NOVA 3 with only 2 GB of free space. Nokia #awesomeness

Have always gotten the message "system can not retrieve storage information" with this app... Even before it has a change to open. Any ideas anyone?

Still havent got the firmware needed to use this app on my Lumia 820.
This "other" issue is really annoying, and worst, still not hot fix apart from this app.

I have a 820 and after installing the update my temp storage bumped to 525 MB...

Later when i cleared it...

"Magic"...220 MB in temp so thats almost 200 MB which got freed up...
So thats in the update i guess...a tweak for releasing the temp files space...:):)

It gets me that Microsoft still have not even said nothing about this storage issue. It's pathetic. I seriously hope they sort it by the next OS update. I am not so sure that Nokia has completely fixed the issue with the Storage Checker but good on them for doing it

Still doesn't work with the Lumia 822 -_-

When are we Lumia 822 getting this?

The lack of comment by Microsoft angers me. I have 6.8 GB in Other storage. I've turned off Skydrive picture upload. I've deleted non-essential apps and games. Wtf- this isn't user friendly or the way things are supposed to work. I blame Verizon more however time will tell who's most at fault. Glad I have a Nokia. Eventually they'll push an update that's not relevant to me like today. It seems the 920 is the only phone they give a damn about.

Not related to the storage issue but the 8xx series of phones are ignored like crazy. Next time I will pay the extra dough and get the flagship phone. No more mid range phones for me

I had 2.4gig in my temp file which would not go away (l920), but since the update it has now cleared down to 550mbs. Still have 2.5gig in the 'others' folder though. What's that all about?

Works on my Lumia 928 just fine. Use Lumia Pusher from the Store.

Dude, thanks!

Lumia pusher app is cool. I have to come here more.

Still doesn't work on my 810

My phone doesn't tell me when these updates are available I only know what them through the site.

Why MS behaving like this
is ms want kill Windows phone?
i don't have a gig of space for apps everything filled by other storage...why don't think is it serious issue...we don't want to wait for next big update, Why MS?
if i list limitations of OS we need to write big post, but we know the limitations before buying ,i am not blaming for that , i am reason for 4 mobiles in my room but every one blaming me now, what i need to so?
https://skydrive.live.com/redir?resid=4A93AC1812C84853!2935&authkey=!APp...


i had 'lumia storage check' on my 920 but it never really worked ''system could not retrieve storage information", so i removed it and installed this one: even if store says it's installed (it doesn't show the 'install' button) anymore, i can't find it in the apps list(?!?!?!) so i can't run it, nor remove it (WTF?!?!). ended up reinstalling 'lumia storage check', but i still get the same error.

If app installation to SD cards was allowed, all these bull crap wouldn't have been necessary.

Does not work on my 822, and I cannot figure out how to uninstall it!

Nokia is crazy. Still firmware update is not available on unbranded 920 in Australia.

A bug fix for an app that monitors the OS to stop a bug in it producing a problem? What's wrong with this picture?
Windows Central Newsletter
Get the best of Windows Central in in your inbox, every day!
Thank you for signing up to Windows Central. You will receive a verification email shortly.
There was a problem. Please refresh the page and try again.