Nokia suspends European sales of Lumia 2520 due to charger shock risk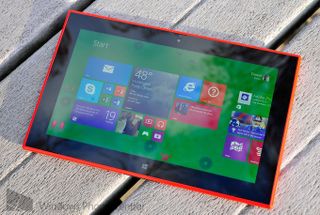 Nokia is temporarily halting sales of its Lumia 2520 tablet in several countries due to a risk of electric shock when using the chargers. An issue with the plastic exchangeable plug could cause the plug to come loose and separate on the European and U.K. version of the Lumia's AC-300 charger, which poses a risk of electric shock. Nokia notes that there haven't been any confirmed instances of shocks delivered by a faulty charger, but they're still urging consumers to stop using those chargers until Nokia is able to send a replacement.
In addition to the AC-300 wall charger, the travel charger for the Lumia 2520 that has been sold in Austria, Denmark, Finland, Germany, Russia, Switzerland, U.K. and the United States. Sales of the Lumia 2520 have been suspended in all of these countries except the U.S., though sales of the travel charger have been halted. Nokia states that there haven't been any incidents due to the flaws in the chargers, and that only the AC-300, which works exclusively with the Lumia 2520, and the travel charger, have these issues, and that all other Nokia chargers are working normally.
Customers who own the affected Lumia 2520 charger are encouraged to send Nokia their contact details for further updates (opens in new tab) on progress of issuing replacement chargers with a reduced risk of shocking you.
Press release:
Nokia Announces Product Advisory for AC-300 Charger for the Lumia 2520 tablet in select European countries
Espoo, Finland - Nokia today announced a product advisory for the European and UK variant of the AC-300 charger, which is used exclusively with the Lumia 2520 tablet. Consumers in Austria, Denmark, Finland, Germany, Russia, Switzerland and UK are strongly advised to suspend use of the charger until further notice. Also, consumers who purchased the Lumia 2520 travel charger accessory in Austria, Denmark, Finland, Germany, Russia, Switzerland, UK and the US are strongly advised to suspend use of the travel charger accessory.
In total, approximately 30,000 chargers are impacted by this advisory. This includes approximately 600 travel charger accessories sold in the US.
During an internal quality control process, Nokia identified a potential product quality issue that may potentially lead to a safety concern with certain AC-300 chargers, manufactured by a third-party supplier. Under certain conditions, the plastic cover of the charger's exchangeable plug could come loose and separate. If loose and separated, certain internal components pose a hazard of an electric shock if touched while the plug remains in a live socket.
"While there have been no confirmed consumer incidents related to this potential quality issue, product quality and safety are top priorities at Nokia," said Jo Harlow, EVP Smart Devices. "We apologize to the owners of the Lumia 2520, and we are working with urgency to minimize the inconvenience."
Sales of the Lumia 2520 tablet and the travel charger accessories, including the AC-300 chargers in Austria, Denmark, Finland, Germany, Russia, Switzerland and UK, have therefore been temporarily delayed. In the US, we have suspended sales of the travel charger accessory.
The AC-300 charger is exclusively designed to be used with Nokia Lumia 2520 tablet. All other Nokia chargers can be used in a normal manner.
Consumers wanting more information and updates are encouraged to go to: http://www.nokia.com/2520-charger.
Get the Windows Central Newsletter
All the latest news, reviews, and guides for Windows and Xbox diehards.
I want one of these, but Pro❕

At least they're addressing this fast - unfortunate it had to happen at all.

I'm shocked that this can happen.

I want one also but $499 on Verizon with a two year contract is insane

Then buy without contract. Useless Verizon crapping devices with their ugly logos.

I have lumia 625 in India.......i had login in preview for developers app & microsoft app studio......bt I don't found wp8.1 update........pls someone help me .....reply my comment

Dude u need wp 8.0 sdk installed in ur win7 or win8, n then visual studio update 4, in that u need to register your fone using ur Microsoft email id.. And then come back to fone and install preview developer app n click the box to start recieve preview update. Visit www.windowsphonehub.in for further details

step 1. register as a developer in the app studio web site
step 2. download preview for developers, open it, check the box
step 3. go to phone update and check for updates.

I have lumia 625 in India.......i had login in preview for developers app & microsoft app studio......bt I don't found wp8.1 update........pls someone help me .....reply my comment..m....plsss someone help me

i'm one of the affected people. Just bought my Lumia 2520 a month ago. Besides this it's the best Windows RT tablet out there! Just love it. hope they act fast on this one Nokia, I need to charge my tablet once in a while!

Do regular micro USB chargers charge 2520? Like the ones that come with phones? And maybe this is asking too much but can you photograph the part of the charger that might come loose which is mentioned in the announcement? I'm an electronics enginner, I wondered the design decision that causes this hazard.

No you can't charge your Lumia 2520 with a Micro USB cable. You need a special charger for that. The thing that can give you electrical shocks is the part you put in the wall socket. you can remove that part from the charger. But apparently it can get loose, and thereby give you an electrical shock. you can see a picture of it here: http://www.nokia.com/2520-charger From Nokia themself Is there any other charger that I could use for the time being? The AC-300 charger for the Lumia 2520 features a proprietary design that differs from other Nokia chargers, so the Lumia 2520 is not certified to be used with other chargers

I charged my tablet 15 minutes before I saw the article on PocketLint. Did you get an email from Nokia? Did anyone?

Typo in the title.. Still yet to see one of these in person. They good?

"sales European sales" yep. Found the typo.

Fixed. Cheers, people! :-) #powertothepeople

The first sentence of the second paragraph is weird/incomplete.

Ironically, I have a problem with mine not accepting a charge to even charge my tablet. I have to wiggle it and turn it a few times to get it to start charging my 2520. I may have to call them sometime this week...yay for warranties.

Well luckily for Nokia it's as easy to buy a 2520 in Europe as is to find the weapons of mass destruction in Iraq.

Nah, at least Nokia tablets actually exist.

My 2520 says battery not detected...since Nokia doesn't offer service in Puerto Rico AT&T told me to work with Assurion, their insurance company...they're offering me a Galaxy Tab 3 7.0 because the 2520 is not available...what would you do guys??

I'd tell AT&T to go F' themselves and either refund your money or replace what you bought. There are no other satisfactory options. You may want to try calling a Nokia Care center in Florida. Or wherever the actual closest one is.

So much for Nokia being the 'superior race'.

They've only sold 30,000 of these across Europe. That's not too good

Where's the surprise? You basically can't find them for sale in Europe. They say it's available in Germany in the article...well I have no idea in which Germany... Maybe the DDR? Because Amazon Germany doesn't have them for sale.

Sounds good to me, like 31000 devices were on sale in Europe in the first place. 29000 in the UK probably. Europe is kind if much much bigger than that.

Guys...any ideas ..when Lumia 2520 comes in india

Wonder if it's one of those two part plugs that are interchangeable for different Euro sockets. We have a few for different devices and all of them occasionally come apart in your hand when removing from the wall ( none of them are Nokia branded).

How to download sdk 8.0 nd which amount of data needed,
.........

Should have bought a Surface.

Why did I have to find out via PocketLint? I'm concerned that a) the charger isn't safe and b) Nokia didn't email me.

I have one of these and live in the US. No problems here. I love my 2520. It's just sad Nokia didn't do a good job launching this device. I think it's better then the Surface.