Nokia update roundup: Video Upload hits 2.0, Cinemagraph and Access Point with fixes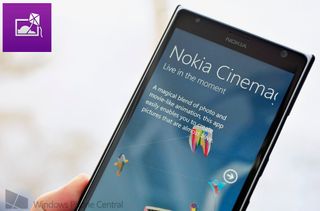 While Nokia is hard at work putting the final polish on the Lumia Cyan firmware update, they're still updating their Collection at a steady clip. Today, we have no less than three app updates, which you may be interested in checking out.
Nokia Cinemagraph
Cinemagraph is a great app for creating 'living' images. By combining a looping video with a still image, you can add some pizzazz to your memories. The one downside to using Cinemagraph is you have to remember to use it, which is why it'll be augmented by their new 'Living Images' app coming with Lumia Cyan.
This morning though, you can pick up version 4.1.1.5 of the app, which appears to have some minor optimizations in place for 8.1. You can grab it here in the Store.
Nokia Video Upload
Need to upload a video quickly to YouTube? Look no further than Nokia's handy app to do just that task. Video Upload hits 2.0 today and finally gets a privacy setting for those who want to keep their videos non-public. We assume there are some other optimizations going on, but Nokia is keeping mum on those details.
Grab Nokia Video Upload here in the Store. Let us know if you see any other improvements.
Access Point
Nokia Access Point gets a teeny bump to version 3.9.2.19 this morning. The app is only needed if you frequently pop in new SIM cards to your Lumia and you need pre-configured carrier settings to make sure your SMS/MMS messages go through and it plays nice with the network. Today's update likely just adds a few more carrier settings, and nothing more.
Pick up Access Point here in the Nokia Collection.
Daniel Rubino is the Executive Editor of Windows Central, head reviewer, podcast co-host, and analyst. He has been covering Microsoft here since 2007, back when this site was called WMExperts (and later Windows Phone Central). His interests include Windows, Microsoft Surface, laptops, next-gen computing, and arguing with people on the internet.
First three words looks like cyan update has rolled out ;)

June/July....Its official!

Yeah, I suppose if you ignored the title and lede photo...I also noticed if I crop out every third word, it tells me where the hidden treasure is.

Daniel knows everything..... But he won't disclose..... ;)

Daniel, does the force update check also include the system apps?

Yes. It does..... Because I got the update notice for access point by checking via that option itself.....:)

If I squint my eyes and ignore what I see... I guess I could read it as "Nokia cyan update"

Nokia has been quite of late. Less news from them..hhmm!!

Kinda worried there are no leaks of cyan yet, I guess there are no goodies this time.

Yeah! Only some camera tweaks. Nothing much I guess.

Camera has been badly affected by amber and black update. Many users have reported that the image is still being washed by yellow tint.

And many users still wont adjust their white balance for particular scenarios.

Here even using continues. And now do the test: Go in burst mode in native camera and see that there is some staining ...

Cinemagraph needs Tumblr support lol that's my limiting factor

When checking for updates in wp8.1 it doesn't detect an access point update..
When I follow the link here to the store it says just 'view', not 'update', but it doesn't show in the history of updates.. what's going on?

Probably because it has already been updated.

But it doesn't show in history.

Up to date or not available in your country.

No updates in uk, was same with maps last week

Oh we're still doing that?

Just not as ... .fast as he used to be.

Yeah. I think we can put it to rest or just save it for Facebook updates

Game of Thrones Season 5?

Someone alert the authorities! I sense this comment thread is about to be hijacked by update zombies!

App download progress should be shown in the notification centre...can't goto store and check it all the time...

Speaking of Nokia video apps, I wish they would offer the Windows 8 version of Nokia video director to all Windows tablets. Have it on my 920 but cant finish any projects because I don't have a 2520. Kind of disappointing as well as dumb.

there is an itch on my back that i cant reach

I'm not giving you a reach around, so don't bother asking.

I hope this fixes the problem with Cinegraph not playing images that you have created & the ability to share them via email.

What's weird is that it updated for me but no update notification.. Checked the version # and they match so I guess system updates won't show up

Where is the xbox music update? Wasn't it supposed to be released yesterday?! Damn u microsoft. Just give us back the music hub already!

It amazes me that the same Microsoft who made Zune could make this crap for 8.1. Amazing!!!

Still wondering how difficult it must be to import all the features from the Zune HD 2 into the Xbox Music App...

they need to work on that panorama app of theirs

That's totally true. It's really not that good.

Yet, they don't want to update their HERE City Lens app with Full HD Support, so lame... Get moving Nokia...

Daniel,kindly tell me how smart sequence in Nokia Camera app works? i tried it millions of times but tapping on the screen,makes it more horrible.it says something went wrong while saving the photo take a new photo and try again.how to use smart sequence any trick?

Daniel knows a lot about everything but you should still direct your question to Nokia.
Don't know how Daniel can be much help without holding your device and really look at it - at least Nokia could replace it if its defective.
Kindly and Daniel don't mix lol jk but seriously

There's a problem with the Access Point app on the 8.1 Dev Prev...it doesn't work at all. You can install the app, and even open it, but you won't be able to do anything with it...the three dots on the bottom right only show you an About section, that's it. You can't add or set up anything. I think the problem is with the dev preview, since the app worked fine before on 8.0.

Didn't Nokia Video Upload always have the option to make videos private? I've always had the option.

I can tell you one fix/change in Access Point. On my 1520 (8.1 Dev), everytime I rebooted the phone, Access Point would pop up and ask me to confirm which network I was wanting to use (Vodafone UK Contract). It does not do this now and is remembering my choice. A small but welcome change.

Thank god, I've been plagued by that for months. Also Vodafone UK. I'll switch off to check. Edit. Yes! :¬)

NoMicro fix signal for wifi & phone, become horrible.

Cyan update? I haven't received the Black update yet. UNFAIR. F* :'(
Windows Central Newsletter
Get the best of Windows Central in in your inbox, every day!
Thank you for signing up to Windows Central. You will receive a verification email shortly.
There was a problem. Please refresh the page and try again.