Nokia updates Music and system apps for Windows Phone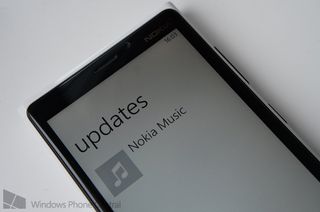 Nokia has pushed out a number of updates for Windows Phone. The apps affected are Nokia Music, Access Point and Network+. Unfortunately we don't have a change log for any of the three apps, but we imagine each release contains minor improvements. It's been a while since we've looked at both Access Point and Network+, but the Nokia Music+ service has been rolling out in multiple markets.
Nokia previously bumped its Music app earlier this month and since the app description sports the same change log, we'll note that we're looking at minor bug fixes and improvements. Should you notice anything new in Access Point or Network+, be sure to hit us up in the comments. Here are the new version numbers:
Nokia Music - 3.9.15.759
Access Point - 3.4.2.25
Network+ - 1.3.2.1
You can download Nokia Music, Access Point and Network+ (QR codes in order below) from the Nokia Collection on the Windows Phone Store.
Rich Edmonds is Senior Editor of PC hardware at Windows Central, covering everything related to PC components and NAS. He's been involved in technology for more than a decade and knows a thing or two about the magic inside a PC chassis. You can follow him over on Twitter at @RichEdmonds.
Nokia can be mysterious with update info. I still blindly update though. :)

As do I. I figure that they can't do me wrong.

Unless its a 1308 firmware update

I want the 1308... Still nothing in Norway :(

nothing in australia either :(

Nokia must really take note of consumer requests. I suggested that the live tile continually display artist details (or anything but that boring icon). Looks like they heard us. Go Nokia.
(Sorry fans of the boring icon, lol)

Is access point a part of system settings? If so, why would it download as an app and not in the systems settings?

Nokia had componentized these items into apps, because it easier to push an update than a system update. This way we always get the latest bug fixes.

I wish Microsoft would do the same for some of their core components as well.

Maybe that will come with Blue, so default apps are updated as they are on Windows 8.

BINGO. that is what I am hoping for.

Nokia Music update was a small one, bug fixes plus one bug that prevented some MP3 (with no metadata) from playing.
Thanks
deano

Nokia Music Changelog-
-See artwork for the tracks you're playing on the Live Tile
- Rewind and fast forward your MP3s
- Download mixes without being interrupted by the screenlock
- Performance improvements
- Bug fixes. Specifically, a bug which stopped playback of local tracks (mp3s) with missing metadata, for example tracks which do not have a Song Title or Artist Name. This could also affect the operation of the Shuffle All feature.

That's the same changelog as the last update.

Opps! I didnt know about that.

Nokia music is still not available where I live... My only choice for "online" music is Xbox :(

If you listen to Metal / Rock that's a good thing. Nokia Music is kinda weak in that area.

90% of the apps on store are updated without changelog... WTF?

Yeah, hopefully MS will make the changelog viable as it is on iTunes, that's one of the few features I'd like to see from iOS.

Nokia music not updated for WP 7.8

After updating Access Point system app, I cannot access it completely. It just brings me back to the settings page, again and again. Anybody has the same problem as me?

Works here. Try restarting the phone.

It still not working, and it still pulls me back to the settings page. Ah, shame on me.

Uninstall, restart phone, reinstall

That is the system app, so it can't be installed.

Always have no change log for system app, eh?

Am I the only one who is still confused about why the Nokia Music app doesn't remember your location in your list of artists when you go back to scrolling through it when browing music?? I hope I'm not alone here.

me too, is frustrating when you play music of any artist with the last letters.

Yes! It annoys me everytime. :(

The Network+ settings have changed on my AT&T Lumia 920. After the previous update to that app it included toggle switches for call waiting and call forwarding, but they were greyed out and a message was displayed saying that they didn't work on 4G. After updating today, the call forwarding option has been removed, and the call waiting toggle is no longer greyed out. Possible bug fix for AT&T customers?

Same here in Singapore after the update now I can use call waiting in 4G networks.

You'll notice when you go into network+ that your cellular connection changes from LTE to 4G (hspa+) to activate Call Waiting. That's if you have LTE service in your area.

Why do these updates not show up?

I have my Lumia 920 connected to the Laptop and right after I updated Network+ a window of dropbox pops up asking if I want to sincronize photos with my Dropbox folders! :O

Do you have Dropbox app installed on your laptop?

Yes,
And Nokia Music can´t be updated on Lumia 920 with that QRcode because it demands the screen resolution to be 480*800

QR Code for Nokia Music Update Lumia 920: http://cdn.wpcentral.com/sites/wpcentral.com/files/styles/small/public/f...

Access point is the same version that i already have, so only netwok+ and nokia music got updated.

After the access point update I got the apn settings for T-mobile LTE (US)

Yes, same thing here but Seattle doesn't have T-mobile LTe. It must be coming soon.

Are other manufacturers updating their products as frequently as Nokia do? Just wondering.

Since the APN update I have now two points, one for prepaid and one for postpaid customers.

Well, access point update took out internet sharing on unlocked phones, that's fo'sure >.

T-Mobile. I use to be able to use it, but now it tells me I need one of 'em hotspot plans

Before this update Nokia music had 2 bugs on my phone that seem to be fixed. I couldn't back out of it without opening 8 other apps to kick it out of the selection and asked me to agree to the terms and conditions everytime I started it...so bug fixes I guess

My music update wont even try to download, just gives me an error code, just got it error code 80320011??

Meanwhile, Beats Audio on the 8x is STILL broken. Thanks for the support HTC! I'm crossing my fingers for Catwalk...

What's the problem with Beats ?
I have an 8X & i use it to listen to music everyday (via headphones with beats on) & it works fine .

The Portico update messed it up somehow and made it inconsistent. There are a few threads about it in the forums, most of which are old since the issue popped up months ago and HTC has yet to address it.
I tried linking to a couple of the threads, but my comment was marked as spam. If you really want to, you can find them in the 8x forum, but it takes a bit of digging.

Thanks Joe , i appreciate it !
I didn't know that , I'll check it out !
My 8X came preload with Portico though , maybe that's why i didn't notice it .

Better live tile resolution?

It's not available for lumia 810 this is BullSh.t !!


What's not available? I got it. 810

I also got mine update Nokia 810

Thanks for posting links to the updates, my phone has stopped giving me notifications about them.


Same problem here - I'm not getting any notifications so i have to 'force' updates

My nokia music is on version 3.7 in the store :/

Ohh i see they are all for windows phone 8, not windows 7.8 -.-

On the plus side, if you were having trouble with MMS before as I was, this Access Point update should have fixed it if you're on T-Mobile. It fixed mine :-)

Power cycled the phone after these updates and now my WiFi is broken. The phone shows its trying to connect to WiFi after powering on but doesn't connect. Then looking in the settings it shows that WiFi is off... WTF Turning the WiFi on puts the phone in an endless loop of trying to connect but it never does.

That happens to me on a fairly regular basis, but it's my router that's the problem, not my phone. Try restarting your phone, that usually works for me.

The phone couldn't see any available networks. I had to delete all my saved WiFi networks and reboot again go get it working again.

Network+ isn't available for my phone it seems. Anyone know why? Nokia Lumia 920 - UK

Those who have recieved the update could you please check and let me know if you can manually edit wifi ip and dns settings..


Hmm, since this latest Nokia music update I now how my mix radio artwork permanently displayed in quadrants on the live tile. I didn't have this before, even with the last update, so maybe that's a bug fix?
I like it!
Windows Central Newsletter
Thank you for signing up to Windows Central. You will receive a verification email shortly.
There was a problem. Please refresh the page and try again.