Nokia Wireless Car Charger headed to Clove UK, first stock due June 14th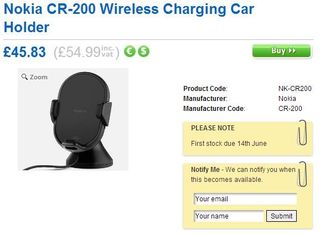 The Nokia CR-200 Wireless Car Charger is a nifty way to keep your compatible Lumia Windows Phone juiced up in the car without the need for twisty cables. We've eyed the new charger since Mobile World Congress and it looks like it's finally going to hit store shelves. At least with one retailer.
Clove UK is noting inventory for the Nokia Wireless Car Charger is due on June 14th with a price tag of 45.83 excluding VAT and delivery costs (about $71 US).
The charger also features NFC support which will allow your Nokia Lumia to launch predefined apps such as Nokia HERE when placed in the charger. It's a nifty device and for ordering information, you can head over here to Clove for all the details.
George is the Reviews Editor at Windows Central, concentrating on Windows 10 PC and Mobile apps. He's been a supporter of the platform since the days of Windows CE and uses his current Windows 10 Mobile phone daily to keep up with life and enjoy a game during down time.
Can't wait for this product to land in South Africa!

Eagerly awaiting a US release.

Same here. Would be great with HERE Drive...

Yeah - been waiting since the February announcement of the May release.................

Me as well just take my money!!!!

Eagerly awaiting the release of this, 3 please.

Yeah, I'm so tired of these UK only releases!
;)

£55 if you're an everyday driver is not too bad. If you only drive occasionally it's a bit steep. Now I'd like them to slash the price of that JBL Powerup speaker (in the UK anyway).

Does anyone know how this can possibly work in the summer as the phone gets hot as it is while running Navigon or any nav app for that matter and every phone I have used so far overheated or stopped charging while exposed to the sun in the cradle.

Well - we would tell you. But this test scenario with summer/Sun/Warm is not possible in UK

I know what you mean...On a road trip recently I borrowed my moms Garmin because I did not want to keep my Nokia 920 on for the 10 hour trip due to overheating...For an hour or two our phones do fine but after that I can't risk my phone shutting down or locking up.

Well - my journey from uk - france - germany - uk was okay. no overheating .. no shutting down. just a problem with maps not being loaded for belgium and couldnt figure the way out again since i left the wifi

Two words: Air Conditioning. ;)

That doesn't help at all as its the sun shining on the device that is causing it to overheat, on Hawaii we had a Convertible with the roof down and it killed my Lumia 710's battery due to constant discharge and not bring able to properly recharge, oh and with an iPhone before it also happened in the UK ;)

Maybe download the maps and turn off data connection in the here+ app? I just got back from a 3 hour tour, using the navigation the whole way (and listening to music stored on my SD card), and it never overheated. My phone does, however, get hot when using 4G for prolonged periods of time.

My Lumia is grey, so I figure it will not get as hot as a black one...

If the device is mounted properly to the dashboard, the sun wont be shining directly onto it. In the case of my car its mounted in front of one if the air con vents so that it isn't blocking my field of vision and is kept cool, so cold in fact that its normally colder than it started at the end of a long journey in the sun.

$71 is pricey...Hoping it shows up closer to $50 in the US at some point after its release...Very excited for this!!!

Pre-ordered mine in USA @ $75.00

Hello Pappa Ed. How can I preorder in the U.S.A.???

I agree. If its $50, I think I'll certainly get it. But if its $70 or more, I start to question myself. I'm keeping my fingers crossed though, because for some reason stuff seems to come to the US cheaper than in the EU.

Yeah, over $50 is a no go for me.
I bet a month or two after being released, the price will drop or there will at least be some deals.

no way Im paying $70 for that crap. That's cute that it has NFC and wireless charging but I'm not subsidizing nokias licensing fee to Qi consortium. These dudes will be on a firesale on Woot by October, just like the wireless pucks.

You are probably right. In fact, even at $25, I've held off from buying the pucks. I figure eventually I'll see a real fire sale for them at around $5-10. But damn I really want the car mount, so I'd be willing to pay $50. $70 makes it a tough sale for me though.

Lets hope others stock it around that time too. Just a shame nokia stopped offering wireless charging in their models. Wonder if it could be connected directly to the battery rather than the cigarette thingy(how ever it may be called)
amazon.de stocks it for 73euros
http://www.amazon.de/Nokia-CR-200-Original-kabelloser-Auto-Ladeger%C3%A4t-Halter/dp/B00BRPSOE6

Did Nokia atop offering wireless charging? I've only seen one high end device not have it (925).

Well .. besides the 928 and 920 - which one does have it

it doesnt look like it will be included with the new 41mp EOS (elvis)

I want this and that sweet dc-18 charger to come to the states. Can't find a dc-18 online anywhere

ProClip, where are you with yours?

I want I want I want I want I want!!!

I almost pre ordered on clove but then the total was 95 bucks with like $25 worth if shipping. I think I'll wait til amazon has it.

Why does it take half a year after the initial announcement? Way too long...

Great price... But shipping cost too much...

Got mine today, woohoo. Charging works nicely, Wifi, BT, 3Phone call, 3G Data, and Navigating at the same time and the battery got charged. I am a bit sceptical about the suction cup, the dashboard of my car has a pretty textured surface. Let's see how long that will last. Nokia included a disk with adhesive, that was totally useless, the 920 unstucked it after less than a minute standing still...

You have WiFi in your car?

No, I just did not bother to turn it off...

How did you get one if it's not due to release until the 14th? =s

Really looking forward to get one! I will spend a lot of time in the car in July, and my life will get a lot more convenient if I can have this in my car...

Pre-ordered one this morning as soon as I read the e-mail, though Clove could at least have offered free shipping on a product over £50!

This looks pretty neat. Thinking ill have to grab one when released jn the US.

45 pounds for a damn plastic phone charger+holder? I am not a stupid apple zombie that is happy to give 100 dollars for dog poo just because its shaped like the apple logo. When are we going to spend 1000 dollars for a pair of matches? I am really hoping those lovely times are coming the sooner the better.
Windows Central Newsletter
Get the best of Windows Central in in your inbox, every day!
Thank you for signing up to Windows Central. You will receive a verification email shortly.
There was a problem. Please refresh the page and try again.