Windows computers get three new Kinect applications from nsquared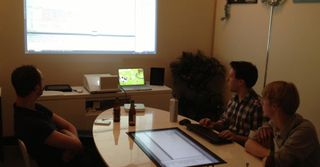 Software development company, nsquared, released three new applications for Kinect on Windows machines; the company has developed the apps to provide users with interactive, natural interface experiences. The company is located in Sydney, Australia and Dr. Neil Roodyn, director of nsquared, had this to share about the company's latest activities:
The first application released, sky spelling, is aimed at the education sector for children aged 4 to 12; it allows children to learn spelling using the Kinect interface. A student first selects a character or vehicle (dragons, biplanes, and butterflies are all options) and then flies them though the sky to capture letters and spell target words displayed on screen. nsquared gives credit to Kinect for Windows SDK, which allows developers to track the skeletal movement of a person. In addition, the color camera imbedded into the unit allow students to personalize their experience by adding their own photos.
The second application is focused on hospitality and aimed at the hotel industry. The "nsquared hotel kiosk" provides directions, daily event activity information, local food spots and more - through a custom interactive experience. The application uses the gesture based support within Kinect for Windows SDK 1.7, which now allows users to "grip" and drag content across the screen. The new software allows hotels to provide an interactive kiosk experience for less than half the cost of a touchscreen interface.
nsqaured's final Kinect on Windows applicatio, is a media viewer that allows users to explore interactive content. The wide ended application is aimed at any business or corporation looking for a way to display images and video "in a stylish, customizable carousel". This specific application takes advantage of Windows Azure by saving usage statics and what content was displayed to the cloud for later review by an administrator.
While all these applications are for businesses, you can still head over to nsquared's website to download "spydar"; a free application build for Kinect on Windows that turns your unit into a high tech security monitoring device.
Also, if you haven't seen the new Kincet 2.0 that will be released later this year - check it out here.
What do you guys think about Kinect for Windows – might we see it integrated into future laptops?
Source: Kinect for Windows Blog, nsquared
Kinect for WP? Can we get something?

I'm curious how you think Kinect would interface with a smart phone.

Maybe like what the GS4 has.

I have no idea how Kinect would be useful on a phone, as u are already holding the phone in your hand, so its just easier to touch the screen than make gestures using hands, fingers or even ur eye.
But definately voice recognition and assitance on WP8 has a lot of room for improvement.

I can't see how either, but I just think MS should use the branding somewhere in WP... It sounds a lot better than Tellme, and is definitely more popular.

This... I would have also liked to have seen their music and video offerings named after Bing instead of Xbox. I hate when MS gives their products left field names when they have something really good staring at them and makes more sense.

I see hows its useful! I've been waiting for awhile for Microsoft to integrate all its services into one device. Why not? Eye tracking for gestures, used to control xbox like Sony uses the psp or vita. Yep

Speech on WPs needs a lot more attention from Microsoft! Bing is a beautiful search engine (visually) do to bing what google did to google by bringing google now. All the metro goodness on the bing search screen, Indigo and Maluuba are some good examples too and theyre on the wp platform, what's great is that there's a dedicated button to it which means one tap access. But yeah go kinect woo!!

Could the slow LTE performance be attributes to DataSense?

A Kinect might be cheaper than a large touch screen, but I get the feeling nsquared hasn't done much field observation of how people behave when seeking directions from a large display (electronic or otherwise) and where those displays are typically located. People looking for info tend to stand close to the display to avoid being in the way. Now imagine them standing back about what, 5-10 feet, waving their arms, obstructing and ticking off normal traffic for being in the way. Hmm... Not saying it isn't a neat idea, but I don't think the ramifications have been fully thought out.

Thought the same thing. Hopefully they are using those add-on lenses to bring the field of interaction closer

Wish I could try it here in uk. First I need to input my email, my name, even my age. Check. But then, aw.

No. Why do you US guys ask for a zip code!!! As soon as the rest of the world sees that we realise that trade barriers are up. It's USA ONLY. Do I un install or try the web site. Or is it just ME!!

You realise of course that trade barriers are on the European Commission side, yeah? =[
Windows Central Newsletter
Get the best of Windows Central in in your inbox, every day!
Thank you for signing up to Windows Central. You will receive a verification email shortly.
There was a problem. Please refresh the page and try again.