Numolition, a fantastic number puzzle game for Windows Phone 8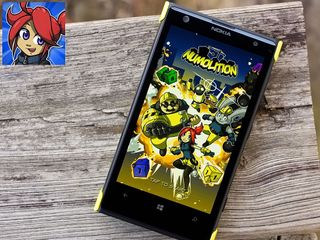 If number puzzles are your cup of tea, you need to check out the new Windows Phone 8 game Numolition.
The game's premise has you working with a crew of demolition experts and need to flatten as many puzzles by creating combinations of two or more of the same numbered blocks. You can add or move these blocks to create the combos, which in turn can be demolished by tapping on the group. It sounds easy but harder than you may think.
Add attractive graphics, three challenging gaming modes and Numolition turns out to be a solid gaming title. Numolition was released on iOS, Android, and Windows Phone last week and in playing the game over the weekend, it is a very appealing addition to the Windows Phone 8 gaming library.
Game Set-up
The main menu for Numolition lists all three gaming modes displayed in comic book fashion and has a settings gear sitting in the bottom right corner. Settings will give you the option to mute the sound/music, turn off the game vibration, display the gaming credits and offer the option to like the game over on Facebook. The game modes are progressively unlocked as you earn stars during game play.
Three gaming modes include:
Levels: Fifty puzzle levels to tackle and your gaming starting point.
Towers: An endless supply of number blocks and bricks will fill the screen in this gaming mode. Combine blocks to equal ten to create a bomb that will demolish sections of the tower (including the bricks). The more bombs built and exploded, the higher your score.
Sandbox: A collection of bricks and blocks that you have to clear. While you can create the combination of two or more of the same blocks to remove them from the scree, you will need to make bombs (combining two or more blocks to equal ten) to eliminate the bricks.
You begin with the Levels gaming mode that has a series of puzzle levels that call on you to remove all the numbered blocks.
Game play is simple. You will have a collection of blocks that are numbered 1-9. To remove the blocks, you will need to create an collection of two or more of the same numbered blocks. You can combine these blocks to change their number value and/or move the blocks horizontally to create the grouping of blocks. Once you have your group of blocks created, just tap on the cluster to demolish them.
After you clear all the blocks you earn a star and advance to the next puzzle level. Earn enough stars and you can unlock the other gaming modes.
The first few levels of Numolition serve as a tutorial that walks you through the various aspects of game play. Puzzles in the Levels gaming mode can be replayed to earn additional stars by removing all but one designated number block. This will help you accumulated enough stars to unlock the chapters in the Tower mode as well as the Sandbox gaming mode.
Game play is similar with the Tower and Sandbox gaming modes except in these games the puzzle includes bricks and the ability to combine the blocks to total ten, which creates a bomb. The bomb, when tapped, will take out a small cluster of blocks and is the only way to remove the bricks.
Along with the three gaming modes, Numolition has over 120 bonus challenges scattered throughout the game to keep things challenging.
Overall Impression
In a nutshell, Numolition is a great gaming option for Windows Phone 8. The comic book graphics help the game stand out and the puzzles challenging enough to keep the game from growing stale. There is definitely a strategic element to Numolition's game play relying more on mathematical deduction than a speedy touch.
As the Windows Phone Store description says Numolition is educational at heart and a fun challenge for all ages. I can see this game being a nice addition to the Kid's Corner to help with basic math skills while driving the older crowd crazy trying to find the right combinations to solve the puzzles.
My only nit with the game is that Numolition lacks a help or reference section. While the tutorial levels do a good job of showing you how to play the game (and you can always replay them), it would be nice to have a centralized reference section.
If you are looking for an attractive puzzle game for your Windows Phone 8 gaming library, take a chance with Numolition. There is a free trial version available that gives you just enough gaming experience to get you hooked.
The full version of Numolition is currently running $1.49 and the game is available for Windows Phone 8 (not available for low-memory devices). You can find your copy of Numolition here in the Windows Phone Store.
Windows Central Newsletter
Get the best of Windows Central in in your inbox, every day!
George is the Reviews Editor at Windows Central, concentrating on Windows 10 PC and Mobile apps. He's been a supporter of the platform since the days of Windows CE and uses his current Windows 10 Mobile phone daily to keep up with life and enjoy a game during down time.
I like it too, but it is too easy. I reached 2048 the day installed the game

Too easy, what are you Stephen Hawking?

Such a slow news weekend.. Bring on the wp 8.1 news folks :D can't wait..

The silence before the storm

Election commission of India released their app. ECI voters

No Five hundred and twelve megabytes random access memory support.
Or just
No 512 Mb ram support.
In the article its written 512 Mb ram support

The game showed as available for install from my Nokia Lumia 520.

Not available for my 520.

that was my thought but we just re-checked and you are correct. the game is not available for low-memory devices.

George, can you please ask the developers to make their games available here in Brazil when you contact them to review games like this?? I will be a great help to all the Brazilian WP Central readers. This game is not available here.

Why do you think WP Central contact developers when reviewing something? The game is there for everyone in the regions it is avaliable, no need to contact them to use them. You are the one who should contact someone if you miss an app in your region.

Dude sometimes developers have their account here at wpcentral. Havent u seen that. It may help sometimes. I have seen Guilherme here in the comment section chating with developers sometimes. So its better he leaves a msg here.

Thanks!! Someone gets me.

Man, need more memory on my 1020. With Halo,MC,Fifa14,GTA:SA,Asphalt7/8 & now Pylon, im almost out :'(

If you visit the store link via web browser, down on the left is says "Works with: Windows Phone 8.1, Windows Phone 8". First time I've noticed that. It's really here, folks :)

On fb I have liked a page. It shows that they have got to know from nokiapoweruser that its delayed by a week for sure not till late april. To many rumours out there we now can just rely on the news what is announced at build.

I've also seen such a page on fb. Named "Windows Phone News". They have sources that said it'll be delayed by a week only. I hope its true.

Hopes. Lets wait for real news at build.

The number of slow news days is too damn high!

They will be collecting grenades instead of bullets now.

Off topic, how to clear other storage from the phone memory?

Try "storage cleaner" but learn to use it before actually trying. A lot of people complaining in reviews it won't work. But it does. At least it cleared 200-300MB in my case...
OR
Forward ur phone date by a year. Then go to storage and clear temp files
OR
make hard reset at cost of all apps and data

What type of case is that
Windows Central Newsletter
Thank you for signing up to Windows Central. You will receive a verification email shortly.
There was a problem. Please refresh the page and try again.