NVIDIA announces the GTX 1050 for the budget conscious gamer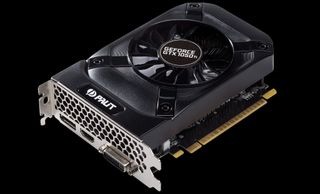 NVIDIA is all about laying out groundwork to more effectively compete against AMD and continue expanding the company's presence in the GPU market, and the newly announced GTX 1050 (opens in new tab) is hoped to do just that. This latest addition to the Pascal-powered GTX 10 series of graphics cards is the new budget-friendly, entry level GPU for gamers.
The GTX 1050, much like its older and more powerful siblings, follows the same model from the GTX 9 series. According to NVIDIA, the GTX 1050 and GTX 1050 Ti are at least 1.5x more powerful than the GTX 950. The former has 2GB of GDDR5 memory and 640 cuda cores, while the GTX 1050 Ti sports 4GB of GDDR5 memory and 768 cuda cores.
The new GPUs will draw up to 75W, meaning you won't require additional power input, and should be absolutely fine for anyone looking to comfortably game on a 1080p monitor. Don't expect to smash the 60 FPS barrier in newer, more demanding titles, however. Both the GTX 1050 and GTX 1050 Ti will be available on October 25, starting at just $109.
See at NVIDIA (opens in new tab)
Windows Central Newsletter
Get the best of Windows Central in your inbox, every day!
Rich Edmonds was formerly a Senior Editor of PC hardware at Windows Central, covering everything related to PC components and NAS. He's been involved in technology for more than a decade and knows a thing or two about the magic inside a PC chassis. You can follow him on Twitter at @RichEdmonds.
That's kind of affordable :)

That's a killer deal. Looks like I might upgrade my GTX 750 Ti OC soon...

Meh....sub standard performance at that price.....yech....better off getting a used gtx 960 off ebay for that price.

If it meets his needs then it isn't substandard for him.

Can gtx 960 run on 75 W and without power supply (pci-e 6/8 pins) cable? People who made a mistake of purchasing non-custom desktops can use this for their gaming needs.

Not even. A 380 is a much superior option.

for $100 it's a great deal. my current 750 TI GTX OC (enough damn letters, heh) does pretty good and that ran me $80 a year ago. I don't pay more than $110 for graphics card and always go mid-tier; anything else is wasting money for my gaming habits.

The 1050 is $109 and its a very gimped and limited card. The 1050ti is $140 and for the price does not look to be worth of the cost IMO.

Why choose the 1050 when you can just get TWO TITAN XPs IN SLI!

Perfect replacement for the gtx 750 Ti

Shouldn't you look at benchmarks before saying that? It's good that they are 75W (or under) though.

For all the trolls: Try to add this to your Chromebook or Mac.

Actually a hackintosh will eventually be able to accept these. I put a 750ti in the lady's hackintosh I built her.

Uh, sounds like you are trolling actually.

I just ordered one for my Surface Pro 3. Can't wait to install it! Posted via the Windows Central App for Android

When will vendors *finally* stop using DVI and just put DP/mDP ports on everything? It's the video card equivalent of the PS/2 Mouse & Keyboard ports that you can still find on motherboards today! Get rid of it already! Not only does DP convert to all known formats, but also most monitors have either DP, HDMI or both anyway!

People don't upgrade their monitors all that often when compared to the rest of their components. There will be a time when DVI is no longer relevant, but we're still a few years away from that yet.

Actually, DVI is better than HDMI in some cases. Honesty, we should nix HDMI completely, and move completely to DisplayPort, MiniDisplayport/Thunderbolt, and USB-C. That would be a beautiful world of compatibility and high refresh rates with low prices. (HDMI is not a free standard)

And Display Port has better 2K/4K performance over long length cables.

Last I checked it was somewhere near the $100 mark to convert DP to dual-link DVI-D. And my two 30" monitors (2560x1600) that need that to drive their full resolution only had DVI inputs. I don't think any of the modern cards even offer two DVI ports, so I would have needed at least one adapter like you suggested to drive both my monitors on a current-gen card. I decided if I was going to spend an extra $100 just for an adapter, I might as well instead upgrade to a 4K monitor with a native DP input. So now I run one of the old 30" in portrait mode and the new 40" 4k is my main screen. I'm still trying to find a use for the other 30" monitor. Definitely an upgrade, but even for that I still needed at least one DVI port.


I'm planning to buy 1060 is it good for mid range gaming desktop.

My personal preference would be an AMD RX 480 instead of the 1060 - reason being lower price and better DirectX 12 performance which is becoming increasingly popular.

Yes 1060 can handle 1080p games at ultra setting

1060 is a beast of a card for all games at 1080. If you go into 2k/4k it isnt as good.

Yep, great for 1080p. Go for a card with two fans on it though, that card can get hot. Although, if you are going with anything below a 1070, I recommend going with AMD for futureproofing with DX12/Vulcan titles

So u mean to say 1060 doesn't support Direct x12

It does support it, it just isn't as well optimized. You will get better performance with a 480.

My 1060 has one fan. It's has excellent thermals under load ;)

I would go with the RX 480, but the 1060 is a great card too, with better DX11 performance and a bit lower power consumption.

i dont like the new pattern of not sharing what the actual TDP is of lower end cards ... both this and the amd rx-460 are like "it uses around 75ish watts" people with the new wave of wierd small power supplies need to know specifically how much juice it's going to pull.

i have a AMD 7770 since a couple of years, is the NVIDIA 1050 a more powerful card?

Do urself a favor and buy nvidia. even though its a bit more expensive it works. Never had a problem with drivers.

Never had a problem with AMD drivers either, and that was not the question. Better reading comprehension dude

The base clock of the GTX 1050 is 1,354 MHz while the AMD 7770, the power draw of the GTX 1050 is 75 watts while the AMD 7770 draws about 125 watts, the GTX 1050 has 2 GB of RAM whereas the AMD 7770 has only 1 GB, and the GTX 1050 is about half the length of the AMD 7770.
I hope this answered your question. Note that the GTX 1050 can increase its clock speed as it's needed to a point known as boost clock/GPU Boost. Also, the 1050 Ti actually has a slightly lower base clock and boost clock compared to the regular 1050.

In real world usage, do i get better performance out of it than with my 7770?

I think yes, but not by much. I'd rather go for an RX470, it is more expensive, but you do get a lot more bang for the buck. The 1050 could be similar power to 7790 or 7850, the RX470 is closer to a GTX970 or an R9 390

I agree with RX470, its pretty much the price-per-dollar king here. I got mine for $166 shipped no tax with a promo.

Is there a low profile rx470?

Just wait for proper reviews and decide then.

NO SLI support. I'll pass. I'm running two GTX 960s in SLI.

Since SLI is now up to devs, they have been dropping the ball. SLI has an uncertain future.

This would be perfect for my HTPC setups if there is a low profile version

i really want too see this compared too the 460

The 1050 Ti looks to be overall better than the 750 Ti. I'll wait for the reviews then see if I should upgrade from the 750 Ti. The main thing that interests me is the 4 GB of RAM. Hopefully EVGA puts 4 GB in their version.

Yeah the 4gm gtx 1050 ti would be a good replacement for the 750ti

It's not like they have a choice. 1050 Ti = 4GB, 1050 = 2 GB.

Asus has announced the 1050ti & 1050 with 4 different versions
If u are planning to buy make sure u buy the dual fan model

I'd have to buy a single-fan card due to my case not having enough room for longer GPUs.

I bought an R9 Nano on sale, even when my case has plenty of room. It was a novel experience to not scratch my hand while installing a graphics card. It's also quite cute. edit: so basically, I'd prefer a shorter one even with space, as long as the compromise isn't huge

Thing is, I'm after an NVidia setup that doesn't break the bank that gets me half decent VR performance and from what I can see this will have about similar performance to a 960, meaning it won't be VR compatible. So it kinda becomes a bust for me.

I believe 1060 3GB is the minimum nVidia offers for VR. There's just no getting around the fact that VR is demanding.