Office Lens can now scan documents straight to PDF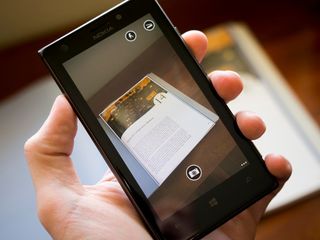 The super-handy Office Lens app for Windows Phone today's received an update that enables users to save their scanned real-world-paper documents as PDF files. The update to the free app brings it up to version 1.4.3727.0.
Here's the full changelog:
Now you can convert your pictures to PDF files with selectable text, in addition to Word and PowerPoint files, and save them to OneDrive.
That's right, folks, PDFs with text parsed into a selectable format. We're not just talking about saving a PDF of an image, this is the full Office Lens you know and love, now with support for saving to Word, PowerPoint, and PDF files. Isn't that awesome?
Thanks to Stuart, Arpit, and John for the tips!
Windows Central Newsletter
Get the best of Windows Central in your inbox, every day!
Derek Kessler is Special Projects Manager for Mobile Nations. He's been writing about tech since 2009, has far more phones than is considered humane, still carries a torch for Palm, and got a Tesla because it was the biggest gadget he could find. You can follow him on Twitter at @derekakessler.
Office Lens. - 1
Cam Scanner - 0
Finally PDF :)

I can produce a PDF with CamScanner with no fuzz at all CamScanner is hands down the best app for these purposes

What a coincidence..today only i pinned it to start..

they still need to stop putting everything on onenote mandatorily. users should have an option.
once they do that, and add direct onedrive sync for pdfs, i'll uninstall camscanner from my phone.

Their own pdf reader has 1drive support

This app saved me so many times at college

Lol when I first downloaded it I thought it already could do that and was disappointed a bit, but now it's perfect.

Great app. Use it every day

I wonder why people turn photos into PDFs...

Obviously you don't business often.

I can't imagine myself sending a document in JPG to anyone.

If it was ordinary photo, then no one did that. Seriously. The app name already implied the intended functionality. Take a photo of documents (yes, documents. Not selfie photos), convert them to PDF, and send it like it was an actual PDF document (not just images embedded on PDF). Does this ring the bell now?

Nice. And this product works really well. I've often just take pics of meeting notes from the white board during meetings and office lens corrects so much. Very nice app.

Thanks MS..... I can now uninstall cam scanner and handy scan.

This application makes the scanner and photocopy machine unnecesary.

Is there any app like this on android? :P WP Rocks

Please don't ask for that. Who knows the new Microsoft may make this exclusive app available for Android, too. :/

That is productivity for you.good job MS

Alternative of Camscanner

THIS is what I'm talkin' 'bout! Evernote Scannable fell so short of this. Scan, orientate, enhance, OCR, searchable text. That's the bomb!

There should be an option to save converted pdf, word to sd card,, this aap is helpless without internet

It's not. It save the document on the app itself.

No you must have internet to access your documents, at least for me

I end up with a copy of the official and enhanced version in my camera roll on the phone itself, whether or not I upload the pictures.

Yahoo.. Now no need of cam scanner and handy cam

One of the best app in this field or I should say it is best

It's my most used app... I never bothered to convert docs in PDF though....but nice to have the option available

We need an updated PDF reader!!

Yeah. I've submitted a bug where the app cannot open password protected PDF which Adobe reader can, complete with the problematic PDF file. They confirm it via email that they can reproduce the bug and working on it. Alas.. No news since then.

I think I tried to do this with some sheet music. Scanning to word resulted in a jumble of images - not even in order and looking nothing like the music. Scanning to OneNote worked, but of course that requires OneNote (not necessarily bad, just not as easy to get to the final image). I'll have to give this another try. I just wanted a quick copy of some music from a book so I could lay it out flat and not turn pages.

This is awesome.. I use Office Lens extensively. To scan receipts, bills, important documents etc..all sent directly to One Notes notebooks I previsouly set up for each category etc.. This is much welcomed news. Well done!

That is great it's improving the application further

Very nice but would even be beter for me if it can be "saved" to a neerby desktop.

Everyday app.. And now its more powerful

Tried scanwritr to send a PDF and it couldn't be opened by recipient. I'll try this next time I need to do this.

Most excellent. I hoped for this when first installed. Saves a trip to the problematic multifunction office machines.

Like most, I've used Office Lens for most of my scanning purposes, but relied on CamScanner to save as a PDF. As a cheapskate, my biggest challenge is the "wonderful" watermark that the free version of CamScanner placed on each page of my document. Hopefully, OfficeLens won't add a watermark. Thanks, MS, for a great product that is Office Lens.

I might be missing something, but it seems there is to much redundancy here. In my case, the file gets uploaded to OneNote, and then, since it saves two files in the phone's albums (original and cropped), it uploads those to OneDrive (I auto upload my photos). Now, if I save to PDF, it sends that to OneDrive also. Further, if I open the PDF in MS' PDF Reader and want to share from that, it uploads yet another version? I've got to be doing something wrong?

Option to save in the phone would be awesome. Useless without internet

I'd like to by pass one drive. Straight to camera roll and OneDrive for photos. I want to back up old photo albums. This is a quick way to do it

Now I can set my Windows desktop Evernote client to use OneDrive\OfficeLens\ as a search folder, and it will ingest the PDF into Evernote inbox & delete from disk. I actually like this better than the Evernote app's capture util.

I literally let out a little girl scream inside my head when I read this headline. I've been waiting for this feature on this app since it was released! I've been using Camscanner in the meantime, which is admittedly very very good at scanning and uploading to Onedrive, but I'd rather stick with an MS product. Thank you for finally doing this!

Killer Miller. Updated office lens.

It was doing that long back (as in at least 4 to 5 weeks back I think). I was able to convert documents to PDF thorugh office lense. It was also giving me an option to uplaod them directly into my OneDrive. Just sayin... Prior to that I was using Cam Scan app.

Why is the 5 page limitation??

Yay! Been asking for this for ages. Now it's definitely the best document scanning app around.

Wonder if this is coming to android and iOS.

This is great news! I really like OfficeLens and being able to scan and create Word docs but for work PDFs is what I send more and that's where CamScanner came in. But now I can do both in one app!!

So now scanner too will get obsolete

Holy mother of SHUBNUB, this is the one feature that makes this product perfect. Thanks office lens team, me likey!

-ve 1. Can not scan locally on phone. why OneDrive is must.?

Very nice add to Office Lens but I do have a question. I take a photo of some whiteboard stuff. It gets to OneDrive in the Pictures folder where it can be shared. So far, so good. Now I can convert a whiteboard photo to PDF using Office Lens and essentially do the same thing, so my question is what is the advantage of converting a photo to PDF?