Office Online now lets you edit files directly from Dropbox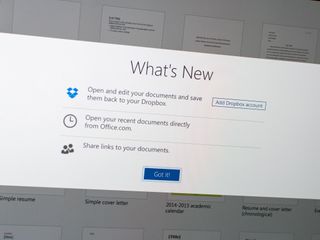 Microsoft's web-based Office Online suite has added integration with Dropbox, letting you open and save documents by way of the cloud storage service. This is an expansion of existing integrations with third-party services such as Box and Citrix that began earlier this year.
To take advantage of this new feature, you simply need to log in to Office Online, and open one of the apps. You'll be prompted to add your Dropbox account, which you can do with just the click of one button. You can also take advantage of this integration from Dropbox's website, according to Microsoft (opens in new tab):
Dropbox integration is available for all Office Online users now.
Source: Microsoft (opens in new tab)
Fair question I guess. I just don't understand, from a business perspective, what this provides for anyone? Sure, it will let dropbox users edit documents easier, but what's Microsoft's end goal here? The number of new Office Online users hooked by this will be fairly small. The number of commercially viable Office 365 users will be even smaller.

I'm not so sure. What with OneDrive not supporting shared folders, Dropbox is a far superior solution. Now people can have their cake and eat it, too. Probably, the best thing would be for MS to just buy Dropbox. They're screwing up OneDrive so badly in W10 I see no reason to continue with that little misadventure (I basically can't use W10 because of what they've done to Onedrive!).

They should totally buy dropbox and use that tech for OneDrive.

I think the end goal is to have Office Online as the definitive online productivity solution, regardless of platform or vendor choice. Dropbox is quite popular, and the risk of them embedding with a competitor like Google Drive could present a long term threat to Office's dominance

Marketshare. Microsoft have to compete with free services such as Google Docs. If they have everything behind a pay-wall, then it could erode the marketshare further. Personally, I now use and recommend Office Online to everyone as it provides all the functionality that general users require. I haven't used Office 365, but don't see any reason to buy it when I can already do everything I want with full compatibility to traditional MS Office (unlike the horrid Open Office). The last MS Office package I bought was 2010, and I will probably never upgrade it! I will slowly migrate my documents to Office Online and be done with offline documents editing altogether. Docs can still be saved to a local file, so it's not like they're trapped in the 'cloud' or anything.

It keeps Office as the default document creation software which is more important than OneDrive.

Well, this is good thing. Both for MSFT and Dropbox.

Is this coming for office desktop? I would really like to be able to add dropbox as a save location...

It has now reached office on all platforms except Office for Windows (Desktop) and Office for Mac. Given that the pace and structure of these programs isn't as fast as the other platforms (like iOS apps or web apps) I anticipate it would come with next major release

I don't see it on Office for Windows Phone...

True, my guess is that it will be part of the Universal Office apps for Windows 10, so both for phone and tablets/PCs. I doubt we will see it on Windows Phone 8.x, don't imagine the deprecated Office Hub will see any new major features

Now add support for google docs so I don't have to use their awful suit...

The beginning of the end of Google Docs, Apple Docs or whatevadafuq its called.

Microsoft may also want to consider integrating other popular third party cloud providers such as Box, SugarSync, & Spider Oak. Dropbox integration with Office 365 was an excellent first step.

Standing applause for Microsoft!
Windows Central Newsletter
Thank you for signing up to Windows Central. You will receive a verification email shortly.
There was a problem. Please refresh the page and try again.