Office Web Apps pick up real-time collaboration and more in latest update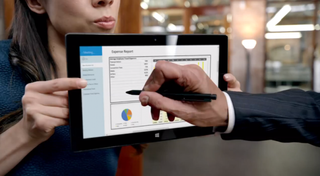 Office is literally everywhere. You have it on your desktop, your phone and your browser. Depending on the platform you'll see different features in Office. The phone and browser for example, aren't anywhere near as full featured as the desktop application. But the web app is getting a pretty nifty update today that brings some new features that will be very welcomed among teams. Let's check out the new real-time, co-authoring features and more inside the Office Web Apps.
Real time collaboration is something that can be immensely useful for a group of people working on the same document. Now the web versions of Word, PowerPoint, and Excel will be supporting this feature. It allows for teams to see changes and edits in real-time. All changes to a document are saved on the fly and shared among everyone working on the document.
Microsoft also has some safeguards in place for when someone makes changes to a document, but isn't connected online. For example, changes to a document will be synced the next time it connects to the cloud.
Other changes
Real-time collaboration isn't the only thing being added to the Office Web Apps. For example, the Word Web App is gaining new features like the ability to find and replace words or phrases, apply styles and formatting to tables, and insert headers and footers into the document.
Excel is gaining features like the new ability to drag and drop cells and reorder sheets. This will make it easier to manage those spreadsheets online.
What about PowerPoint? Everyone's favorite presentation tool is getting the ability to crop pictures. In addition, you can change the name of your files within the browser.
The team is hard at work on enabling these changes in Office Web Apps across the platform. Android, for example, will pick up the ability to edit in the coming months.
The rollout for all these features is taking place right now. You should be able to just start collaborating as a team from when you read this. But before you do, let us know what you think of some of the changes to Office Web Apps.
Source: Office Blog (opens in new tab)
Well, there goes Google's only advantage. Bye bye google docs

My sentiments exactly. Their UI is frustrating, their import and export to standard file formats buggy, and their touch support is horrendous. Real time collaboration was one of the only unique features.

Same story with Google Drive. I moved all my Google Docs and Drive files over to Skydrive about a month ago. Yesterday I got sick of gmail's brain-dead light-grey-on-white UI controls and moved all my email to Outlook.com . Gmail was groundbreaking at the time but it's tired now.

Unfortunately my company is completely Googlized, and everyone (More than 90% employees) hate it.

Perfect for a bottom-up silent revolt

Yes, same issue at mine. Though I am fitting the good fight, and when we have enough employees for Google Apps to start costing as much as 365 then I will be doing a massive sales pitch for switching.

My office is all googledocs as they hate MS.

Mine too, they all hate MS, but i like. :)

Do you realize Microsoft has had real time collaboration for its web apps for three years? What kills me is reviewers saying this is brand new. This is modified from what has been in existance since 2010.

It's been improved. The edits used to merge at save time, now they show up while you're still in the doc.

Not real-time; it wouldn't try to update it until you saved it. This caused conflicts when multiple people edited the same point. This one is live, as-you-type merging.

The WP app needs to be able to change the text size and style. That's all it needs.

Yeah, I'd like to see that on the email client too like it is on Windows 8.

+925 Bold and italcs, too

Actually the WP office apps already have that functionality.

Go to "Format" and boom...

I get to "make" the text bigger and smaller, but it really isn't it. And I still can't change the STYLE.

Well the font the WP office defaults in is the recommended font for most papers, resumes etc so no need to change.

I'm not asking for change, I'm asking for CHOICES!!

What do you mean by "it really isn't"? You can change font size, bold/italic/underline and strikethrough. These changes are saved in the document, they're not just local like zooming. The only thing you can't change yet is the font family; Segoe is your only option there.

You need to keep pressing the button to increase or decrease the size. You can't select an exact size, like on pages for IOS and word for windows.

True. That's not the same as having no functionality at all though.

When did I say there was zero functionality?

Twice you said that there is no functionality to change the font size.

I can't you can't select the exact size, and I can make the text bigger and smaller, but really isn't.

"The WP app needs to be able to change the text size", which it can (not ideal, but it can). "I get to 'make' the text bigger and smaller, but it really isn't". Do you mean it's only changed on your phone? Because this changes the actual font size on the document, so "it really isn't changed" is incorrect.

I mean that it isn't a good process. I should be able to select the exact font size with the number, not keep pressing the bigger and smaller button. Office for WP has many things it can be improved on.

Fair enough, makes sense.

Finally real-time collaboration!

When will I be able to edit my Word docs from Skydrive in Word web app on my Lumia 920? I can do this on my old Android phone but not IE on my WP. Seems odd.

Thats fine for very basic use. But has virtually no formating ability. Way to watered down. I want it to be at least as good (if not better its 2013, it should be much better) than the old Windows Mobile days.

You can bold, italicize,underline and even adjust the size. Really not much other formatting is needed, also the WP office was created more for editing in mind rather than composing new documents.

Wow, that didn't take long! I'm quite impressed by such a quick release coming from Microsoft, especially the Office team.

i hope they include more features/functions/more formatting options in ms office for windowsphones... to be as close to ms office desktop. so far i'm loving it, i use it from time to time

I work on a spreadsheet everyday through the Web app. The features are already there as I moved cells, spreadsheets, etc. I am doubly excited, as with a corporate move to a new world-wide customer management engine necessitates the move to Windows 7 on all PCs. As our test site for this will open on Monday in my division, this means I will get my Win7 PC in the coming days/weeks. This means I can finally sync that same file natively. Presently, to make changes to the chart axis labels, etc. I must download the file, make the changes, then drag and drop it into Skydrive again. So, on the train, I use my Surface RT to work on my files, they will be synced when I get home, and I can drop using the browser in the XP office PC and do it through a Skydrive folder. Sweet!

On the Google front, I next need to see better ssurvey function in the MS docs as this is the only advantage I have found so far in the Google docs. I also am paying $10 a month for Drop Box because of the need to sync natively to my XP machine at work presently. I will transfer the bulk of those files ASAP when I have full access in Skydrive w/o relying upon the browser as I do now.

We already have a cool Survey option in SkyDrive. New > Excel Survey

W
ow the implementation of the co-authoriting is AMAZING! Miles better than what Scroogle does. Can't wait for the true Office RT apps so we can get them on our WP :D (since they'll be merged eventually)

Can you see the colored cursors of the other editors in Office for desktop too?


That lady's lips remind me of Robocop.
Windows Central Newsletter
Get the best of Windows Central in in your inbox, every day!
Thank you for signing up to Windows Central. You will receive a verification email shortly.
There was a problem. Please refresh the page and try again.