Official Tumblr app comes to Windows Phone 8 with lockscreen support and more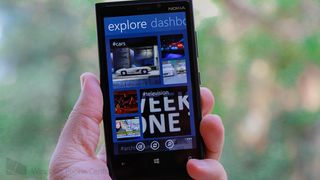 It seems like in the past few months we've had official apps hitting the Windows Phone Store left and right. Today is no exception, we've got an official Tumblr app for everyone who loves the microblogging platform and social networking site. Tumblr powers over 102 million blogs. So we are stoked to see it join the lineup of apps available to us. Let's check it out.
First question you probably want to know: does this app support GIFs? Yes, yes it does! Now that we've settled that… Here's what you can look forward to with Tumblr for Windows Phone.
Share photos, gifs, video, quotes, chats, links, and text
Find and follow the things you love
Jump between your dashboard and Explore with just one swipe
Display the latest images from your dashboard on your lock screen and live tile
GIFs play as you scroll
But wait, there's more! Those are just the bulletin points you'll find in the app description within the Store. If you play around with the app you'll notice a lot more nifty features they should point out. Like lockscreen support, double wide tile action, a sublime interface, and did I mention how awesome the interface is?
When you fire up Tumblr and login you'll be taken to your dashboard. Your dashboard is identical in function to the web browsers. Here you'll find the latest posts from everyone you follow. Start to scroll down and the navigation bar above will disappear (really cool) and all you need to do to get it back is scroll up a little anywhere within the dashboard. One swipe to the right and you're in the 'explore' section. Here is where you'll find popular posts throughout the Tumblr network.
Tumblr can power your lockscreen with images from people you follow. Meaning potentially NSFW ;)
Yeah, you saw lockscreens up above and just knew this was going to be only for Windows Phone 8. Sorry, it is. That said, this really is a top notch for being version one. In a future update I'd like them to add notifications somewhere within the app like on the iOS version.
You can grab Tumblr for Windows Phone 8 right here in the Store (it's free!), use the QR code below, or swipe to the right in our app.
Thank you everyone for the tips!
Sound off below with some cool Tumblrs to follow. Here's one - Breaksclusive (behind the scences at Mobile Nations). Try and keep them somewhat safe for work :)

I thought all there was was porn on tumblr.. o_O

If that's all you're using Tumblr for you're really missing out. Here are some more rad ones to follow: Graphic Porn (As in graphic design, totally safe for work)
/Drive (Car porn)
National Geographic Found (Unpublished images from the Nat Geo archives)
Me (cool stuff I find plus Ig reposts)

Sam do u live in Redlands?

A video would be appreciated if possible, thanks :)

Tumblr vs Wordpress....FIGHT!

Cool! I don't have a Tumblr account, but its good to see official apps coming over. =)

I follow a ton of Tumblrs so I'm super excited about this! Some of my favorites:
Thugkitchen
Beeritual
Mensweardog
Travelingcolors (esp for the lockscreen)
thebluthcompany (obvious reasons)
ANIMALSTALKINGINALLCAPS

Wrong. I've been using the official Tumblr app on my z10 for about 2 months. Sorry mate.

An android port isnt official, sorry mate.

Yup went to go look and sure enough, it's just the android version sideloaded



So the Skype app that is an Android port for BB10 isn't official even though it's Skype.. or should I say Microsoft.. that ported it to work on BB? Sorry mate.. but it is.
Don't hate just cos BB got it first.. you don't earn a dime from microsoft's profits. We are all just customers. They're all good phones... BB and Windows Phone.

Windows Phone and Windows Phone.

Aka Dumb and Dumber. Don't let your misguided bias hit you on the way out tho. Welcome to the world of the official Tumblr app. lol

Do you have to follow people through the browser or what???

Is tumblr used like instagram/twitter?

In some ways yes, but think of it as a creative 'pinboard' of images of topics you may like. Topics are often hashtagged in themes to help find things you like and your own tumblr is a scrolling wall of images- but that's only one example. Increasingly, media outlets use it to flag stories and get content out there so its not always image lead. For me, i just post pics i find appealing and inspiring.

Interface is nice but lacking the one function I couldn't get with blueprints: messaging

Wheeeeeeeeeeeeeeeee! Happyhappyhappyhappyhappy. A) I like Tumblr and I use it and B) yaaaay, another official app to close the gap (hey, that even rhymes).

Tumblr developers will be happy as million of Windows Phone users which never used Tumblr in past will create their first Tumblr blogs starting today. Kudos.

And by Tumblr developers, you mean the 8 million teenage girls who use it to post pictures of their nails, food, and favorite actors? I'd hardly call anyone using Tumblr a developer.

...no, I think he probably meant the developers of Tumblr.

Yeah, he meant that the actual developers will be happy. And if you're right about 8 million teenage girls signing on then im sure they'll be very happy about that.. LOL!

I have just signed up for tumblr and so have friends

I was waiting for an official WP app before I signed up. Now I will!

Do I have to create a profile or can I just follow blogs?

How bout gifs on lock screen! Would'nt that be cool

Nice one. Tumblr deserves more attention and it now has mine.

I don't know anything about tumblr but yey for more official apps for windows phone :)

You know nothing about Tumblr!! I'll send you a few to follow...to your email - don't make them lock screen though!

thanks pal. i am eager to learn new stuff :)

I can't view any posts I've 'Liked'?
The Live Tile actually shows images from the "explore" page... think it would be more useful to show latest post from blogs I follow instead.

It does have Gif support, and I do like the UI. But until I can view my Favorites and/or Liked posts within the app, think I'm going to have to stick with Turtle Blog Viewer.

I have the official tumblr app on an Android device and I remember not being impressed with it either. tumblr and Pandora both proved that sometimes a 3rd party app is way better than anything 'official'.



You tap the 3dots, manage and there are your likes.

"You tap the 3dots, manage and there are your likes"

The tumblr app tells me how many posts I've liked, but has NO option to actually view those posts.
Turtle Blog Viewer, for example, has an entire sub-section that aggregates all your liked posts so you can view and scroll through them (as long as they still exist somewhere on tumblr).



Did you ever fd out how to view your likes??? I just got the phone and would like to view my likes on Tumblr.

You cannot search by username, only tags

This is the only thing I specifically look for when I see new app releases. I just ignore them now for the most part when 7.x isn't mentioned.

How does the official compare to Blueprints?

Excellent question Mr. Erasure25! To answer, it appears the official Tumblr app provides easy access to trending or notable tumbles while Blueprints provides easy access to recent Tumblrs you have visited. They have slightly different features, but both seem equally smooth running. Blueprints is $0.99 so that is one thing to consider.

I concur with this handsome fellow: lol indeed :>

Couldn't care less, sorry Mr. what was the apps name again?

Tumblr. And you cared enough to comment? Stop confusing me.

Looks like the Top 3 missing now are:
Pinterest
Flipboard
Vine (and more video editing software period)
Snap Chat and Insta are coming (well rumored).
Purchasers of 8.1 phones w/ 1080P will get a competitive product on the way to passing the competition.




I really want Vine. I've done some really cool things with it on my old iPhone I still have laying around.

Got all you the official Tumblr and all the apps you mentioned except Vine.. i use keek instead on my z10. Seems BlackBerry ain't doing too bad in the app race thanks to the Android emulator. Thank you BlackBerry.

just commented on the verge saying there needs to be a tumblr app. and here it is. up next is instagram, may is almost here.

Guess who just got a tumblr account

YESSSSSSSSSSSSSSSSSSSS!!! All I need is Instagram and I'm purchasing a 720

Ahh, this 'only for Windows Phone 8' thing doesn't get old.

And all you "no wp7 support?" people is getting old. Wp7 is being phased out might as well get 8 and stop complaining.

+920. Join the party guys!

The title: Windows Phone 8
The body of text: Only for Windows Phone 8

and yet..i'm still confused.. so only for windows phone 8 right? /s

Blueprints is probably the closest alternative to a Tumblr client on 7.x. I'm sure the Blueprints developer(s) will play catch-up with drafts and queue support in the near future.

Just downloaded and created a Tumblr account :-D

There's a couple things they should take from Blueprints, like a) the background streaming for music so you can blog and listen to an audio post, and b) saving pictures!!! This will definitely be something I'll miss because I always save photos from Tumblr to use as new lock screen photos. Hopefully notifications will come in the future as well. Thanks Tumblr!

I am liking the official app and it is GREAT to have an official tumblr app, but I think I still prefer the app blueprints.

Oh man, that looks awesome! Lockscreen support and everything! Being a Windows Phone user is full of pleasant surprises!

Great. But does it support viewing vids?

tumblr posts that have YouTube embedded, clicking the vid takes you to your whatever you use as a youtube client (so in my case, clicking the video takes me to MetroTube). If the video embedded was uploaded to tumblr, then it plays the video within the app.

NOOOOOOOO damn I've been waiting for this more than instashit and there's no 7.x support.. I need a job and a Lumia

Oh i do love the interface!

Already converted wife over to windows phone when she saw my 900. Now we're both sporting 920's. Now that we have tumblr on board all I need is an Official Instagram app and my daughters will most likely move over to Windows Phone and do way with their iPhones! :D

I wish to think this way. Although I love Nokia effort to made my phone better than it is. I missed many new apps. Then after 4 months using a Lumia, I have to say, I will move to Nexus 4. I got tired of this news apps only for IOS and Android.

Never used tumblr and not sure I get it. Looked on Wikipedia but I'm none the wiser. Can someone explain this to me like I'm a child? Just seems to be photos and gifs. What's the best way to use the app/site?

Give us some hobbies and topics you're into. Then I'll see if I know any cool sites to follow related to that.

F1, football (the English kind), tech, cycling, gaming, history, politics, news. Not necessarily in that order.

I use it like this http://graindisease.tumblr.com

Here are some that might interest you. If you're on your browser, you'll see the 'follow' option in the top right.

http://tumblr.hodinkee.com/ http://gallery.airows.com/ http://slashdrive.tv/

when I get another windowsphone I'll be sure to check it out. I hope blueprints will still be updated. it filled a hole with their app for a long time and did it better than all of them

Not for windows phone 7.8... Wtf...

Bumblebee will do for now. For 7.8

This is awesome news. favoz and Tumboard both left plenty to be desired. Its seems the official app has everything I wanted.

Hey look 7.8 screwed again

I just searched this app yesterday. Funny. A wish come true.

Not avaliable in Canada... damn
well not via the link apparenly, but directly on the phone its fine

Just like the crappy mobile website, there doesn't appear to be ask or fanmail support in this. Still, good to see an official client for a big-name service such as Tumblr.

My life is now 98% complete now all I need is an official instagram :D
btw follow me on Tumblrrrrr (nsfw tbh) y0ureaslutpig.tumblr.com

Okay StumbleUpon where are you?

What is so special about it supporting gifs? Hasn't every computing device since the 90s supported gifs? Or is it animated gifs you're referring to?

Great app, gonna be using this a lot.

neat app, but I cannot find how to clear its cache. Every single image loaded seems to stay on the phone, it's already eating 300MB on mine...

It may be my imagination, but I can't find any notifications section list all the liked/reblogged posts and replies.
I also can't find a way to view my inbox/asks.
Both critical features from the other official Tumblr apps I really use a lot.

Exclusive apps like this just burn... stuck on Windows Phone 7.x until my contract allows me to upgrade. >.>

Since I loaded it I'm eating through my data allowance like never before. And that's just with the app in the background
Windows Central Newsletter
Thank you for signing up to Windows Central. You will receive a verification email shortly.
There was a problem. Please refresh the page and try again.