Official WPCentral patch 4.4.20 now available - fixes notification crashing issue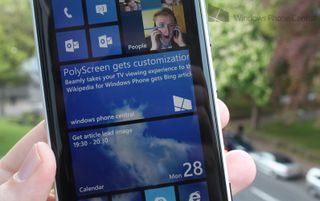 It's patch day again for the official WPCentral app. After a slightly rushed fix we released last week to address problems some regions were experiencing when using Microsoft's pubcenter advertising controls, a new issue was introduced that affected users with the Iconic tile enabled when launching from toast notifications.
We're happy to say that said issue is fixed with today's release of version 4.4.20 for Windows Phone 7 and Windows Phone 8. You'll find the full change list after the break as always, but if you'd rather just go grab the update then see the Windows Phone Store here.
WPCentral v4.4.20 change list
Fixed crash on launch from notifications with Iconic tile
Fixed a message that would appear regarding the iconic live tile even when live tile is turned off
Fixed an issue where the tile was only updated with one headline
Disabling the live tiles now returns the original static images
Disabling the live tile with the iconic pinned now removes the iconic tile from start
Corrected a typo on the settings screen
Please note that if you have the live tile currently turned off you will need to toggle the live tile on to return to the static live tile images. You should also be aware that the static live tile in this state will still have 2 sides to it. This is due to a limitation imposed by the Windows Phone operating system whereby once a tile has two sides it appears to be impossible to return to a 1 sided tile.
We'd like to remind everyone that this release is still targeted at the presently consumer-facing build of Windows Phone (so version 8 not 8.1). There are a few issues that affect only those running the developer preview of 8.1 that we expect to be providing an update for in the coming weeks. In the meantime please head to our forums if you'd like to provide any other kind of feedback.
Windows Central Newsletter
Get the best of Windows Central in in your inbox, every day!
Well if updates are your fancy, then here you are!

Hope they fix the email link for Windows 8. Or am I doing something wrong???

What is broken in the email link?

When I get notified that someone has responded to my comment and I click on the email link from my Windows 8 PC or tablet it won't open the app. I wonder if I'm doing something wrong.

I was getting the same issue. Can't check yet.

Same problem on the phone app

The word "silent" was mis-spelled as slient. Had been that way for months but someone spotted it last week :)

Lol I still self autocorrected and was like, what slient is the same! :)

If I had to live through that notification launch crash one more day, I was gonna scream. Glad it is resolved.

Yeah try dealing with over 1000 bug report emails a day! ;)

I only sent you one(after it happened at least 10 times);)

Been having some issues on wp8.1 but it automatically generates an error message email to WP central so no worries here

Never had a crash but I'll patch up anyway. Thanks Jay.

I always check for updates when wpcentral app gets updated...coincidence?

Can/how I log in to this wpc WP app using live id...
I tried but its not letting me to login to the app instead its log me in to the http://m.wpcentral.com/
I clicked on log in under forum and tried login it says invalid user or password. Than tried register here and selected Microsoft and it logs me to m.wpcentral.com not to the app Please help

I also can't using Microsoft account login to wpcentral app.I have feed backed to them many times.

Hey guys, we're hopefully bringing full passport support next release, in the meantime there are instructions on how to deal with this problem in our support forum :)

Hey jay im looking for an apps which support full mobile nation in my windows phone... Is tgere any plan... Obviously mobile nation official apps..

Automatically updated hours ago. Yeah, thanks Jay.

Please fix small font issue for wide tile on Lumia 720

@Jay please provide an update with larger font sizes in the articles, forums and comments..... Fonts too small to read on my 620.

Are you already using the large font option in settings?

Yes,even then the text is too small....I would be grateful if you could test the app on a 620, just to see how small it looks.

I don't have a 620 but I do have an old Lumia 800 somewhere with the same screen size and I don't recall too much of a problem. I will look to see what can be done but it might not make it into this version of the app, may need to come when we rebuild from scratch. In the meantime if you find that even the large fonts are too small, I would suggest that for your next phone you consider a larger screen? The Lumia 625 is very impressive for the price with a nice readable screen

Thank you for looking into this issue! Yeah,I am thinking of getting a phone with a larger screen size in the near future. Made a mistake buying the 620, should have gone for the 720.Also,I noticed that I can't zoom into the comments or forums, only the articles themselves.The large fonts options is for the articles only, not the comments and forums. Anyways hope you can modify the app in the future updates(maybe v5.0?) while keeping this issue in mind.

Why would you rebuild from scratch? Also, an online "bookmark" to show important articles would be great.

Two words: "Universal Apps". It's now possible to port Windows 8 apps to Windows Phone relatively easily, but apps written from the older days are kinda out of luck as they're being phased out by MS

I tried the app, but i much prefer the actual website. Uninstalled it yesterday.

Thanks Jay. Bro wanna ask u that will u get smileys in the next update to insert the comment section?

Hey! I have clouds as my start screen background too.

Not crashing when opening article from notification but is not clearing number from live tile now. WPC is the BEST

Jay, when are you go I Ng to add the ability for the app to read to me out loud so my lazy butt doesn't read? ;)

I am not getting the notifications even though I have activated them in the settings....

I have the same problem, everything worked fine until this update. Now I always get a "network error" if I check the live tile status, and I'm not getting a single notification...

Dang I wish I would've caught the typo lol.

I love getting these updates! It shows that you put time into WPC. Thanks Jay, you RULE!

Finally. Also, i have an issue that when someone replies to my comment and Wpcentral emails me, when i want see the replies and launch the app directly from my email, it's also crashing just like i launch the app through out the action centre

That was the same issue and should now be fixed :)

Yeah! You reply me, i got the email, i launch the app, and voila! It's opened just like before:) thanks jay!

Much better. If every app could do like this,WP platform will soon come up with IOS and Android.

It's just an update you guys, jeez!

I'm on 8.1 and the app is not installing ...it just slips into 'needs your attention' ....do something

Now flip tile is working on my wp8.1 thanks for the update..

I have chosen WPCentral to show detailed status in my lock screen. It always shows the message "I'm used for the lock screen count." Is it normal? I'm using the trial version.

That means you've chosen the iconic live tile. It should also be pinned on your start screen somewhere

Yes I've chosen the iconic one. It is pinned to my start screen. The tile updates with new content as usual, and notifications works great! The lock screen remains the same though.

So that second tile which says "unpin me" is just so that we can update the lock screen count. We don't support setting the lock screen detail (text) unfortunately

Hey Jay, I believe you can disable the tile flipping by setting it's BackTitle and BackText (don't remember if this is called Text) to an empty string, and setting the BackBackgroundImage to a Uri that doesn't exist. I did this almost two years ago though, so things may have changed. This is what I wrote to disable the tile's flip side: data.BackBackgroundImage = new Uri("buuuurr", UriKind.Relative); data.BackTitle = ""; tile.Update(data);

I tried that so many times and it didn't seem to work (although admittedly I was using null Uris not just a Uri that doesn't work) and it never seemed to clear but I'll give it a shot thanks

Yeah, null values don't do it for some reason. The tile APIs are implemented in a strange way in my opinion. No problem.

Is there new API's(WP8.1) for text alignment on tiles?

The live tilt still displays blank, which is still not fixed.

That's a known issue, I'm looking at ways to fix it but in the meantime if it's a problem for you I suggest you try out the iconic live tile :)

I don't get notifications when a new article is available . I have enable the toast notifications from settings but nothing happens .

WP central to the rescue! GREAT JOB FOR SUCH QUICK UPDATES!

Thanks so much! This bug was driving me insane!

Still not impressed with the new Windows Phone Store. I do not get any notification of updates for apps. The only way to know that an update is available is when you visit the apps page on the store..!

Next time when an update comes recommend them to add notifications when someone replies to our comment in mobile

@Jay I'm not getting toast notifications/action center integration not working at least for me. Reinstalled app and will observe.

Best app for the best forum on windows phones..but i still don't get why its free in the google play store & paid in windows store

Whenver an update article is published in the wpcentral app for a particular app, I got the download option where I update the app. But after a few days an update notification is sent for the same app which I have already updated. It doesn't go until I update the app. This is a bit irritating stuff. Updating an App which is already updated with same features will eat my download fup. Please look into this...
Windows Central Newsletter
Thank you for signing up to Windows Central. You will receive a verification email shortly.
There was a problem. Please refresh the page and try again.